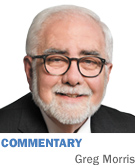 Call it health care reform, the Affordable Care Act or Obamacare. Just the mention of this topic can raise your blood pressure to a dangerous level. So, one might conclude there's reason for business to celebrate the recently announced employer-mandate delay, kicking that can down the road until Jan. 1, 2015. While the immediate pressure that was building for a Jan. 1, 2014, start date has been eased a bit with the extension, many other issues and uncertainties remain.

Here's one. Why not delay the individual mandate also? Doesn't delaying the employer mandate put more pressure on individuals and families? Is that fair?

By the way, by what authority does the Obama administration selectively enforce laws that Congress put on the books? We're going to delay the employer mandate, but not the mandate that individuals have to buy insurance?

I guess this is the same authority granted in selectively enforcing current immigration laws. President Obama has been consistent in bypassing Congress at every opportunity.

On the individual-mandate front, the administration's in a trick bag. If the individual mandate goes away, the whole thing falls apart. Maybe the correct prescription to cure this unworkable mess is the total repeal of Obamacare. Maybe the time is finally right to get that done. On that topic, I defer to an op-ed written by Indiana Republican Sen. Dan Coats last week, which follows:

"Bowing to growing criticism, earlier this month the administration announced that it will delay until 2015 the highly unpopular Obamacare mandate requiring businesses with 50 or more full-time employees to provide workers with government-approved health care or face penalties.

"Not coincidentally, the administration made its announcement just days before the Labor Department revealed that another 322,000 Americans involuntarily entered part-time employment in June. This report reinforces what I have been hearing from Hoosiers for months.

"In all parts of the state, workers are expressing deep anxiety about losing health insurance coverage for their families and the possibility of reduced hours and smaller paychecks because of Obamacare. Meanwhile, many employers tell me they would like to expand, grow and hire more full-time workers but cannot afford to do so because of the massive fines, taxes and regulations that will hit when the law is fully implemented.

"The delay of the employer mandate, a key provision of Obamacare, is evidence that even the White House is realizing the many flaws of its own health care law. While the administration has conveniently delayed this job-killing mandate on employers until after the 2014 elections, problems with Obamacare are far from solved.

"The law defines full time as 30 hours, which means employers still have a long-term incentive to employ part-time workers. For Hoosiers, this means fewer hours and lower wages at a time when many families are struggling to make ends meet.

"While the recent delay may provide some relief for businesses, middle-class Hoosiers will not be spared. Health care premiums continue to rise as insurance companies compensate for Obamacare's costly impact on their businesses. Additionally, the law contains several new taxes on middle-class Americans and stiff penalties on individuals who do not purchase health insurance that will apply beginning in 2014.

"Rather than temporarily delay a bad policy, all Americans should be permanently exempted from Obamacare's taxes and mandates.

"When President Obama signed his health care reform package into law back in March 2010, he said that the reforms would 'lower costs for families and for businesses' and 'help lift a decades-long drag on our economy.' A law that was supposed to help workers, employers, families and our economy is doing the exact opposite.

"We all want to increase access to health care coverage and lower health care costs. But Obamacare is failing to achieve these goals, making our health care system weaker, not stronger.

"Congress needs to repeal the deeply flawed health care law this year and replace it with step-by-step reforms that actually lower costs and put patients, not bureaucrats, in charge of their own health care decisions.

"Sen. Max Baucus, a Democrat from Montana who helped write the health care law, recently expressed serious concerns about the implementation of Obamacare. Several other Democrats are starting to walk back support for provisions in the health care law and now even the administration is issuing waivers and delays.

"If Democrats, Republicans and a majority of Americans agree this law is not working, then let's do something now before Obamacare's full impact on our economy takes effect."•

__________

Morris is publisher of IBJ. His column appears every other week. To comment on this column, send email to gmorris@ibj.com.