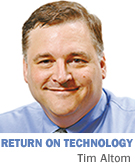 I had intended to devote space this week to something dull, like cost-justifying technology. But I was mentally drawn away by something far more interesting: deadly cell phones that explode or electrocute their owners.
A story has been making the rounds about a cell phone user who unwisely attempted to answer a call while the phone was recharging, and was mysteriously electrocuted when he did it. As always when I read something that not only borders on the outlandish, but attempts to actually invade and take up residence there, I go to snopes.com, a debunking site that follows such claims.
Snopes couldn't find any contemporary support for the story, but does relate one from India in 2004 in which a man was supposedly killed by his cell phone when he answered it while it was charging. Details aren't available, and Snopes notes that the absence of other coverage probably means that, if it took place at all, the incident was specific to the victim's defective cell phone.
Cell phones in developing countries are often knock-offs that could have dangers American phones don't. Snopes found yet another story from China in 2013, but again no details are available so it's hard to tell what's tabloid fodder and what might be true.
This isn't the first time cell phones have been associated with deaths, however unlikely. Some users have been concerned that holding a radio-frequency device next to their brains for perhaps hours each day could lead to cancer. The government's National Cancer Institute calls studies on the subject "inconsistent," which is a tactful understatement. The site goes into detail about why studies are inconsistent, but the final conclusion is that far and away most researchers say no.
The American Cancer Society says it relies on the International Agency for Research on Cancer's classifications of things that are or might be carcinogenic to humans, and that the IARC has placed cell phones in group 2B (possible carcinogen), along with auto exhaust and coffee.
The FDA has refused to regulate phones, and the Centers for Disease Control and Prevention flat out says research hasn't shown any significant probability that phones cause cancer. Personally, I'm not terribly worried. I've been bathed in electromagnetic radiation my entire life, having been born deep into the TV age, and so far neither "My Mother the Car" nor Jerry Springer has been the death of me. To be honest, I'm a little surprised.
But there is a way cell phones can go tragically wrong, and it's not entirely the province of conspiracy nuts.
One of the keys to making cell phones, laptops and other mobile devices popular is to provide a lengthy operating time. A cell phone that poops out in an hour isn't going to get great reviews. And the batteries have to fit into snug little places. The industry's answer is the lithium-ion battery. These batteries offer a lot of attractive features. They pack a lot of power into a small space, for example, which is highly desirable in consumer devices from phones to electric cars.
But the batteries also have dangerous attributes, such as the tendency to spontaneously break into flame or even explode if overheated or overcharged. There are documented cases of this happening, although they are rare anywhere in the world, and all but unknown in the United States. When it happens, though, it can be pretty spectacular. A lithium-ion battery was reported to have ignited in a South Korean man's pocket, burning him severely. Oddly, officials said the battery wasn't in a device when it went off.
A few other cases have been reported, including one in China where a store employee had just charged his cell phone and dropped it into his shirt pocket when it detonated, killing him.
There's little doubt that a lithium-ion battery that has been improperly used and badly designed is a danger. Batteries from developing countries are often both misused and poorly designed. The ones that are common in this country, however, are equipped with multiple safeguards, and to my knowledge there has not been a case of spontaneous combustion here in the past decade.
Every year, Americans use mobile devices for hundreds of millions of hours, and their batteries provide faithful service to the end. Americans answer many millions of calls while their phones are charging, and never suffer from anything other than a stiff neck from bending down to accommodate the short adapter cord.
As much as we seem to love the stories about danger and destruction, rest assured they're just blog fodder. Treat them as you'd treat a late-night monster movie—as entertainment, not as fact.•
__________
Altom is an independent local technology consultant. His column appears every other week. He can be reached at taltom@ibj.com.
 
Please enable JavaScript to view this content.