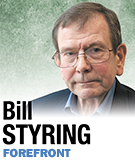 When Gov. Mike Pence was Indiana Policy Review Foundation president in the 1990s, editors of the foundation's flagship publication, Indiana Policy Review, constantly harped at their writers to use precise English. The masthead even sported a Lord Acton quote: "When words lose their meaning, men lose their liberty."
Orwellian political speech indeed means trouble in River City. And we have a lot of it these days. (The Fort Hood massacre by an Islamist fanatic is called "workplace violence.")
Which makes curious another feature of the Pence-led magazine (where I was research director). Its permanent back cover was all black with nothing on it but a stark self-identifier: "A Hoosier Journal of Liberal Opinion."
But wait! you say. Pence is a prominent conservative, is he not?
As a congressman, he headed the Republican Study Committee, the caucus of conservative Republicans. As governor, he has pushed for tax cuts and kept Indiana out of as much of Obamacare as he could. Pence's conservative portfolio is as thick as battleship armor.
Then what in the world was he doing running an outfit advertising itself as liberal, moreover, one priding itself on precise terminology? Who's jacking around here?
Easy answer. Pence is a liberal. In fact, modern conservatives are really liberals.
"Liberal" is a noble term hijacked by the lefties. We true conservatives should reclaim it.
Around the turn of the 20th century, a classic liberal was generally understood as someone skeptical of government's power to do good, preferring the bulk of society be organized by voluntary association and more or less free markets. That's a rough definition of today's conservative.
"Progressives" a la Robert LaFollette and Woodrow Wilson believed the opposite. Government could achieve the perfectibility of man on earth. So we got all sorts of progressive measures, from various new regulatory bodies to the Federal Reserve System to the income tax.
Many of those progressives also sincerely believed in eugenics (selective breeding/sterilization to improve the human race). Check the record.
Progressivism picked up a bad political odor after it progressed us into World War I. By the New Deal, progressives had managed to change brands. Now they were "liberals." They started calling the other guys "conservatives."
Our political nomenclature stayed there, liberals versus conservatives, until … I'm not sure when. I recall Hillary Clinton in the 2008 campaign cramming "progressive" into every sentence. It was as if the Left Wing High Command had said, "OK, troops. This liberal stuff isn't selling so well, anymore. Time to go back to calling ourselves 'progressives.' The voters had eight years to forget what a hash the original progressives made of things."
The left seems to have pulled off this chameleon act—progressive to liberal and back to progressive—rather seamlessly. Even their numero uno think tank is the Progressive Policy Institute.
No more! Lefties have left a gaping hole off left tackle by abandoning the liberal brand.
"Liberal" is a proud term. If the left can go from progressive to liberal to progressive, surely we can manage conservative to liberal.
Let's occupy the turf they abandoned.
How about it, Mike? A suggestion from the old buddy. Use the gubernatorial pulpit to proudly proclaim yourself and all of us conservatives as the true liberals. There's room on this bandwagon for Greg Garrison, our local Rush Limbaugh. He understands classic liberalism. Libertarians could chip in by renaming themselves radical liberals.
I'm sick of being called a conservative. There are tons of conservatives who don't want to conserve.•
__________
Styring is an economist, a former Indiana Chamber of Commerce lobbyist, and a former senior fellow at the Hudson Institute. Send comments on this column to ibjedit@ibj.com.
Please enable JavaScript to view this content.