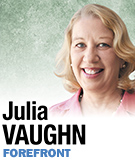 With the controversial verdict in the George Zimmerman murder trial, attention has returned to the stand-your-ground law that was so central to the defense's case. Attention has also returned to a key group behind the adoption of stand-your-ground laws in Florida and two dozen other states, including Indiana.

The American Legislative Exchange Council, or ALEC, is a corporate-financed lobby masquerading as a not-for-profit. The group brings together corporate lobbyists and conservative state legislators at lavish resorts for conferences, where it writes model legislation to promote privatization and enhance profits in nearly every aspect of our lives: education, health care, public safety, the environment and the economy.

ALEC has a huge presence in Indiana and counts among its associates some of the most powerful men in the Legislature, including House Speaker Brian Bosma and Ways and Means Committee Chairman Tim Brown, Education Committee Chairman Bob Behning and Senate Appropriations Chairman Luke Kenley.

Indianapolis Rep. David Frizzell is a former national chairman for the group founded almost 40 years ago by conservative political activist Paul Weyrich. Corporate underwriters pay tens of thousands of dollars to participate in "task forces" where they craft model bills designed to bolster their profits, often at public expense.

While ALEC has gotten a lot of negative public attention because of its involvement in stand your ground (so much so it has disbanded the "task force" that promoted the policy), its influence extends far beyond public safety issues.

Several hot-button issues that have dominated the General Assembly over the last couple of sessions are all top ALEC priorities, including education reform focused on privatizing public education and shifting public resources from public schools to private ones.

Right-to-work and other laws designed to defund unions and make it harder for them to organize are the product of ALEC handiwork. It also has been closely associated with "ag-gag" legislation designed to pre-emptively protect factory farms from whistleblowers who expose unsafe and inhumane practices, an issue that took up a lot of our legislators' time this year.

Although ALEC represents a pay-to-play system at its worst, and is clearly an infrastructure built and designed to advance legislation in state capitols across the country, it claims it does no lobbying. Incredibly, the organization is incorporated under section 501(c)3 of the tax code, so it is considered the same kind of charity as your local animal shelter or soup kitchen and its corporate sponsors get to write off the huge amounts of money on ALEC dues.

Even though the IRS doesn't classify it as a lobbying group, just to be safe, ALEC supporters in the General Assembly made sure to exempt it from the state's lobby law when it was reformed in 2010. We are one of only three states to grant ALEC this status.

Last year, Common Cause filed a complaint with the IRS challenging ALEC's tax status and provided the agency with more than 4,000 pages of ALEC's own documents indicating it has committed tax fraud for decades.

All the negative attention ALEC has gotten has caused some corporate sponsors to jump ship. Indianapolis-based WellPoint has canceled its membership and should be commended for doing so, but the largest electric company in Indiana, Charlotte, N.C.-based Duke Energy, continues to participate and its ratepayers should be offended.

We all should be concerned about ALEC's shady influence on public policy here and demand full transparency and complete disclosure of its activities.•

__________

Vaughn is policy director for Common Cause/Indiana, a nonpartisan citizens lobbying organization that works for open, honest and accountable government. Send comments on this column to ibjedit@ibj.com.