Internet-only banks surfaced during the tech boom of the late 1990s. Many came and went, including Bank One's Wingspan Bank, which lasted just two years.

"Everybody asked us, 'How are you guys ever going to survive when the big guys couldn't do it?'" First Internet Bank of Indiana founder David Becker recalled.

One of the industry's pioneers is not only hanging in there but, lately, is thriving.


Becker
Profits of Indianapolis-based First Internet Bancorp rose 32 percent in the first six months of this year over the same time last year—to $3.2 million, or $1.11 a share.

And those shares are up about 105 percent since the beginning of this year.

Management apparently believes there's more appreciation to come for shares of 16-year-old First Internet Bank. Becker recently snapped up about 10,000 shares for $23.56, for a total of $235,916.

"It's been massive growth for us. This time a year ago, we were sitting here with 50 people," Becker said of the banking division of First Internet, plus 38 mortgage division employees. Today, total headcount is 117, which includes additional banking and mortgage employees at a new facility in Fishers.

First Internet also is possibly adding commercial lending staff at its residential mortgage office in Tempe, Ariz.

While the bank's residential loan portfolio at June 30 of $118.8 million was down 8 percent over Dec. 31, 2012, overall real estate loan growth was up 6.4 percent. Much of the growth has been in so-called credit tenant lease financing, which zoomed 95 percent, to $55.3 million.

In such lending, a landlord borrows money to finance a real estate project and pledges as security anticipated rents from tenants.

Commercial real estate lending has been the pitfall for many a community bank the size of $657-million-in-assets First Internet. One need only look to the failure in recent years of Irwin Union Bank and Trust, which was drawn to commercial lending opportunities nationwide that came back to haunt it with the collapse of once-hot real estate markets.

Becker said First Internet has been careful to be geographically diversified in its real estate holdings, which include mortgage customers in all 50 states and credit tenant lease financing in about 30 states.

First Internet has been careful not to be disproportionately invested in the east and west coasts, which have been the epicenter of a number of major real estate downturns.

"The consumer is back buying again," Becker said of demand for property, cars and other items. "We went through a three-year period where they were just nowhere to be found."

That an online bank with virtually no brick-and-mortar branches can even lasso commercial business, let alone from around the country, sounds like a tall order.

Part of it, Becker reckons, is increased word of mouth, particularly as the percentage of people using the Internet for financial transactions has blossomed.

Curiously, to grow commercial lending, the bank has set up a shingle at real estate trade shows and conventions around the country, building a solid block of contacts.

It's also made progress in speeding loan decisions, with many of the larger banks taking longer to run loan applications through a gauntlet o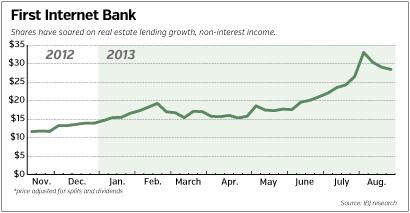 f committees at the branch and corporate level.

First Internet has "significantly staffed-up on its lending capabilities. That is critical," said Mike Renninger, CEO of Carmel-based banking consultancy Renninger & Associates.

First Internet's status as a publicly traded company also gave the branch-less bank a great deal of the visibility it needed, he added.

Renninger said he'd be curious to see how much less First Internet's cost of servicing a customer is compared to a commercial bank heavy on brick-and-mortar branches.

Becker said a traditional community bank with an equivalent amount of assets likely would bear the costs of four or five branches and probably three times the number of employees.

Consumers seem increasingly to care less about personal relationships inside the branch as in bygone years.

"When people get a mortgage these days, they seem to only care about the lowest rate," Renninger said.

That should bode well for First Internet.•