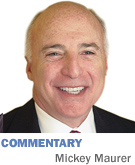 Last week the postman delivered an official dispatch in a fancy package.

Inside was a letter from The Heritage Foundation and a "2013 Taxpayer Ballot on Fiscal Responsibility." I was honored to be selected to cast an official ballot for a survey sponsored by this not-for-profit, non-partisan organization. The return envelope said "Secure Ballot Enclosed" and commanded the receiver to "Tabulate for Congress immediately."

Man, was I pleased. Just think, my opinion on fiscal responsibility is considered important and The Heritage Foundation pledges to collect my ballot, tabulate it with others so honored and disseminate this information to Congress—on a bipartisan basis. It's like being on the Ed Sullivan show.

In 2009, the Washington, D.C.-based Heritage Foundation was ranked by Foreign Policy magazine as fifth on the list of the nation's most-influential think tanks. Its "Index of Economic Freedom," published in partnership with The Wall Street Journal, measures the country's freedom in terms of property rights and freedom from government regulation. Its proclaimed mission is to "formulate and promote conservative public policies based on the principles of free enterprise, limited government, individual freedom, traditional American values and a strong national defense."

Hey, I know "traditional American values" has some tricky connotations, but you can't be bipartisan and bigoted at the same time, right? I was hyped to complete the ballot. The instructions stated that the final tally will be used as a "wake-up call" to political leaders that they cannot ignore their responsibility to manage our tax dollars responsibly and effectively. I read on, "… ESPECIALLY (sic) now that President Barack Obama, Big Labor and the tax-and-spend special interests continue to control the White House." Wait a minute. Bipartisan?

The instruction letter confided, "Heritage is working AGAINST (sic) the Obama liberals and the left-wing special interests that think your money is their money, and that see more spending as the answer to every problem facing America."

If this missive meets the Internal Revenue Code criteria for a bipartisan organization then someone at the IRS needs to be busted over the head with Warren Buffett's 1040.

The end of the instruction letter dropped the big reveal: The Heritage Foundation did not really care about my ballot as much as my tax-deductible gift of $15, $25, $50, $100, or $250 "that will enable Heritage to expose the current epidemic of reckless government spending … before our economic recovery is destroyed."

The letter again declared, "The Heritage Foundation is non-partisan." I expected it to be signed by Pinocchio.

The letter was signed by Heritage Foundation's new president, Jim DeMint, a failed senator from South Carolina who was instrumental in the ignominious defeat of the conservative wing of the Republican Party in many national elections. He not only championed foot-in-mouth Richard Mourdock, but vigorously supported crazies Christine "I am not a witch" O'Donnell and Todd "legitimate rape" Akin.

DeMint's legislative record while in the Senate was close to zero. He supported and led school prayer and introduced legislation to allow schools to display banners including references to God. He opposes abortion even in cases of rape and incest. After proving totally ineffective in the Senate, he resigned to bring his uncompromising Tea Party point of view to what was at one time a respected conservative think tank.

Crowning DeMint as the new president of The Heritage Foundation sends a clear message that its bipartisanship days, if ever there were any, are over. Furthermore, it is likely that under DeMint's direction, his record of lost races, unconstitutional positions and partisan attacks—even within a conservative Republican Party—will be perpetuated in a once-proud institution that deserves better.

I deposited the DeMint letter and the "bipartisan" taxpayer ballot where it will be recycled. That is also my hope for The Heritage Foundation.•

__________

Maurer is a shareholder in IBJ Corp., which owns Indianapolis Business Journal. His column appears every other week. To comment on this column, send e-mail to mmaurer@ibj.com.