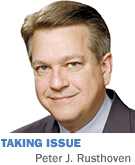 Our state and city lost an extraordinary citizen last week, when my friend and partner Dan FitzGibbon passed at age 71.

Dan was a Columbus native who earned appointment to the U.S. Military Academy. While there, he listened spellbound to Gen. Douglas MacArthur's farewell address to the Corps of Cadets on "Duty, Honor, Country," the West Point motto whose words "dictate what you ought to be, what you can be, what you will be." For Dan, this reinforced his own convictions.

FitzGibbon
Graduating in 1964, Dan served three years in Berlin. His duties included stints as a guard at Spandau, then housing the final three of the Nazi leaders convicted at Nuremburg (Speer, von Shirach, Hess). Dan's future father-in-law, Bernard Meltzer—who became the nation's premier labor law scholar—was one of the prosecutors who put them there.

Dan would talk about Spandau, MacArthur's speech and other service memories with those interested. The exception was his combat experience in Vietnam, where (after graduating first in his Special Forces class) Dan served for 19 months in 1968 and 1969.

Like every veteran I've known, including a Marine Corps brother with three Vietnam tours, Dan was reticent to discuss what he did and saw in warfare. Many friends would first learn details of this courageous chapter of his life in 2005, when the Indiana Historical Society persuaded him to publish "To Bear Any Burden: A Hoosier Green Beret's Letters from Vietnam."

Most authors, certainly this one, cringe on reading things written in our 20s. Dan had no reason to about his "Letters from Vietnam," sent to his parents. Narrative clarity accompanies remarkably mature observations, whether about people (including himself) or larger issues on the war. Occasional glimpses of the "20-something" holding the pen are humorous, not offensive, adding smiles to an insightful look at Vietnam through the eyes of one who was there.

Surprising no one but himself, Dan achieved superior scores on the LSAT and was admitted to Harvard Law School. He began in September 1969, the month I entered Harvard College. The campus was an epicenter of antiwar protest—outspoken, self-righteous, sometimes violent. Whatever its other claims to superiority, Harvard clearly led the Ivies in the superciliousness of many faculty and students, especially when the topic was Vietnam.

This was challenging for anyone who didn't conform. It was surely particularly frustrating to Dan, who had actually served and knew what he was talking about. Yet he would graduate from Harvard Law with not only honors, but also the affection and admiration of his peers.

In 1974, now a law student myself, I met Dan when he returned to campus with other Indiana Harvard alums to interview candidates for clerkships at their Indianapolis firm. It was immediately apparent that Dan and his colleagues, including Navy veteran Bob Reynolds, were people with whom one wanted to practice. Dan, Bob and others would prove this true.

Dan was a great lawyer and exceptional human being. His community service included leading the Lawrence Township School Board; his service to the world included volunteer work in the former Soviet Union and over 20 other countries on legal reform.

One was blessed to know Dan, and honored to be considered his friend. The price for the blessing of knowing such people is our heartbreak when God calls them from our presence—so often, in our eyes, too soon—to dwell henceforth in His.•

__________

Rusthoven, an Indianapolis attorney and graduate of Harvard College and Harvard Law School, was associate counsel to President Reagan. Send comments on this column to ibjedit@ibj.com.