Indiana is generally water-rich, but advocates of resource planning say the state runs the risk of supply crises that would hamper economic development.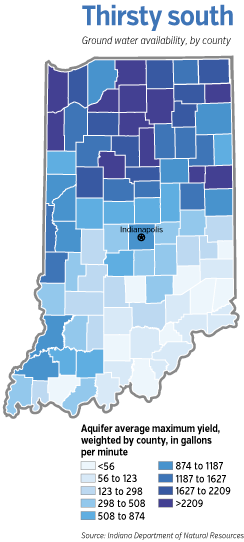 Utilities in fast-growing central Indiana could become embroiled in conflict, and growth along the new Interstate 69 corridor could be stymied if the state doesn't undertake basic, systematic monitoring and come up with a plan to cover the gaps between supply and demand, said Jack Wittman, a hydrogeologist who is leading a water-supply study for the Indiana Chamber of Commerce.
"You can't run a car without paying attention to the gauges," Wittman said. "It's the same thing with these aquifers and rivers." Based in Bloomington, he works for the Texas-based consultancy Intera Inc., which specializes in water-supply planning.
Chamber lobbyist Vince Griffin, vice president of energy and environmental policy, said he hopes the study, to get under way this fall, will fuel future legislative efforts to create Indiana's first statewide water plan.
That's a high priority for Sen. Ed Charbonneau, R-Valparaiso, who spent his career at U.S. Steel in Gary—a major industrial water user—and later was CEO of the Northwest Indiana Forum, a seven-county economic development group.

Charbonneau
"It just got hammered into me all the more, the importance of water," Charbonneau said.
Role model
He said it's too early to know what Indiana's plan might look like, but advocates are holding up Minnesota as a model. The state in 2008 adopted a 0.38 percent sales tax, part of which goes toward protecting water. Then the Legislature spent $750,000 to create a 25-year plan that will guide allocation of the sales-tax revenue dedicated to water, estimated at $85 million a year.
Wittman does not expect Indiana to pour that kind of money into water issues, but he said it's instructive that a watery state such as Minnesota isn't taking its resource for granted.
Indiana's reputation doesn't hinge on pristine lakes, but it has plenty at stake in drinking water and water-dependent industries—agriculture, electric power generation and pharmaceuticals, to name a few.
"This is our advantage," Wittman said of Indiana's water supplies. "Let's pay attention to it."
The push for water planning gained momentum this year with the Indiana Utility Regulatory Commission's first report under a 2012 legislative requirement to survey 555 water utilities about their use, costs, customer bases and service territories.
The IURC went beyond summing up the responses and made what Griffin called surprisingly strong recommendations. It called for proactive regulation of facilities that can draw more than 100,000 gallons per day to prevent adverse effects to residential drinking wells.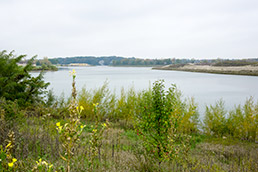 To meet area water needs, surface-water sources such as Geist Reservoir supplement groundwater from underground aquifers. (IBJ photo/Aaron P. Bernstein)
The commission also recommended requiring drought planning by all utilities, and evaluating whether the current network of 36 monitoring wells across the state is adequate. Another recommendation was for integrated water-resource management, which considers environmental as well as supply issues.
Scientists for years have wanted the state to at least improve its data collection, since much of what's known about Indiana's water supply was published in the 1970s and 1980s.
Shawn Naylor, a hydrogeologist with the Indiana Geological Survey who is president of the not-for-profit Indiana Water Monitoring Council, said he hopes the IURC's report, plus the chamber's influence, will translate to legislative interest that lasts longer than a drought year.
"We tend to be very reactionary," Naylor said. "There tends not to be that long-term vision in the state."
Indiana could start with strategic monitoring, which Naylor guessed would require installing 200 to 500 wells. That would be a big step, considering the Indiana Geological Survey, a research institute of Indiana University, is currently cobbling together federal grants to maintain a network of 11 monitoring wells, he said.
The northern third of the state has the most plentiful groundwater supplies, but it's unclear how long they'll support agriculture's growth and the increasing use of irrigation wells, Wittman said.
Availability is spottier in central Indiana, which also has the fastest population growth and could run into supply issues without coordination among utilities, Wittman said.
Southern Indiana has the least available groundwater, yet the state just opened a new growth corridor with the extension of Interstate 69, Wittman noted. The state will need to figure out how to bridge the gap between big reservoirs in the region and future business users, he said.
Wary reaction
Talk of statewide water planning is already making municipal utility operators nervous, Griffin said. (Most municipal utilities have opted out of IURC regulation.) He said he's heard the term "water czar" tossed around, but he insists that's not the direction the chamber is pushing.
Wittman would like to see Indiana follow Illinois in creating a state water survey, an office that is the go-to source for technical expertise but doesn't regulate. That central authority could help utilities work together and prevent misunderstanding in the general public about where water supplies stand.
Hamilton County's main source, for example, is an aquifer that follows the curves of the White River and isn't spread evenly across the county, Wittman said.
"People describe it as having infinite supplies," he said of the county. "It has enough, but only if it's managed."
During the 2012 drought, the city of Carmel issued press releases stating that it had plenty of water and no restrictions on use.
"That was contrary to all the other users in the county," Wittman said. "There was no one to say, 'Wait a minute, wait a minute.'"

Brainard
Carmel Mayor Jim Brainard said he agrees with the need for regional cooperation, but he would not want to lose local control. He pointed out that not all water shortages stem from a lack of natural resources.
Carmel had plenty of water during the drought because it taps the aquifer under the White River, and it has invested in new water treatment and distribution facilities, he said. Meanwhile Citizens Energy, which serves Indianapolis, Zionsville, Fishers and now Westfield, relies on surface reservoirs and was running out of treatment capacity.
"We're not using all your water," Brainard said. "We just built a better system."•
Please enable JavaScript to view this content.