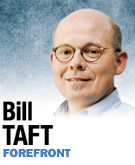 The next legislative session is likely to feature several bills affecting "social" issues like same-sex marriage, curriculum controversies and religious activities in public schools, abortion and public prayer.
These bills will trigger debate representing two basic views, one that sees cultural Christianity as our proper "civil religion" versus a purely "secular" perspective seeing any religious involvement in government as inappropriate.
Behind these views is a basic contested question: Do we live in a Christian state or do we live in a post-Christian state where multiple world views compete to shape our government?
I believe that reaching a common understanding of this reality could help our Legislature act in our best interests.
Every Hoosier has a set of values (often expressed as a religion) that inform this debate. I am influenced by my own faith as an "orthodox" Christian. I believe the Bible claims authority over the behavior of all Christians—often in ways that go against our own desires and cultural inclinations.
However, I do not believe these biblical constraints apply in the same way to non-Christians, or that it is up to the government to enforce many of them. I understand that a secularist or someone coming from a different religious tradition might have a moral code that will differ from mine, which can trigger conflict over the proper role of government.
Societal shifts make it difficult to find common moral ground, sometimes pitting urban and rural areas against each other in the Legislature. Small-town Indiana has experienced less change in traditional moral culture, while cities have a wider variety of cultural perspectives that make them more skeptical of any attempt to enforce moral precepts through legislation.
This fragmented landscape makes it difficult to address the big challenges to our prosperity. We often resort to demonizing and attempting to overpower those with different views.
However, recent trends of declining real income, poorly distributed economic opportunity, deteriorating and outdated infrastructure, and insufficient educational progress constitute such a large threat to Indiana's future that we must find common moral priorities to shape legislation.
The only way to find practical common ground is for Christians and secularists to acknowledge that neither dominate culture, and that they must find common ground around practical, specific government action for the common good. I believe that my fellow Christians should spend less energy bemoaning the moral decline of society, and instead focus on faithfully applying their beliefs to serve their neighbors.
Christians can learn from biblical passages such as Jeremiah's letter to the captive Jews living in Babylon, instructing them to "seek the welfare of the city where I have sent you into exile, and pray to the Lord on its behalf, for in its welfare you will find your welfare."
Secularists need to understand that Christian neighbors are motivated by a belief in a revealed "Truth" that will give them strong convictions.
The key to finding common public ground is to see these conflicting views as containing shared practical aspirations, and to focus on achieving social goals that align with these common priorities instead of bashing each other over "incorrect" beliefs.•
__________
Taft is executive director of Local Initiatives Support Corp., a not-for-profit that invests in neighborhood redevelopment projects. Send comments on this column to ibjedit@ibj.com.
Please enable JavaScript to view this content.