Youthful energy—and youthful intensity—marked Dance Kaleidoscope's "New Dimensions" program Oct. 24-27. The triptych featured three pieces that each stood on its own while subtly commenting on the others, adding up to one of the finest DK productions in my memory.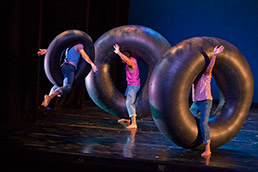 Zach Young, Timothy June, and Brandon Comer dance with a trio of unusual partners in Dance Kaleidoscope's "Riverboy." (Photo courtesy Crowe's Eye Photography)
It began with "Riverboy" by choreographer Christopher Dolder who, like DK's David Hochoy, is a former Martha Graham soloist. To the largely upbeat "Appalachia Waltz," the dancers sprinted to an imaginary river where very real industrial inner tubes instigated a series of joyfully executed frolics, sight gags and deceptively skilled moves. Having the tubes as a variable seemed to energize the company, bringing out a sense of play that proved infectious for the enthusiastic crowd.
Youth is not just playfulness and young love. It's also angst-ridden, which is one of the reasons the second, very different piece, Cynthia Pratt's primal "The Whole Against the Sky," proved a counterintuitive fit.
Beginning in a tight, writhing circle in the center of the smoky stage, the sizable company elevated individuals on the backs of others to briefly rise only to quickly return to the masses. An intense futility weighed on the eternal struggle to elevate. And the need for individuality seemed to battle the equally powerful need to connect. This was my second time seeing the piece, and my admiration for it only increased.
DK Artistic Director David Hochoy was represented in the final piece, bringing back his "iconoGlass." I'm happy to report it's as compelling as ever—even with a totally new set of dancers since its premiere in 1998. It shares a mythic feel with "The Whole Against the Sky," only with a heart-quickening pulse.
While programs set to popular music may be easier to sell (next up on the DK schedule: Gershwin and country music programs), "New Dimensions" demonstrated effectively that DK doesn't need pop crutches to achieve excellence.
"Rancho Mirage" at the Phoenix Theatre
The neighborhood in Steven Dietz's "Rancho Mirage" (at the Phoenix Theatre through Nov. 24) is a gated community where, if you didn't already guess from the title, things are not what they seem.
Dinner party hosts Diane and Nick are so over their heads financially that they're reduced to searching couch cushions for change. Their guests: A couple having marital trouble and another dealing with difficulty becoming parents. Those three core issues are just the beginning, though, as revelation piles on revelation, most barely revealed before the next is stepping up to the plate.
If these big drama moments aren't important to these alleged best friends, why should they be important to those of us in the audience? That's a question I kept wondering throughout the play, hoping that Dietz had a trick up his sleeve to explain why we should care about these folks.
Alas, he doesn't, making it easy to conclude that Dietz simply saw the success of "God of Carnage" and thought, "Adults behaving badly will lead to productions around the country. I can do that." I sincerely hope that wasn't his motivation, but I searched desperately in "Rancho Mirage" for support for another conclusion.
As part of the National New Play Network, the Phoenix Theatre is one of a handful of professional companies that stage what are labeled "rolling world premieres." That means a play such as "Rancho Mirage" has the benefit of a string of individual "premieres" across the country with, in theory, some time for the playwright to tinker in between. If this were the first production on this tinkering trail—or if Dietz weren't such a prolific playwright—I might have been more understanding of the play's flaws.
But how to rationalize themes so bluntly defined and metaphors this obvious? Why has one of the male characters taken up sewing? Here comes an over-polished line to philosophically explain it. Why doesn't such an upscale home have an ice machine in its refrigerator? Because Dietz needs a character to enter with a bag of ice and make a fortune-cookie comment about it.
Farce? Satire? Soap Opera? Drama? "Rancho Mirage" not only varies from moment to moment but also sometimes from character to character within the same scene. Each of the actors has some good moments—just as each of the characters has some good lines (Dietz knows his way around a punch line, and his writing tends to go down smoothly even when it doesn't add up). But both the actors and the characters seem to be randomly colliding instead of being orchestrated by a careful writer and sure director.
By design or by sloppiness—it's hard to tell—nobody seems to listen to anybody else, and it got to a point where I couldn't remember why the last character to storm out of the room stormed out or who was mad at whom for what reason. More than wanting to know, I wanted to care.•
__________
This column appears weekly. Send information on upcoming arts and entertainment events to lharry@ibj.com.
 
Please enable JavaScript to view this content.