Internet reviewers aren't always the kindest people when it comes to their opinions, which is a bit intimidating for a mom-and-pop shop.
But not embracing Yelp can be outright foolish as the San Francisco-based customer-review website expands its reach in Indianapolis, business owners say.
"The smart ones understand that the conversation is going to go on with or without them," said Lorraine Ball, owner of Roundpeg, a marketing firm that focuses on small-business clients.
Yelp has taken hold of Indianapolis' small-business scene since it set up a full-time employee in the city 3-1/2 years ago. The number of reviews increased sevenfold over that time. A spokeswoman would not release precise traffic or engagement metrics.
The company works hard to convince businesses the site is an ally—hosting dozens of events each year and helping with promotion on social media. The engagement with local businesses also provides the backbone for Yelp's business model, which relies on local advertising.
"Yelpers" use the website and mobile app to rate a business with one to five stars and write a review.
A one-star upgrade for a restaurant's average score can result in 5 percent to 9 percent more revenue, according to a 2011 report from Harvard University that studied businesses in Seattle. That impact has likely increased as Yelp has become more popular, said Michael Luca, one of the report's authors.
Another study, released by Dimensional Research in April, says consumer reviews influenced 88 percent of those surveyed.
Yelp has fetched its share of criticism since it started in 2004, as fake reviews have appeared and overactive filters have removed legitimate comments.
Consumer Reports in September tackled the trustworthiness of Yelp and other review sites, including Indianapolis-based Angie's List, calling into question the quality of reviews. Its caveat with Yelp was that reviewers could delete or change their comments after business owners respond to negative feedback, which "undercuts the integrity and accuracy of ratings."
Love it or hate it, consumers' shift in attention to Yelp—a popular place to find new places to shop or eat—has changed how businesses think about where they spend their time and money for marketing.
The service tends to stand out from larger social media sites because it focuses on entertainment, shopping and eating, Clay Robinson, a co-owner of Sun King Brewing Co., wrote in an email.
"It's really a different animal than other social media outlets like Facebook and Twitter, so it's like comparing tacos to taquitos," said Robinson, whose business has a 4.5-star rating after 137 reviews.
The Yellow Pages, especially, stand to lose ground to Yelp on advertising revenue, Ball said. People use Yelp or the phone book because they're already looking to buy something. On the other hand, people likely aren't thinking about a purchase when they see a TV commercial.
"People don't browse pizza places just to browse pizza places," she said. "You browse because you're hungry and ready to order."
Indianapolis business owners say the events help them boost sales down the road as the program becomes part of the status quo for small retailers, restaurants and the like to market their businesses online.
"Yelpers tend to be very active and vocal, plus their thoughts/reviews are easily accessible to people and help paint a better picture of your business," Robinson said.
Big firm, small focus
Yelp is a company that expects to generate $225 million in revenue this year by selling ads seen by 108 million monthly users reading 42 million reviews.
Yet the company prides itself on a grass-roots approach with its business model.
Most markets have one full-time employee, called a community manager. For Indianapolis, that is 24-year-old Brittany Smith, who quickly notes her own small-town roots in Union City.
Smith markets Indiana's small businesses at large. Most of the focus is on Indianapolis, but Fort Wayne, Bloomington and Columbus all have strong Yelp followings, she said.
Most of what she does she describes as "experiential marketing."
"It's all about having people experience the business," Smith said. "A lot of businesses now are not spending the money on advertising, and they're doing more things with samples and getting them to try it firsthand. We're kind of that platform for organizing that event."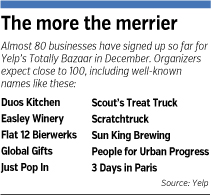 That means staging 30 or more events a year, she estimated.
The largest one is Totally Bazaar, in which close to 100 gift vendors will set up stands in Old City Hall on Dec. 12. Smith expects about 2,000 people to attend, which would be 400 more than last year, when it was at Indianapolis City Market.
Most affairs are smaller scale.
Stores or restaurants host parties and invite a handful of other businesses to participate. Smith used the example of an Indian restaurant that had an event with a henna tattoo artist and a sari shop.
Participating in an event usually results in a boost in business, said Amanda Mauer Taflinger, an owner of Homespun: Modern Handmade, an arts and crafts shop in Irvington.
"Any customer that comes in … can set up a review for you. It's whether or not you maintain an active role," she said. "I do think that makes a difference for a business—if you choose to be more than just passive about it."
Yelp, for the most part, gives its community managers free rein in deciding what types of events they host in their markets.
"We hire people who are an expert on their city," said Yelp spokeswoman Kristen Whisenand. "What locals are passionate about in Honolulu is very different in Milwaukee."
Stoking interest in local businesses ultimately drives more people to Yelp to leave reviews or find new places.
Filter zeal
One problem that has emerged, though, is a lot of reviews—one in four, according to Yelp—don't make it onto a business's page.
Yelp began taking heat earlier this year after business owners nationwide complained that filters were stopping glowing, five-star reviews while leaving mediocre or negative ones.
At the core of the problem, Yelp says, are business owners and unethical marketing firms that submit fake reviews.
Luca, the Harvard professor, released a second study on Yelp in September that showed 16 percent of restaurant reviews—one of the most popular types of review—were fake. Desperate business owners or their employees use the website to praise themselves, or they pay marketing firms to do so.
To address the problem, Yelp says, it has to use an aggressive filter to prevent fraudulent posting, which results in some casualties for legitimate commentary.
"Business owners can be frustrated that legitimate reviews can be filtered out, but that's the high cost that we have to pay so that the content that does appear on the page is useful," said Yelp's Whisenand.
Filters trap more one- and five-star reviews than they allow through, according to Luca's study.
The negative reviews that landed on the Yelp page for Homespun are the ones that stick with Taflinger.
It's happened only once or twice out of 39 reviews since she and her husband opened the business in 2010, but the criticism stings.
"It's scary. You don't know what people are going to take to heart when they read something," she said. "I can have 100 people tell me at an event that it was wonderful. But as soon as somebody tells me something negative, that's what sticks with me."
A big upshot is that businesses can respond, she said.
Whisenand noted the majority of reviews on the site are positive.
Ball, of Roundpeg, said Yelp—with the attention it fetches—is too big for a small business to ignore.
"It's a place that all small businesses need to be playing."•
Please enable JavaScript to view this content.