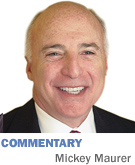 "Mickey, all you have to do is show up." That was captain AJ Hillebrand's recruiting pitch to run for The National Bank of Indianapolis team in the Indiana Sports Corp.'s Corporate Challenge race.

AJ was well informed. In my age group, 70 and older, hardly anyone is still employed, let alone able to complete a 5K (3.1 miles). I can still walk and talk—and work—at this age, so I agreed to participate. My next-door neighbor, Celadon Group Chairman Steve Russell, also over 70, accepted a similar challenge from his team captain. I offered to pick him up.

We arrived at Carroll Stadium on the IUPUI campus at 7:30 a.m. on Saturday, Sept. 28 to warm up for the 8 a.m. start. It was exhilarating to strut around the complex in running shorts and mix with healthy athletes of all ages. I did not feel like an old man—until the race began. I was passed by waves and waves of runners as I struggled to maintain a pace that would allow me to finish without shuffling down the homestretch with my head down, looking like I dropped my car keys. I began to feel silly about our team T-shirt that read on the back, "Bye, Bye, see you at the finish line." Who would be left back there to read that message?

The competition is divided according to number of employees. The bank was in the second of four divisions and thus not measured against biggies Celadon, Eli Lilly and the like. Most financial institutions were in our division. I finished 846th out of 903 runners in all divisions. But AJ was right: I bested the one other guy my age in our division and earned 100 first-place points toward the team total.

I reprised that performance in the half mile: another mediocre finish, and another first. I was the highest scorer for the bank team—a real jock. The bank came in third in our division and first among financial institutions regardless of employee census.

Everyone had a chance to play. There was a 5K fitness walk that allowed each finisher to score one point for the team regardless of finish time. In addition, participants chose from an array of events that included tug-of-war, basketball shootout, football accuracy throw, Frisbee toss (sponsored by Indianapolis Business Journal), golf chipping, obstacle course relay, parallel parking and soccer shootout. Earlier in the week, competitions were held in bicycling, bowling and volleyball. Also included was a philanthropic competition where companies received points based on how much they donated to designated local charities.

And what became of Steve Russell? In spite of backache challenges this year that inhibited his ability to properly train, he took his place at the start line and began a pace that was difficult for him to sustain. A real gamer, he finished the race practically carried across the finish line by three female participants. After this near collapse, he was strapped to a gurney and transported to an ambulance. The preliminary diagnosis was blood pressure problems. I never learned whether the blood pressure was a result of running the race or the close physical contact with three younger women at the finish.

I offered to take Steve home, but the med techs would not release him. He was taken to Methodist Hospital for observation and set free in time to enjoy lunch with his wife, Livia—a full recovery. He did not even curtail his evening activities. Steve also earned 100 first-place points in his division; he was the only entrant in the septuagenarian category.

The Corporate Challenge, sponsored by Anthem Blue Cross Blue Shield and co-chaired by Tag Birge and Lisa Purichia, was billed as a fun-filled community event that emphasizes healthy lifestyles, friendly competition and company camaraderie. It was all of that. Steve Russell and I will be there next year. Won't you?•

__________

Maurer is a shareholder in IBJ Corp., which owns Indianapolis Business Journal. His column appears every other week. To comment on this column, send e-mail to mmaurer@ibj.com.