A high-profile local developer has bought the Illinois Building and is considering offers to convert the downtown landmark into a boutique hotel that could be the city's first five-star lodge.
A subsidiary of Keystone Realty Group closed on the sale Nov. 7 with an affiliate of locally based HDG Mansur, which had owned the 10-story building at Illinois and Market streets since the 1980s.
Both parties declined to disclose terms of the transaction. But local office brokers familiar with the purchase say Keystone paid $5.5 million for the 145,000-square-foot building, or nearly $38 a square foot.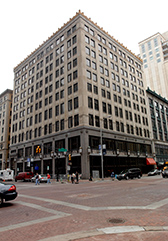 The 1926 building stands at Market and Illinois streets. (IBJ file photo)
"It needs a ton of money poured into it to make it viable for redevelopment," said Sam Smith, chairman of Colliers International's Indiana region. "But it's a good buy."
The location of the Illinois Building, just a block west of Monument Circle, makes it attractive for a hotel, or a mix of either apartments or office space above first-floor retail, Smith said.
Keystone President Ersal Ozdemir acknowledged both options are on the table, though he's already fielded three calls—two from developers and one from a hotel chain —gauging his interest in a hotel project.
"We'll be open to it if there's a need," Ozdemir said. "Most of the cities you go to, they have these brands."
Indianapolis lacks a five-star hotel, and adding a glitzy brand such as Ritz Carlton, Waldorf Astoria or W Hotel could bolster the city's convention traffic or even its bid to land the 2018 Super Bowl.
There's no doubt Indianapolis will need more hotel rooms within five to 10 years, said Chris Gahl, spokesman for Visit Indy. But landing a five-star brand is not a priority.
"While there's a sophistication that comes with touting a five-star or five-diamond hotel, it's not crucial or critical," he said.
Rehabbing the Illinois Building into a hotel, one with fewer than 200 rooms, wouldn't be a stretch, Ozdemir said.
In 2009, local developer Newmark Knight Frank Halakar tried to do just that. Principal Todd Maurer told IBJ in April that his firm agreed to pay $8 million before the deal fell apart prior to his signing a contract. Maurer blamed the Great Recession.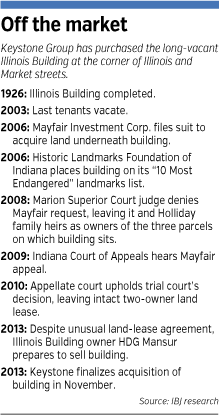 The sale price for the Illinois Building is not out of line with recent sales of similar older downtown buildings without attached parking. The asking price for the vacant, 213,000-square-foot Consolidated Building at 115 N. Pennsylvania St. was $6 million, or roughly $28 a square foot, when TWG Development LLC and Ambrose Property Group bought it in August 2012.
And Ambrose paid $6 million, or $54 a square foot, the following month for the 111,000-square-foot Circle Tower in the southeast quadrant of the Circle.
Keystone's purchase of the Illinois Building coincides with its attempt to redevelop the former General Motors Corp. metal-stamping plant site. The firm is one of four finalists in the running to revitalize the property along White River south of the Indianapolis Zoo. The others are Ambrose Property Group, Buckingham Cos. and REI Investments.
Ozdemir has carved out space in his plans for a roughly 10,000-seat stadium where his own North American Soccer League franchise, the Indy Eleven, could play.
Keystone also was one of six developers to submit a bid to redevelop a portion of the former Market Square Arena site, ultimately losing out to Flaherty & Collins Properties. Construction is slated to start early next year on Flaherty's $81 million, 28-story tower.
For the Illinois Building, interior demolition will start "ASAP," Ozdemir said.
Built in 1926, it last housed a food court and a gym, both of which closed in 2003. Three years later, it landed on the Indiana Landmarks "10 Most Endangered List."
The not-for-profit's president, Marsh Davis, lauded Keystone's plans to save the structure.
"By all indications, this is really good news," he said. "This is one of the most iconic historic buildings downtown and one of the few that has remained in limbo."
Another, the Consolidated Building at 115 N. Pennsylvania St., is about to be converted by TWG Development LLC into 98 apartments with first-floor retail space. A lack of parking at the Illinois and Consolidated buildings has made redeveloping both difficult.
City officials are delighted that Keystone and TWG Development have stepped forward to rescue the buildings.
"To have those two eyesores removed from the downtown is unmistakably positive for the downtown and the city in general," said Deron Kintner, deputy mayor for economic development.
The Illinois Building features Italian marble, African mahogany woodwork and terrazzo tile floors, according to the Historic Indianapolis blog. It cost $800,000 to build, but would cost up to $100 million to replace.
But its age is starting to show. Fencing now surrounds it to protect passersby from falling debris after a piece of marble fell from the deteriorating structure earlier this year.
It's sat empty for 10 years, due in large part to separate ownership of the building and the land—an arrangement once common among downtown buildings.

Ozdemir
The deal with Keystone brought the owners of the building and land underneath together in a conventional sale, said Bob Echols, HDG Mansur's president and chief operating officer.
"Ersal's group stepped up," he said. "There were others that did show strong interest in the building, and we were pleased with the response."
High interest in the landmark prompted HDG Mansur to list it without the assistance of an outside broker.
The owners of the land underneath came together and afforded Keystone a very short window, about 30 days, to close on a deal that typically would have taken months, Ozdemir said.
"We want to put this building back to what its glory was," he said, "and do it right."
HDG Mansur's sale of the Illinois Building comes as the firm faces millions of dollars in court judgments.
The company is entangled in a bitter court battle in New York with a former client that accused it of misappropriating funds. In August, a judge issued a $5.8 million judgment against the developer but put collection on hold as he considers some $20 million in counterclaims brought by HDG Mansur.
The former client, a group of investment funds, said the developer overcharged it for advisory services because it was in "severe financial distress." The suit alleged that "there is a significant possibility that without their 'cash grab' from the funds' assets, the HDG entities would be unable to continue operating."•
Please enable JavaScript to view this content.