Third-generation auctioneer Melissa Davis is in the business of selling things, but there's one artifact that will never leave her possession—even though it's gone on the auction block literally thousands of times.
It's an old hoe, purchased almost a century ago by legendary auctioneer Fred Reppert, who founded the Reppert School of Auctioneering, where Davis serves as president.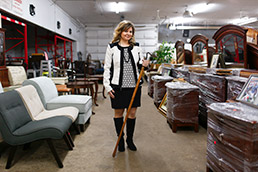 As president of Reppert's, Melissa Davis helps lead quarterly courses running 10 days straight that teach students how to be an auctioneer. About 150 students enroll per year. (IBJ photo/Aaron P. Bernstein)
"In 1921, when he started the school, he wanted something for the students to practice selling," she said. "So he went to the local hardware store and picked up a hoe. Every student since 1921 has 'sold' that hoe."
People who enroll in the 10-day, $1,295 program are videotaped auctioning the venerable garden implement on their first day, then taped again on their last to see how much their fast-talking skills—or their "chant" as it's called in the biz—have improved.
Between the four-times-a-year classes (the next session begins in late February) the hoe resides in a safe in Davis' office at Christy's of Indiana Auction Gallery, on Madison Avenue near Southport Road. Davis said the industry she grew up in has changed in ways that would shock Reppert.
For instance, when the school opened, the bread and butter of the trade was livestock auctions. Today, that business is much diminished, consuming only an hour in a 100-hour program.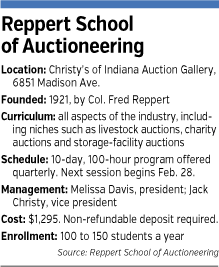 These days, auctioneers specialize in anything from real estate to cars to fine art to Davis' own bailiwick, charity auctions. Put it all together and it adds up to a considerable chunk of economic activity. According to the National Auctioneers Association, in 2008 (the last time national numbers were compiled), some $268.5 billion in goods and services were auctioned in the United States.
Those numbers have probably risen in the ensuing years. To no surprise, there's an inverse proportional relationship between the auction industry and the general economy. When times are good, people bring in less stuff to sell. When times are bad, goods go on the block much faster.
"We can always sense where the economy is going when people start bringing large product to us," Davis said. "That means that they're in financial need. That they need to sell it and liquidate it quick."
Cultural factors have also goosed enrollment at Reppert, which sees around 150 students per year. A spate of reality shows has made auctioneering, if not exactly sexy, at least interesting.
Learning the trade, however, can be grueling. Roughly 30 to 50 students enroll for each quarterly session, which runs from 8 a.m. to 9 p.m. for 10 days straight. The program's "textbook" is really just a gigantic, roughly 800-page binder.
It's a lot to get through. Not all—or even most—of the program's graduates find jobs in the industry. Davis figures about 50 percent of her students find a position in the field, with some smaller increment actually building careers. A small percentage of students doesn't intend to pursue the field at all. One student was a movie producer researching a notional film about auctioneering.
"I even had a doctor who did it because it was one of the things on his bucket list," Davis said.
Newbie auctioneer (and Reppert graduate) Jared Chambers did it for more conventional reasons. The former construction company owner wanted to get a foothold in the auction biz. He well remembers the gigantic textbook—which he keeps in his office for reference—and the long days.
"At first it was a little overwhelming," said Chambers, who took the program in February 2012.
The southern Iowa native has since opened his own business, Chambers Auction & Appraisal Co. He's kicking it old school—auctioning farm equipment, land and pretty much anything else that folks in his neck of the woods want to unload.
Davis said her student body is still about 70 percent male, ranging in age from 16 to 70. About 25 percent of the course work covers high-profile things like the all-important chant, plus insider tricks to help keep the auction humming along. For instance, the instructors advise students never to point at a bidder. Instead, gesture with an open hand, palm up, "as if they're going to hand you money." And when you ask someone if they want to bid, nod your head.
The bulk of the instruction is far less sexy, however.
"There's a lot of laws regarding auctioneering," Davis said.
Depending on what you sell, it can be a legal minefield. Sales of taxidermy collections can be a big deal, because the auctioneer has to make sure he doesn't sell an endangered species. Likewise, there are risks and liabilities associated with storage-garage auctions. And then there's the dreary-but-vital tasks of managing employees, getting insurance and properly appraising what you sell. No wonder the textbook is so big.
Because of the nature of the industry, even the National Auctioneers Association doesn't possess a ton of statistics about it—not even the number of auctioneers or the number of auction houses. However, the group's membership totals about 4,000, and they reckon there are north of 100 auctioneering schools. And that among those, Reppert is the big (and fast-talking) dog.
"It's extremely well-known," said the NAA's director of publications, Curtis Kitchen. "It's been around for a very long time and it's held in pretty high regard in the industry."
It's hard to keep accurate numbers about the profession because many states don't require auctioneers to obtain a license. In general, the farther west one travels, the less the chance that you'll need a piece of paper from the state before you can unleash your chant. Adding to the difficulty of a head count is that a growing number of people in other lines of work, such as real estate and appraisals, are learning to auction.
Whether that trend could pose a threat to conventional auctioneers is anybody's guess.
Davis said she's seeing ever-greater numbers of students who see her course as just another business credential, rather than a ticket to the world of full-time auctioneering.
"I especially see it in the real estate arena and the benefit-auctions arena," she said. Printing companies, who often do lots of business with auction houses, also send employees to take the course so they can get a better grip on the industry.
Kathy Harbaugh, senior vice president of professional development at the Indiana Association of Realtors, is less than convinced that real estate sellers cum auctioneers is a huge trend. Locally, it's always been part of the landscape, especially in rural areas.
Though the uses to which they put their training have changed, Davis said, the students keep coming.•
Please enable JavaScript to view this content.