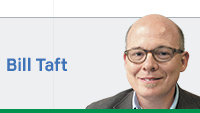 Downtown Indianapolis was recently ranked No. 1 for livability among smaller cities by Livability.com—gratifying praise after $9.3 billion of reinvestment. Recent debates and plans, however, have raised a fundamental question: Whose downtown is this?
Four visions of downtown are vying for the future: entertainment destination, employment center, point of care for the poor, and center of urban living. Unless Indy reconciles these rival views, we will experience growing conflict and gridlock on public policy issues.
• "Downtown as entertainment destination" is designed to cater to every need of a conventioneer or sports fan dropping in for a day or two and spending lots of cash, but hating to be confronted with slow streets or panhandlers.
This downtown has been built through a series of large-scale civic projects like the convention center expansion and Lucas Oil Stadium, and is a point of tremendous civic investment and pride.
While these big venues have shaped modern downtown, they do little to enliven our storefronts or offer daily amenities that would attract residents.
• "Downtown as employment center" is designed to cater to the needs of workers and their employers who make up almost 3 percent of the state's work force but also want to zip in and out without any fear of delays, crime or unpleasantness. A recent survey by Indianapolis Downtown Inc. revealed that workers commuting to downtown primarily care about cheap and convenient parking, easy auto access and safety.
An overemphasis on these considerations could easily create a downtown without the urban quality of life that both residents and tourists are looking for.
• "Downtown as a place to care for the poor" sees it as the epicenter of an aging city with a growing population of very poor, mentally ill or chronically homeless people who are citizens, too, and should be accommodated. Advocates for this view oppose public actions that would limit downtown social services or the use of sidewalks for sitting, sleeping or panhandling.
Center-city clothing handouts now attract poor citizens from faraway neighborhoods, while downtown residents are increasingly middle class, and its businesses and venues have built a real marketplace that is key to the economic success of our city.
A good city must consider the well-being of its most vulnerable citizens, but it makes no sense to prioritize activities to serve the poor downtown in a way that will prevent other citizens from enjoying access to public sidewalks, streets and parks.
• "Downtown as urban living center" prioritizes amenities people living in and around downtown need nearby to live comfortably, over the needs of occasional visitors or commuters. These residents want great public transit, parks with playgrounds and dog runs, basic retail and services, great day care and schools, and two-way streets that are safe for pedestrians and bikes.
With 3,000 apartments in development downtown and growing neighborhoods nearby, this residential perspective must be recognized as increasingly important. The millennial generation has a vastly greater appetite for urban living over previous generations, and it must be offered great downtown neighborhoods if Indianapolis is to compete for the taxpayers essential to sustaining an older city.
These competing views of downtown are not mutually exclusive. The challenge is to carefully consider the realities of each constituency when debating issues like transit, panhandling, and providing public subsidies to venues and new developments.
The health of central Indiana is intertwined with downtown, and we need to seriously consider the balance of interests necessary to make it the most vibrant center it can possible be.•
__________
Taft is executive director of Local Initiatives Support Corp., a not-for-profit that invests in neighborhood redevelopment projects. Send comments to ibjedit@ibj.com.
Please enable JavaScript to view this content.