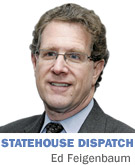 Game on.
At the same time on Jan. 14 that Indiana University's men's basketball team tipped off against the nation's third-ranked team, GOP Gov. Mike Pence faced a far less daunting task in his State of the State address: persuading a friendly Republican-dominated Indiana General Assembly to enact into law the assorted components of his ambitious legislative agenda.
While Pence had earlier laid out a number of initiatives that appeared overwhelming for a short legislative session, he used the annual spotlight to highlight a more limited set.
After bragging on how Indiana was improving its economic lot as it approached the end of a second century of statehood, he outlined the importance of certain elements to leading the state into its third century.
Pence emphasized job creation, early childhood education, and quality of life, and used his speech to fit his proposals into those silos.
He asserted that one item was a given: "Low taxes are essential to attracting investment and good-paying jobs." He emphasized that the business personal property tax remains an impediment to investments, particularly for the nation's leading manufacturing state—whose neighbors don't tax equipment investments.
In the collaborative Pence style we've watched evolve over the past year, he implored legislators, "Let's find a responsible way to phase out this tax." He acknowledged and appreciated that House and Senate fiscal leaders have proposed packages to revise the tax he seeks to eliminate, and are seeking "other ways to ensure that Indiana has the best tax climate possible."
With mayors in the gallery, the governor urged lawmakers to undertake tax revisions "in a way that protects our local governments and doesn't shift the burden of a business tax onto the backs of hard-working Hoosiers."
But he avoided taking sides on any specific proposal this early in the process, leaving the messy details to lawmakers.
Pence also emphasized the need for early childhood education programs, better alignment of career-education offerings with job skills needed for the advanced manufacturing work force of the (near) future, education choice for both parents and teachers, and a Common Core alternative: Indiana-specific education standards.
But the bottom line found no surprises, no marching orders, and a governor willing to let legislators sweat the details as they work toward his bottom line–-a freedom they covet given that they are largely chasing the same ends. Governors over the decades who have told the Legislature what to do and how to do it saw solons chafe at such marching orders, a strategy that did not serve them well.
The governor also gently entered the marriage amendment fray, the dominant issue in recent days despite consuming only a handful of hours of actual legislative time. He reminded Hoosiers where he stood, but requested respect from and for both sides—perhaps superfluous words given the largely high tone of Jan. 13's House Judiciary Committee meeting.
He didn't cover some other lightning-rod issues on the agenda, some of which—such as the agriculture-related measure that proponents call "enhanced trespass" and opponents dub "ag-gag"—have already seen early debate.
But the State of the State is best used for setting a tone, reminding Hoosiers how far they have come and about the pot of gold at the end of the session rainbow—and for creating the tone businesses want to hear.
A just-released textual analysis of all 388 gubernatorial State of the State speeches delivered in the U.S. from 2002 to 2010 reveals that rhetoric can be an important economic development tool. The study's three economist authors, including one from the IU Kelley School of Business, found a correlation between the level of optimism in these addresses and short-term market response to in-state companies and, more important, "firms changing their investment and employment decisions in the following year" based on those good vibes.
While we didn't run a statistical analysis on the Pence message, it was clearly upbeat and optimistic, sending signals that needed to be heard by Hoosiers, their lawmakers and those who make investment decisions.
While the crowd was justifiably louder in Assembly Hall than in the General Assembly, the Indianapolis play-making was more important to the state's future.•
__________
Feigenbaum publishes Indiana Legislative Insight. His column appears weekly while the Indiana General Assembly is in session. He can be reached at edf@ingrouponline.com.
Please enable JavaScript to view this content.