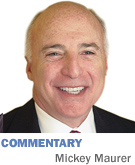 The American Studies Association voted in December to support a resolution calling for the boycott of Israeli academic institutions as a putative form of protest against Israel's treatment of Palestinians. The call to boycott was soundly rejected by more than 125 academic institutions and should have limited impact. But the affair is distressing for another reason.
ASA is a small (read that anyway you like) organization (about 5,000 members) that according to its website is devoted to the interdisciplinary study of American culture and history. It should stick to its mission.
The Association of American Universities opposed the boycott, saying "Any such boycott of academic institutions directly violates academic freedom, which is a fundamental principle of AAU universities and of American higher education in general."
AAU is an organization of public and private research universities in the United States and Canada. Its members award more than one-half of all U.S. doctoral degrees and 55 percent of all science and engineering degrees. AAU urged American scholars and scholars around the world who believe in academic freedom to oppose this and other such academic boycotts.
Indiana University President Michael A. McRobbie withdrew IU membership in ASA. He joined a host of academic institutions, including Purdue University, in denouncing the boycott resolution. McRobbie said, "Boycotts such as these have a profound chilling effect on academic freedom, and universities must be clear and unequivocal in rejecting them."
A fringe organization that voted against academic freedom within a very specific context was soundly rejected and will be largely ignored. Case closed?
Questions remain. It is puzzling that the ASA members, erstwhile champions of critical thinking and academic freedom, focus this attack on the only democracy in the Middle East. There was no mention of boycotts in relation to countries where government policy is based upon religious extremism and lack of tolerance—where freedom is only a dream and academics as well as women and religious minorities are perpetual victims. None of Israel's neighbors, including American allies, could reasonably be described as even remotely supportive of free academic inquiry in an open society.
How to explain this singular obsession with Israel, whose noisy democracy, fractious politics and vibrant self-critical ethos rivals our own? Perhaps many ASA representatives voting in support of the boycott do not much care for Israel in any guise—today's version of anti-Semitism.
Regrettably, worldwide anti-Semitism is on the rise and some organizations, including ASA, have proven themselves vulnerable. Israelis and Jews in general again feel the sting of hatred throughout Europe. Today it is dangerous to wear a Jewish religious symbol on many streets of Paris and London, not to mention European cities where there are almost no Jews left.
The reaction to the ASA action gives pause to some of us who have dared to believe that institutional anti-Semitism in the United States is on the wane. It is troubling that the universities so quick to defend academic freedom did not condemn ASA for its base and vile prejudice against Israel.
And in Indianapolis? It has barely been a generation since membership was "restricted" at Meridian Hills Country Club, Woodstock Country Club and the Riviera Swim Club. Go back another 30 years and you will find the doors closed to the Columbia Club, the Indianapolis Athletic Club and even, I'm embarrassed to say, the Indianapolis Bar Association. Shouldn't we be over all of that?
Yet last month at one of the city's charter middle schools, a teacher presented an anti-Israel film to impressionable 12-year-olds—children who lack the seasoning to comprehend flagrant propaganda. Going beyond an academic debate, the film questions the very legitimacy of Israel's existence. The response of those naïve children exposed to its message: some poems reflecting their newly taught, newly acquired prejudices. School administrators are now retooling that curriculum.
Academic freedom—yes, it is a concept worth defending. Unfortunately, there is an even larger issue here.•
__________
Maurer is a shareholder in IBJ Corp., which owns Indianapolis Business Journal. His column appears every other week. To comment on this column, send e-mail to mmaurer@ibj.com.
Please enable JavaScript to view this content.