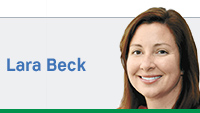 Since the General Assembly convened in January, it seems that nearly everyone I've talked to has an opinion on House Joint Resolution 3, the divisive constitutional amendment that defines marriage as between a woman and a man.
The conversations are thoughtful and insightful. I've listened to observations from family members, political types, friends and neighbors.
We've covered all the reasons why HJR 3 is a bad idea. It will discourage top-flight talent from signing on at one of our many thriving corporate headquarters. Opposite-sex partners in committed relationships would lose protections because of the second sentence. Forward-thinking Hoosiers will leave the state, leaving us to continue on a descent to becoming the "Mississippi of the North."
We've heard the thoughtful, rational and legal arguments for why HJR 3 will lead to decades of legal challenges. Freedom Indiana has done an excellent job of reaching across the aisle to educate our legislators on the amendment's detrimental impact.
We've also seen the numbers. Public attitudes toward gay marriage are shifting, and Indiana is a part of this trend. That's why Gov. Pence wants it on the ballot now, so he doesn't have it on the ballot when he's up again in 2016. Because believe me, those numbers will continue to move.
We've intellectualized the arguments. We've shaken our heads at the change-the-rules-if-you-don't-win culture at the Statehouse and the tone-deaf statements from our elected leaders.
Yet, it wasn't until I talked to a married gay couple at a recent fundraiser that I realized just how personal HJR 3 is.
HJR 3 will permanently write discrimination into the Constitution. As my friend shared, it makes him a second-class citizen. He and his husband would not be considered equal under the law.
This couple lives in an urban neighborhood. They are public servants, businessmen, volunteers. They are just like you and me.
I challenge you to look around at your gay friends and neighbors, your gay employees and colleagues and ask yourself: Are they threatening the very moral fabric of our society?
I doubt it. Our gay friends and neighbors, employees and colleagues are living in their homes, working, paying taxes and raising their families. Just like everyone else.
Of all the things we need concern ourselves with in Indiana, gay marriage doesn't even come close to the top of the list. Our fellow Hoosiers are living in poverty. We are rejecting national education standards. Twenty-eight of our teenage daughters get pregnant every day. Our obesity rate has pushed us to the brink of a public health crisis. Our governor refuses to expand Medicaid, denying health insurance to thousands of our most vulnerable citizens. Our children still aren't going to preschool.
We are falling behind.
Which makes it all the more absurd that gay marriage has become the focus of this legislative session. Because if your greatest concern is what two consenting adults do behind closed doors, and not on the other more pressing issues facing our state, you need therapy.
I firmly believe that HJR 3 is terrible for our state. If it moves to the ballot, it will be a divisive and ugly campaign. It will do nothing to bring us together to move our state forward.
If we let HJR 3 get much further, we will fail not just ourselves, but those that have come before us and those yet to come.
Indiana, we are better than this.•
__________
Beck served on the staffs of former Mayor Bart Peterson and former first lady Maggie Kernan. An Irvington resident, Beck owns the strategic communications firm Beck Communications. Send comments to ibjedit@ibj.com.
Please enable JavaScript to view this content.