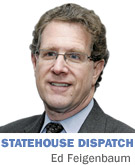 Doesn't it seem that legislation with a significant impact upon Indianapolis or central Indiana always ends up being decided in conference committee?
While this is a typical conclusion to the legislative journey for almost any big-ticket item, it appears particularly aphoristic for measures singling out the Mile Square, Circle City or doughnut counties.
While urban legislative influence has waned in recent decades as city dwellers have fled in large numbers to the suburbs, investment in the core cities has continued, and, in the case of Indianapolis, largely increased.
Many of these economic development opportunities have required legislative assistance, whether through direct state support, creation or expansion of special taxing districts, or unique authorizations.
These situations set up scenarios under which declining numbers of urban lawmakers (sometimes coupled with suburban counterparts) must convince their small-town and rural colleagues to direct more state resources to the core, or allow them to do something affecting only the specific city or a small part of it. That often requires trade-offs, sometimes within a specific bill, and other times an understanding that support on one item will be effectively exchanged for backing on another.
This session is no different, and Indianapolis, Marion County and central Indiana counties have a lot more riding on what evolves in conference committee deliberations than usual for a non-budget session.
The ambitious (and expensive) legislative agenda advanced by Gov. Mike Pence continues to occupy center stage entering the session's final week.
The governor will certainly not see legislative approval of his entire package—particularly items requiring significant cash. He's raised the profile of tax and policy issues, paving the way for shortened discussions in the next budget.
Pence has already found universal support for his quest to elevate vocational and technical education programs as employers seek better-trained workers.
He has also afforded lawmakers considerable freedom to shape his quest for elimination of the business personal property tax. This will be one of the highest-profile issues this week. There was never any doubt this measure would land in conference, but House and Senate negotiators are tinkering more at the margins than trying to meld two largely incompatible measures, as it might have appeared a few short weeks ago.
The outcome is important to Indianapolis.
Not only will it likely mean deeper corporate income tax cuts (making Indiana's largest city more attractive for business relocation), but a "superabatement" tool could allow localities in counties that don't eliminate the business personal property tax to abate business personal property taxes for as long as 25 years.
Look for this to be massaged in conference along with proposals to allow small businesses owning less than a low-five-figure amount of taxable equipment to be exempted from the business personal property tax, while also allowing localities an abatement option on new equipment valued at more than $3 million.
Local governments have loudly fretted about the potential loss of tax dollars from a reduction or elimination of the business personal property tax, and raised concerns about forcing intrastate competitions for business relocations. Expect lawmakers to stress that granting local flexibility will serve all communities and allow local units to adopt schemes best for them.
The other key bill to watch locally is mass transit, which will certainly drop a light rail option added in the House but which is anathema to the Senate. While the package cleared the House with only 52 votes, more support waits in the wings.
Transit deliberations will focus on a requirement for the business community to step up and finance a chunk of costs—as preferred by the Senate—and taxpayer protections for cost overruns. A package (with more wiggle room than some might favor) is likely to be approved.
February revenue collection numbers will be the nail in the coffin for outstanding items with a fiscal impact, but that won't affect mass transit or the business personal property tax debate.•
__________
Feigenbaum publishes Indiana Legislative Insight. He can be reached at edf@ingrouponline.com.
 
Please enable JavaScript to view this content.