When state leaders took the unprecedented step of seizing control of five failing schools in 2011, they had no clear plan for the schools' long-term future.

Nowhere has that state of limbo been more acute than at Emma Donnan Middle School, which offers only seventh and eighth grades and has no formal connection to any elementary school below it or high school above it.

The result has been a school that is half empty and has a stratospheric student turnover rate of about 75 percent.

"No one in their right mind would ever start out a two-year middle school model with this kind of turnover in place on purpose," said Jon Hage, CEO of Charter Schools USA, the Florida-based company hired by the state to manage Emma Donnan. "You would never academically set up something like this, without a feeder school attached to it."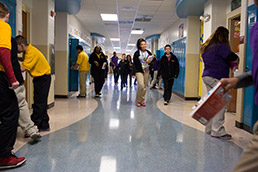 Three out of four students at Emma Donnan Middle School leave each year via graduation into high school or by transferring to another school. (IBJ photo/ Aaron P. Bernstein)
But a bill passed by the Indiana General Assembly this year could help bring takeover schools out of their status as islands and reconnect them to larger school systems.

Senate Bill 205 calls for these schools to be returned by 2016 to the control of the traditional school districts they are still, technically, part of, or to be allowed to apply to become charter schools. The bill also allows for the state to extend its period of control.

That legislation has been praised by all sides, including the State Board of Education, which seized the schools, and by Indianapolis Public Schools, from which four of the five schools were taken.

"It seems to clarify and bring larger options," said Dan Elsener, president of Marian University and a longtime member of the State Board of Education. He noted that the law, which still awaits Gov. Mike Pence's signature, would allow the board to transition the schools into charter schools.

"I don't think we had that authority in the old language," he said.

Indeed, the 1999 law that allowed for state takeover of failing public schools, which is known as Public Law 221, provided no guidance for how to end such a takeover. The law merely created a system for grading public schools, which has now been turned into an A-F grading scale, and said any public school that scored in the lowest category for six straight years could be seized by the state.

Libby Cierzniak, a lobbyist for IPS, said of SB 205, "This is a much more reasonable approach than we've seen in previous years."

Legislation proposed but not passed last year said turnaround schools could not be returned to IPS, but would have to become charter schools.

Cierzniak said losing long-term control of the turnaround schools—which include the three iconic high schools Howe, Manual and Arlington—still worries IPS. But IPS is less concerned because of another law passed this year, House Bill 1321, which would allow IPS to form partnerships with charter schools and count their students as part of its district.

Hage, the Charter Schools USA CEO, would like to win permission to open two charter schools serving grades K-6 as a way to feed students into Emma Donnan and the two 7-12 schools—Howe and Manual—that his company also manages.

But since Hage has not been allowed to do that yet, he also met on March 12 with IPS Superintendent Lewis Ferebee, to broach the possibility of Emma Donnan's partnering with IPS. The IPS administration did not respond to a request to comment for this story.

Hage said he is interested in having lower grades, such as 4-6, housed in Emma Donnan's building on Troy Avenue on the city's south side. That could help create a common school culture that would carry over into Emma Donnan's middle school grades.

Emma Donnan still interacts with IPS. The 29,000-student district provides busing services to Emma Donnan students and handles some parts of enrollment.

IPS has designated Emma Donnan the default middle school for students from a mammoth geographic district, which stretches from Crown Hill Cemetery to as far south as Interstate 465 and Hanna Avenue and as far east as Brookville Road and Arlington Avenue.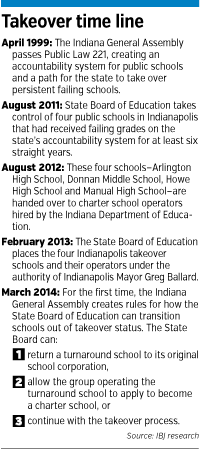 "It serves geographic boundaries that you would never even consider that as part of its neighborhood," Hage said. "One of the biggest reasons these schools have failed is that the community at large has failed to see them as their schools."

Transient students

As a visitor, it's not easy to get in or out of Emma Donnan Middle School.

The main entrance is set back a bit into the imposing two-story brick building. Once a visitor is buzzed past the locked doors, there are no classrooms or kids immediately visible—just a narrow, mostly windowless hallway.

Despite these hurdles, students come and go from Emma Donnan faster than from any school in the state.

Not only do roughly half its 315 students leave each year as they move to another school for ninth grade, but an equal number comes in each year from sixth grade at other schools.

In addition, about 100 students each year leave midyear and an equal number comes in.

Because so few of the school's students are the same from year to year, it's hard to judge Emma Donnan's performance the way most schools are judged—based on year-over-year growth in overall scores and pass rates on the state standardized ISTEP test.

Instead, Charter Schools USA officials are tracking individual students' progress on a variety of tests given in fall and winter, so it can see how much progress they're making once Charter Schools USA has a chance to teach them.

"It is extremely important to recognize that, with academic performance, the longer that they are with us, the greater gains we see our students making," said Sherry Hage, Jon Hage's wife, who is chief academic officer of Charter Schools USA.

Emma Donnan's challenges are already getting attention from the State Board of Education.

At a March 12 meeting, board member Brad Oliver noted that Emma Donnan's lack of a "feeder system" of elementary schools made its efforts to improve the culture of the school inordinately difficult.

"Does it make sense to change the culture of a 7-8 school without addressing all the feeder systems?" Oliver said. "It still seemed to me like that was a missing piece."

In response to Oliver's questions, Tamra Wright, director of turnaround schools for Indianapolis Mayor Greg Ballard, said her office is looking into it.

"That's very, very challenging," Wright said of Emma Donnan's situation. "So I think you have to look at the feeder schools."

Ballard's office became the overseer of the four turnaround schools in Indianapolis in February 2013.

Previously, the schools had been overseen by the Indiana Department of Education. That agency, under the leadership of Republican Tony Bennett, shocked public school leaders by calling for seizure of the schools in 2011.

But Bennett lost his bid for re-election in 2012 to Democrat Glenda Ritz, who opposed the takeovers. She agreed to hand oversight of the four IPS schools to Mayor Ballard's Office, which approves and oversees 25 charter schools in the city.•