A March 26 decision by the National Labor Relations Board to let football players at Northwestern University unionize could trigger a tidal wave of changes across college athletics, including in Indiana, and for the NCAA itself.

The NLRB ruling alters the very definition of college athletes—from students to employees. That's a change virtually no college, nor anyone at the NCAA's Indianapolis headquarters, is ready to embrace.

High-profile private schools like the University of Notre Dame are likely to be among the first to feel the impact.

"This ruling is the trigger. It's the game changer. I expect there

Burke
to be major changes in college athletics in the next five years," said Galen Clavio, a sports communication and marketing expert at Indiana University. "Once you go down the path of saying these athletes are employees as the NLRB ruling does, you have to look at how much money is being generated ... and what athletes are bringing to the table."
The changes triggered by the ruling could include pay for athletes, better health care and insurance coverage, and guarantees on players' scholarships.

Purdue University Athletic Director Morgan Burke said the NCAA is already "in the process of major governance reform." That reform, however, doesn't mean colleges are ready to call their athletes employees.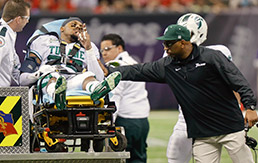 Some college athletes must pay insurance premiums and deductibles even for costs related to a sports injury. The group seeking to form a union of Northwestern University football players wants better health care and insurance coverage. (AP photo)
"We feel strongly that our athletes are students and our coaches are teachers," Burke said.

Indianapolis attorney Paul Sinclair said the ruling will accelerate the need for coaches and administrators to re-evaluate their relationships with athletes.

"The institutions that get unionized are often the ones that deserve it," said Sinclair, a partner in Ice Miller's labor and employment group. "Unions crop up in places where employees feel they have to act collectively to force their employers to do something."

This ruling has been a long time coming, said Allen Sack, a player on Notre Dame's 1966 National Championship football team and president of The Drake Group, a not-for-profit that bills itself as a watchdog for academic integrity in big-time college sports.

"The NCAA has been on a long road of transforming college sports into a form of mass entertainment," said Sack, a professor of sport management at the University of New Haven. "If you transform college athletes into employees as the NCAA and its members have, they have to be given employees' rights."

And this isn't just about football, added Sinclair, who played football for Brigham Young University in the late 1980s. He said the ruling will affect all sports, at all levels.

Swarbrick
The front line

Private schools such as Notre Dame and Butler University will feel the first wave of the incoming tsunami.

State employees are governed by state law, not by the federal labor act. So most attorneys predict that public colleges won't be forced to deal with an athletes' union. Some legal experts, though, said since the NCAA treats all college athletes the same and since private and public schools play in the same leagues, that idea could be challenged.

Either way, no college is going to escape the changing current.

"If a union at one school is able to bargain for better conditions, athletes recruited by other schools are going to want those same things," Clavio said. "Every school, whether unionized or not, will have to respond."

While Burke said he and his staff are monitoring the situation, he reminds people, "This is just the first inning of a nine-inning game."

Organizers of the Northwestern University football union still have several significant hurdles to clear. Northwestern administrators have until April 8 to appeal the NLRB ruling, which they have promised to do.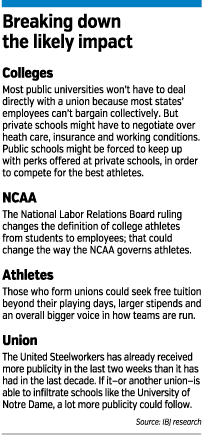 If the NLRB upholds its decision, a simple majority of Northwestern's scholarship players would have to vote in favor of forming a union. While that success isn't a given, Sinclair said the union movement wouldn't have gotten this far if union leaders—including United Steelworkers officials who helped organize the effort—didn't think they had the votes.

"Remember, you have to have 30 percent of the group to sign a petition saying they want a vote on a union to get this far," Sinclair said. "And they probably have a lot more than that."

Even if a union is formed, Northwestern could refuse to bargain with it. The case could be appealed to the courts. More than a few college sports experts have predicted this decision will end up in the U.S. Supreme Court and could take months or even years to settle.

Ruling has legs

Regardless of how long it drags on, the issue doesn't appear easily swept away by the NCAA or its member schools.

Kenneth Dau-Schmidt, a professor and labor law expert at the Indiana University Maurer School of Law, said the ruling might very well "have legs" under the law. He said there's a good chance the entire NLRB and the 7th U.S. Circuit Court of Appeals will confirm the ruling.

"The definition of 'employee' under the National Labor Relations Act is fairly broad," Dau-Schmidt said. "There are exceptions, but none of them apply to this case. … The football players are directed to perform for the benefit of the university and receive compensation in the form of scholarships and stipends, so there is a pretty good argument they are employees for the purposes of the act."

NCAA officials declined to comment for this story, but issued a statement saying they and their members are disappointed with the ruling. Indiana University Athletic Director Fred Glass also declined to comment, instead referring to a school-issued statement that said IU, too, disagrees with the ruling.

Notre Dame a target?

If Northwestern is successful in forming a union, Notre Dame could be one of the first schools to follow suit, for two reasons.

First, Notre Dame's football team—with its national following and sizable contract with NBC—is one of the biggest revenue-generating operations in college sports.

While Northwestern union leaders say they are not primarily concerned with getting players more money, many sports business experts say that is likely to come into play.

Second, though United Steelworkers officials said they are taking on the Northwestern case pro bono and insist this is not a grab for new members or cash, there's considerable upside for USW to unionize the Fighting Irish.

"They've gotten more publicity in the last two weeks from the Northwestern case than they've gotten in the last 20 years," said a college administrator speaking on condition of anonymity. "When you're a struggling union, this sort of media attention is really good for you."

Perhaps no affiliation would bring USW more attention than a pact with the Notre Dame football players.

"Unions don't do anything they don't have a strategic plan about," Ice Miller's Sinclair said. "It would surprise me if they weren't talking to students from other schools. Notre Dame would certainly be a big target."

Notre Dame Athletic Director Jack Swarbrick declined to speculate on what might happen in South Bend.

"The foundation of this [NLRB] decision is a conclusion that participation in college athletics is not at its core educational, and at Notre Dame we fundamentally disagree with that," Swarbrick told IBJ. "When I talk to our former athletes, which I do often, they routinely tell me they call on their lessons they learned as a student-athlete every day in their professional lives."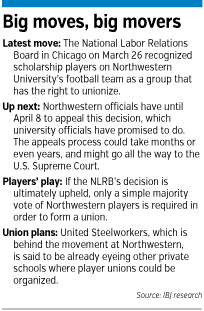 A union movement at another school won't likely start until after the Northwestern case is settled. Chicago—where the Northwestern case was decided—and South Bend are in different NLRB regions.

"[Union leaders] have the decision they want right now," Sinclair said. "I doubt they'd want to risk going in front of a different hearing officer before a firm precedent is set."

Better work conditions

If Northwestern players aren't primarily interested in getting college football players money, what are they interested in?

Former Northwestern quarterback Kain Colter, who is leading the unionization effort, said athletes want the right to bargain collectively with the university about issues like how many hours of practice per week are required, health and disability insurance, guaranteed terms of a scholarship, and extending scholarships beyond a player's playing days to assure he graduates.

Colter's group said it doesn't want to negotiate for anything that will take the school out of NCAA compliance, though many observers think the union—or several partnering college sports unions—could force the NCAA's hand in changing its bylaws.

It's unclear how a union of college athletes would be formed, but if Northwestern is the blueprint, it appears each team would require its own union.

"Schools, especially big universities, could be faced with negotiating with a number of bargaining units," Sinclair said. "That could get pretty complicated and time-consuming."

College honchos on offensive

Sinclair
College administrators, athletic directors and coaches have been forced to go on the offensive. They're increasing dialogue with their student-athletes to make sure they're relatively happy, and also touting recent reforms and everything they do for their players.

The Drake Group's Sack said several NCAA bylaws led to this unionization effort, adding, "They got what they deserved."

First, Sack said, the NCAA enacted a fraudulent misrepresentation rule in 1967 that allowed schools to revoke an athlete's scholarship for breaking team or school rules.

"When I played, we had four-year scholarships, and that was important," he said. "It greatly eliminated revoking scholarships for reasons of injury or performance."

In 1973, the NCAA made athletic scholarships one-year renewable deals.

"That meant scholarships could be revoked for almost any reason," Sack said. "And some athletes lost their scholarships simply because they weren't as good as coaches thought they would be when they recruited them."

Though athletes complained about the one-year renewable scholarships, there wasn't much movement on that front until former Rice University football player Joseph Agnew filed a class-action lawsuit against the NCAA, arguing that the one-year limit on athletic scholarships amounted to price-fixing between the association and member universities.

As a result, the antitrust division of the U.S. Justice Department looked into the rule, and in 2011 the NCAA gave schools the option of offering a four-year scholarship.

"They only did that to hold off antitrust suits," Sack said.

If a Purdue athlete keeps up his grades and abides by school and team rules, scholarships are not revoked.

"We are trying to create rules that are fostering athletic and academic success," Burke said. "You're not going to be so hard on kids they don't want to play for you. But there are going to be consequences for breaking rules."

Sack said the union movement will require the NCAA and its members to make more dramatic reforms.

"They need to totally restructure the NCAA and compose it of former, not current, university presidents," he said. "Anyone who is in a current position within the NCAA or at these schools is far too influenced by the influx of big money and the people that control that money."•