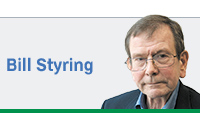 After years of trying, mass transit advocates have finally steered a central Indiana transit bill through the General Assembly. It authorizes county councils and, in some cases, township boards to approve ballot referenda imposing up to a 0.25-percent transit income tax.
As the referendum proposals start showing up at election time, voters in Marion and the surrounding counties can expect a drumbeat of commercials and editorials (including from the IBJ) touting the glories of voting yes. If experience is guide, the Federal Transit Administration will pony up multi-six figures of cash to support the effort.
(So federal bureaucrats at the FTA will use your tax money to propagandize you to raise your taxes so they may use yet more of your tax money to perpetually subsidize the money-losing transit schemes they just persuaded you to raise your taxes to subsidize. Does this offend anyone?)
The core arguments in favor seem to be three. First, low-income, transit-dependent workers need a way to get to jobs. IndyGo bus service is indeed lousy, although one has to be far down the income ladder not to be able to afford some kind of private automobile.
Second, there are just hordes of talented, high-income-potential young people out there dying to migrate to central Indiana if only we had better public transportation. This argument one can largely dismiss. If they love riding BART so much, they can stay in San Francisco and continue to vote for Nancy Pelosi.
Third, our community just doesn't look, um, progressive with all of us hicks riding around in environment-whacking, planet-destroying private motorcars. I leave it to the reader to decide if it's worth the extra tax bucks to win the approbation of the Sierra Club.
As to the nitty-gritty of what kind of transit we're looking at, the Noblesville-to-downtown Indianapolis rail idea is mercifully gone. The legislation specifically prohibits it.
What is left is buses. Lots of buses. (Doesn't sound as sexy as transit, does it?) Three flavors of buses.
We have regular ol' city buses. The route expansion here is largely in the central third of Marion County. Express buses are regular buses, except they don't make as many stops. These shuttle-types are what are proposed to the airport and places like Carmel and Greenwood.
The third bus flavor is Bus Rapid Transit. This BRT envisions dedicated bus lanes with electronics to turn stoplights green to expedite travel. This sounds great and is the only thing left that gives the cachet of transit as opposed to, say, more buses for IndyGo.
It's not clear where BRT can go. It's awfully hard to impose BRT on existing streets. Remember, BRT needs two dedicated bus lanes. Can you imagine reducing Meridian Street or Keystone to two lanes for regular private cars? (The alternative, building two more lanes on streets like Meridian and Keystone, is too horrible to contemplate.)
There may be a weak case to pass a transit referendum in Marion County. Marion gets all the goodies in the form of denser bus service.
As for the doughnut counties, a county like Hamilton or a township like Clay (Carmel) would be nuts to opt in. They'd foot a big hunk of the bill and get maybe a shuttle bus and a never-to-be-built BRT route in return.
I'm voting no. And if I lived in Center Township, I'd vote no as many times as I could get away with.•
__________
Styring is an economist, a former Indiana Chamber of Commerce lobbyist, and a former senior fellow at the Hudson Institute. Send comments to ibjedit@ibj.com.
Please enable JavaScript to view this content.