By almost every measure, Ball State is a better university than when retiring President Jo Ann Gora arrived in 2004.

Yet in spite of that progress, Gora's successor Paul W. Ferguson will face significant challenges to keep Ball State relevant as new technology and financial pressures allow other universities to horn in on its place in the market.

Ball State announced Ferguson, who has been the president of the University of Maine for the past three years, as its 15th president on May 22.

Gora
Ferguson will take the helm of a 19,000-student school in Muncie that is, by and large, Indiana's state-funded liberal arts campus. It boasts only a modest amount of research and few graduate students. But it combines big, state-school amenities—like major sports teams and lower tuition—with the high-touch, residential experience common at private liberal arts campuses.

Gora has tried to make Ball State like Miami University in Oxford, Ohio, a state school that competes for students with such private liberal arts institutions as Wabash, DePauw, Hanover and Oberlin.

But three trends will make competition for students increasingly intense for Ferguson, who was chosen from an initial pool of 60 candidates.

First, there will simply be fewer students. The number of high school graduates in the Midwest is projected to decline 5.7 percent from 2014 to 2028, according to projections by the Western Interstate Commission for Higher education.

Second, the Great Recession and decades of tuition hikes have made students more cost-conscious. So while Ball State's sticker price of $17,000 compares well to private schools and even to Indiana and Purdue universities, it's sky high compared with starting at Ivy Tech Community College or doing a degree online—which is expected to become possible via hosting platforms like Coursera and EdX that are backed by Stanford, Princeton, Harvard and other institutions with huge brand cachet.

Third, liberal arts schools—which enroll one-third of college students in Indiana—are tapping their large endowments and deep-pocketed alumni to keep their high-touch, high-cost model affordable. Liberal arts schools without major endowments to fund generous scholarships are adopting online technology to make their high-touch model lower-cost.

"We have a tough landscape in Indiana," said Wayne Estopinal, the trustee leading the search for Ball State's next president. "There's a lot of universities; there's a lot of emerging digital education programs."

Keeping Ball State vibrant is important for Indiana and its economy, said Derek Redelman, an education lobbyist at the Indiana Chamber of Commerce. The university is fourth-largest in Indiana and anchors the economy in the Muncie area.

Beyond that, Ball State is key to addressing Indiana's need to boost the percentage of adults with bachelor's degrees. Just 16.8 percent of working-age Hoosiers have the degrees, compared with 19.6 percent nationwide.

And the communication, interpersonal and critical-thinking skills that are often developed while students live on college campuses will continue to be important for training future workers, Redelman added. That experience needs to be financially accessible to a broad swath of Hoosier young people, he said, not just those who can afford private schools.

"It's important for Ball State to remain relevant and competitive to private institutions," Redelman said. "There is still great value to the immersion in education that a residential college provides."

Ball State boosted its performance in numerous key areas during Gora's tenure:

• Student applications shot up 70 percent.

• Acceptance rates came down. A decade ago, Ball State rejected only one in four applicants. Now it rejects two of five.

• Being choosier has led to a modest boost in student quality. The average SAT verbal and math scores of Ball State freshmen is 1,066, up from 1,055 a decade ago. Eighteen percent versus 15 percent of its students are in the top 10 percent of their high school classes.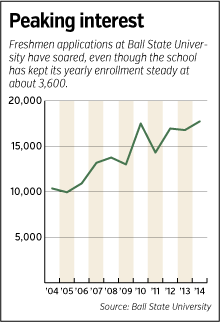 • Enrollment has actually come down, by about 300 overall and about 600 among undergraduates. That's part of Gora's strategy to make Ball State "better, not bigger."

• Graduation rates soared. Freshmen finishing bachelor's degrees in four years rose to 36 percent from 29 percent when Gora arrived. Six-year graduation rates rose to 60 percent from 53 percent.

"Our university has made tremendous strides academically and in national recognition and reputation," Gora said in a speech last year.

Diving in

Gora, who declined IBJ's request for an interview, built Ball State's comeback around "immersive learning."

That means students in emerging media programs are encouraged not just to study media; they were dispatched to London to cover the 2012 Summer Olympics, they're engaged with producing Hollywood movies, they're allowed to start companies around mobile apps.

Architecture students participate in designing solar-power houses with the most consumer appeal. And students from every department earn course credit through the university's Building Better Communities projects, which helps solve community challenges in every county in Indiana.

"What you can get here as an undergraduate rivals what you can get at an extremely expensive private college," said Tom Taylor, vice president of marketing and enrollment. "It provides not just great resumes. It also develops a kind of agility and critical analysis skill sets that enable students to be adaptable, once students get out into the marketplace, to be able to create new fields."

That combination of critical thinking and practical experience produces the valuable experience that justifies the cost of the residential experience, Taylor said. Ball State's challenge is to communicate that value proposition to students and parents.

On strict, return-on-investment measures, Ball State does not compare well to Indiana's other public universities. In 2013, the Commission for Higher Education ranked Ball State at the bottom on average net costs to students compared to the salaries earned by graduates five years after leaving the university.

Ball State ranked poorly because its graduates earned lower salaries than those of all but one other state school—a function of its heavy concentration in training teachers, journalists, publicists and other professionals that earn modest wages.

At the same time, Ball State's cost to students was second highest because its state funding and smaller amounts of alumni support do not allow it to give as generous financial aid as other universities. That offset some of Ball State's operating efficiencies, which have been generated by its geothermal power plant, incorporation of online learning into undergraduate courses, and lower faculty salaries.

Such ROI rankings, which are becoming more common in higher education, could prove a challenge for Ball State, acknowledged both Taylor and Estopinal, the trustee. The school will have to find compelling ways to make its case to parents who are looking to give kids skills for a lifetime of learning and earning, not just training for a specific career.

"Providing education that gets them to productive employment. That will be the biggest challenge that the new president coming in will have to face," said Estopinal, an architect in Jeffersonville. "We have to communicate to parents and students that the degrees Ball State is delivering are some of the most valuable in the state."

Not alone

Many schools like Ball State face similar challenges, Moody's Investors Service noted in a November report. Those without large endowments, wealthy alumni and large amounts of research funding have few other options than to raise tuition.

That's especially the case when state support doesn't keep pace with inflation. State appropriations for Ball State's general fund have actually declined during Gora's tenure, from $125 million in 2004 to $116 million in the most recent academic year.

It's also the case when faculty demand a pay raise, as Ball State's faculty did in 2012, citing a 10-percent lag between the average of other Midwest Athletic Conference institutions. Gora promised to cut that gap in half.

External research funding has actually fallen in Gora's tenure, from $25.8 million in 2004 to $20.8 million in 2013.

"Heightened competition for government funds, donors and students combined with pressure to increase compensation and invest in programs and facilities will result in continued deterioration of financial performance," said Moody's analyst Eva Bogaty. "Affordability remains a key issue as the weak economic environment continues to affect families' ability to pay for higher education and reduces institutions' discretionary spending capacity."

But schools that find ways to set themselves apart from competitors will eventually succeed, Moody's analysts say.

Ball State leaders think the school has done that and gained a lot of momentum for continuing to set itself apart.

"That's really one of the things we've looked at in our candidates, whether they recognize that distinction. We really drilled in on that question in our candidates," Estopinal said before the announcement of Ferguson. "We are on a very positive track with this university and the next president needs to take us to that next level of distinctiveness."•