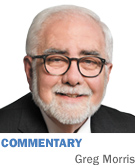 The historic Columbia Club on Monument Circle is 125 years old this year, and there's a year-long celebration in progress to mark the occasion.

A 125th anniversary inaugural event was held in February, a big gala in March, and every month through February 2015 will showcase an anniversary-related event. The 12-month celebration will culminate with an event next Feb. 7 when the club turns another year older. An official time capsule will be sealed summarizing the previous 12 months of celebration.

The club has its origin in efforts to elect Benjamin Harrison the nation's 23rd president. He's the only Hoosier who has occupied the White House. In keeping with tradition, every Republican president since Harrison has visited the club either as president or as a candidate. That list includes McKinley, Theodore Roosevelt, Taft, Harding, Coolidge, Hoover, Eisenhower, Nixon, Ford, Reagan, George H.W. Bush and George W. Bush.

The club describes its current-day politics as follows: "Today's members are diverse men and women, successful in many areas of the business and professional worlds, whose preferences lie with all parties." So, I guess you don't have to be a card-carrying Republican to be a member of the club in this modern era.

But don't try joining as a couple—or a family. Such memberships are still forbidden at the Columbia Club. Presumably this is a relic of a time when men were men and their wives were not deemed worthy of membership.

Today, the roles are sometimes reversed, but the no-couple-memberships policy stands.

Take me, for example. I'm not a member—I'm only the spouse of a member. I can use the facility if I choose, and I've got a card with my name and a number on it, but it's not a membership card.

As long as I behave myself and follow the rules, as a spouse, I can walk around freely in the club and charge anything I want to my wife. She gets the bill every month and pays it. I guess I shouldn't complain. My gig is a good one if you can get it. If she threatens to cut me off, I normally try putting the charge on the Underhill's bill. (A reference to the Chevy Chase quote from the great 1985 movie "Fletch.")

I have to admit my second-class designation as the spouse of a member has been bugging me for a while. Frankly, it makes me feel like I'm not a legitimate part of the club. "Excuse me, Sir, are you a member of the club?" "No, I'm just the spouse. Did my wife let you know it was OK if I had lunch here?"

I know I could hook up with the other spouses and play some euchre or go shopping while the members talk important business, but somehow that doesn't really sound exciting. I guess I know how wives might have felt in the past.

Don't get me wrong. I'm not trying to disparage this fine organization. It's not an unusual set-up. Many old-school private clubs around the country still operate in this archaic way.

I've told my wife on several occasions that I'm very happy with her being the big shot in the family, and that I'm aspiring to be the best cabana boy I can be! Now that I'm thinking this through, what's my beef? Where do I sign up for that euchre club? I wonder whether Nordstrom is having its half-yearly sale right now.

Seriously, I wish the best to the Columbia Club and hope its future is bright. It's a great place to go for a power business breakfast or lunch; conduct a meeting; host a wedding reception; house an out-of-town guest; work out in the fitness center; or just enjoy a nice, quiet dinner. I'm pleased to be able to use the facility as a guest.

But, as the board is looking at challenges for the next 125 years, I'm putting my suggestion in the box that you might consider a membership structure that allows spouses to be members also. Nobody wants to feel excluded. But that's just one non-member's opinion. I've got to run. I'm playing cards with the other spouses.•

__________

Morris is publisher of IBJ. His column appears every other week. To comment on this column, send e-mail to gmorris@ibj.com.