Strand Diagnostics LLC thinks it has the perfect test for the age of personalized medicine and accountable care. And it has persuaded a growing list of clients to agree.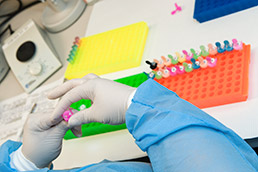 Strand Diagnostics' forensic scientists match the DNA found in crime-scene samples with suspects and match the DNA of patients with their tissue biopsies. (IBJ photo/Eric Learned)
The Indianapolis-based company's Know Error test uses DNA analysis to make sure a tissue sample that has been declared cancerous does, indeed, belong to the patient doctors think it does. Strand claims its test increases diagnostic accuracy before patients undergo expensive surgeries or take potentially harmful drugs.

The trouble is, Strand hasn't been able to convince the biggest client of all—the federal Medicare program—that its test does anything more than identify mistakes doctors and lab technicians should have caught on their own.

Strand has waged a two-year legal battle to get Medicare, the federal health plan for seniors, to fully reimburse the costs of the Know Error test, which compares tissue from a biopsy to a patient's DNA from a cheek swab. Administrative law judges hired by Medicare have ruled in Strand's favor, but Medicare has repeatedly appealed.

This year, Strand sued the Obama administration in federal court in Indianapolis, seeking a judge's ruling on the matter. The case is pending.

Medicare patients account for as many as two out of every five of the 35,000 Know Error tests used each year. In its 2012 fiscal year, Medicare paid Strand nearly $4.3 million for performing tests on more than 3,000 Medicare patients. But reimbursements ground to a halt in September 2012.

With its Know Error testing producing more than 80 percent of Strand's overall revenue, the uncertainty over Medicare payments has forced Strand to slow down its overall growth.

Schenberg
"It's a little difficult when you don't know if you're going to get paid or not," said Strand CEO Ted Schenberg, sitting in a conference room in the company's headquarters in the AmeriPlex industrial park across Interstate 70 from Indianapolis International Airport.

Even without much marketing, Strand's test volume has been growing 40 percent each year—a pace Schenberg expects to continue.

And Schenberg is itching to push into other areas; he has a commitment of $30 million in venture capital from California-based NantWorks to help him do it. So far, Strand offers Know Error test kits for prostate and breast biopsies and can also handle biopsies of the cervix, colon and bladder.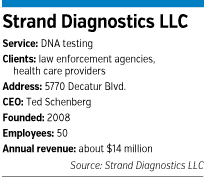 But Schenberg thinks the test has potential far beyond those areas.

Advances in genetics have shown that diseases like cancer are actually numerous diseases, with small groups of patients having different causes of what appear to be similar diseases.

Pharmaceutical companies have responded by trying to develop medicines that are highly effective for the smaller groups of patients that have these different diseases. But a medicine that is highly effective for a patient with one kind of cancer can be toxic or even deadly to a patient with another type of cancer—even if that cancer is in the same part of the body.

So diagnostic testing has become more important than ever to determine which patients should receive which treatments. It's also important because Obamacare pushes doctors and hospitals to enter "accountable care" contracts, which reward them financially if they find ways to avoid unnecessary procedures.

Knapp
In that environment, Strand's test is critical, said Dr. Peter Knapp, an Indianapolis urologist who co-founded Diagnostic ID with Schenberg and local finance veteran Travis Morgan in 2008. The company changed its name to Strand Diagnostics in 2012, after it acquired Strand Analytical Laboratories, which conducts forensic DNA testing for law enforcement agencies.

"To have a tool at hand that can eliminate diagnostic mistakes due to specimen switches, that ought to be employed everywhere," Knapp said.

Medicare contends, however, that Strand's test doesn't actually diagnose any diseases but is used rather as a quality control mechanism.

Strand's test "confirms the identity of the individual who has already been diagnosed," noted a Medicare appeals council in ruling against reimbursement for the Know Error test. But the test does not, the council noted, "directly diagnose illness or injury." Therefore, the council concluded, Strand's test is not medically necessary and should not be reimbursed.

Dr. David Crawford was initially skeptical of the value of Strand's test.

"I said, 'Why is this needed? We don't goof stuff up,'" said Crawford, a urologist at the University of Colorado, recalling when Strand representatives approached him a year ago.

But then Strand's folks showed him how often test results actually are goofed up. A 2013 study by researchers at Washington University, using data from Strand, found that up to 3.5 percent of tests were mismatched or else had tissue from multiple patients in one sample.

Since then, Crawford and his colleagues have been using Strand's test and encouraging others to do the same.

Crawford said physicians and medical labs should work "to put Strand out of business" by reducing and eliminating their errors. But, "It's a good test until we get our act together."•