Bloomington Mayor Mark Kruzan's longtime effort to ban chain restaurants from the city's downtown is finally coming to fruition, and goes even further than he originally envisioned.

The City Council voted unanimously June 11 to amend the development ordinance to require all incoming chain businesses, not just restaurants, to meet a visual standard.

The proposal the Plan Commission had recommended to the council applied to restaurants only, but the new ordinance requires any chain business to apply for a permit to start a business downtown.

"The mayor for a long time tried to put a cap on outside business," City Councilor Martin Spechler said.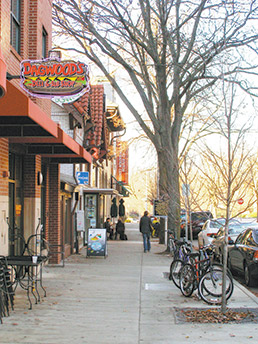 The permits, pushed for five years by Mayor Mark Kruzan, are an attempt to protect the downtown from visual blight.
(Courtesy city of Bloomington)
Kruzan in 2009 originally proposed banning chain restaurants from downtown and the Kirkwood Avenue area just west of the Indiana University campus, but some opponents claimed the ban would have violated the interstate commerce clause of the U.S. Constitution.

This winter, Kruzan resurrected the idea, but rather than seeking to ban chain restaurants outright, he suggested the restaurants be required to apply for a permit.

The business community, including the Greater Bloomington Chamber of Commerce, brokered the compromise with the Mayor's Office.

"There was a lot of concern from our members when this resurfaced," said chamber President Jeb Conrad.

The council amended the proposal by swapping out the "standardized restaurant" definition for "standardized business," effectively requiring all chain businesses to meet the visual requirements. According to the conditional-use standard in the new ordinance, the business must visually complement its surroundings on both sides of the street with its architecture, façade, scale and signage.

"The changes are a far cry from where we started," Conrad said of the new definition. "It's broader. It's better."

One opponent spoke to the council before it voted June 11.

"I fall into the definition of a standardized business, which to me is, I think, really pretty silly," said Dave Harstad, senior vice president and managing broker at Summit Realty Group. "The definition of standardized business that the city attorney has drafted—it takes a shotgun approach. And what we need is a rifle approach."

Harstad said he works in the courthouse district from a second-floor office overlooking Walnut Street with no sign, but because he technically has visible frontage from the street, he falls into the standardized-business definition.

He proposed changing the language to exempt professional offices on second floors so they wouldn't have to go through the time and hassle of applying for a conditional use permit.

To apply for a conditional use permit, a business must pay a $250 filing fee and seek review and approval from the Board of Zoning Appeals, which meets once a month, or a hearing officer, which meets once every two weeks.

"The definition is broad enough to pick up not only retail uses but office uses," said Tom Micuda, Bloomington Planning Department director.

The assistant city attorney at the council's special session for the amendment said specifically exempting second-floor offices ran a risk of allowing a business with street visibility to violate the conditional use standard.

The overlay districts in question are a nine-block square around the courthouse and a 12-block area just west of Indiana University's Sample Gates. Some national brands already in the areas include Starbucks, Panda Express, Jimmy John's, Chipotle, Subway and Q'doba.

"There's always going to be complaints," Spechler said. "And there's always going to be regulations, because we like the way Bloomington looks. We want tourists to come, and they do."

The council considered Harstad's complaint but voted instead in order to meet a requirement to act on a recommendation from the Plan Commission within 90 days.

The Plan Commission on July 7 voted not to oppose the council's change to its recommendation.•