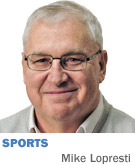 This is getting confusing. So now the Cleveland Cavaliers are the bad guys? And since Lance Stephenson is gone, whom do the Indiana Pacers have to blow in LeBron James' ear?

The latest LeBron-a-thon has come and gone, and with enough scrutiny, speculation and talk-show obsession that there should have been white smoke when he made up his mind where to play. What this means to the Pacers faithful is a little unclear. Do the Cavs now go above or below the Miami Heat on the enemies list?

Indianapolis Colts fans don't have that dilemma. As every Hoosier fourth-grader knows, the New England Patriots are the evil empire and Bill Belichick is Joseph Stalin. You'd think division opponents would be the most odious of opponents, but really, it's hard to work up much of a lather for the Houston Texans, isn't it?

For Indiana University fans, the list of global pestilence includes war, poverty, disease and Purdue. For Boilermakers, vice versa. It's simple and easy to understand, cradle to grave.

But Public Enemy No. 1 for the Pacers seems a little fluid. Once, it was the New York Knicks. Then the Chicago Bulls. In the NBA Finals, it was the Los Angeles Lakers. Lately, it's been the Heat, who, in the playoffs, have treated Indiana like windshields treat bugs.

One thing the most damaging Pacers' foes through the years seem to have had in common is players who reached that hallowed level of NBA stardom where the media insists on always referring to them by their first names, as if they are nephews or next-door neighbors. Patrick. Michael. Kobe. Shaq. LeBron. Indiana hasn't really had one of those since Reggie.

(It is a testament to the team mentality of the San Antonio Spurs that they have somehow managed to win all those championships without any first-namers. They're not Tim and Manu and Tony. But we digress.)

The Heat made a fine target for animosity from the Bankers Life Fieldhouse cheap seats, not only because of their fame and celebrity and habit of shoving the Pacers out the exit door, but also their climate. How can you sit there in January, with a polar vortex outside, and not have malice toward a team that will be jetting back to 82 degrees?

But now it's the Cavs who are the unholy obstacles in the way of Pacers bliss. Hating Cleveland might take the masses a little getting used to.

Can you despise a city that has endured a football team whose ends always resemble those of the villains in James Bond movies? Clevelanders have been through two different Browns franchises and neither one has gotten to the Super Bowl.

Can you target a town that has not seen a baseball title since the Harry Truman administration? Since 1948, Indianapolis has had as many World Series championships as Cleveland, and Indianapolis doesn't even have a team.

Can you bear a grudge against a place whose wind chill factor and snow depths sometimes make Indianapolis look like Key West?

Can you loathe an NBA franchise that has never won a game in the NBA Finals? Not one game.

Can you disdain a man, David Blatt, who has never coached an NBA game in his life, and whose last job was with Maccabi Tel Aviv?

Can you boo an opposing superstar who wanted to go home to Ohio from Florida, reversing the path American industry has taken without mercy or remorse for decades? James WANTS to be in Cleveland and Akron. He CHOSE life in the Midwest over the sunshine. If more auto and steel companies thought and acted like that, the Rust Belt would not be nearly so rusty.

Meanwhile, as James heads north, Stephenson heads south, unmoved by Larry Bird's appeals, with his own financial fish to fry and inner voice to heed. The inner voice we needed a translator for so often last spring.

The Pacers wish for next season's last chapter to be different, the newest evidence being Paul George's nutritional vow. No more McDonald's. No more Stephenson, either, since he now works for Jordan in Charlotte. Indiana will have to go after James without the benefit of Stephenson's fearlessness, or Chicken McNuggets.

Time will have to tell if the Pacers miss the Good Lance more than they were aggravated by the Bad Lance. You can make a reasonable argument for each. Clearly, he was a fan favorite. Except when he wasn't. Whichever, Indiana has to replenish its lineup and replace Stephenson's talent and gall before it can worry about who the main rivals might be.

But since whatever James does brings the buzz of the World Cup—including going to watch the World Cup—everyone will be most wary of the Cavs from the start.

Time moves on, and things change. The next knucklehead stunt Lance Stephenson pulls will be in a Hornet uniform. Same, alas, for his next coast-to-coast highlight-show move. And the bully on the block just became Cleveland.•

__________

Lopresti is a lifelong resident of Richmond and a graduate of Ball State University. He was a columnist for USA Today and Gannett newspapers for 31 years; he covered 34 Final Fours, 30 Super Bowls, 32 World Series and 16 Olympics. His column appears weekly. He can be reached at mlopresti@ibj.com.