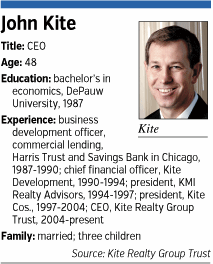 Kite Realty Group Trust early this month completed its $1.2 billion acquisition of Illinois-based Inland Diversified Real Estate Trust Inc. The deal gives Kite $4 billion in assets and swells its roster of properties from 74 to more than 130.

In a wide-ranging interview with IBJ, company CEO John Kite discusses the acquisition, potential redevelopment of Pan Am Plaza and its hopes to keep a branch of the Indianapolis-Marion County Public Library at Glendale Town Center.

IBJ: How did the deal with Inland Diversified come together?

Kite: It was quite a process. About a year ago, Inland Diversified decided that it wanted to think about pursuing some strategic alternatives like listing itself on an exchange, selling the company, potentially merging. So they initiated the process. That was in the summer of 2013. Then we started working on it. We engaged investment bankers and attorneys to help us through the process. We along with several companies began to pursue it. There were four other very legitimate bidders trying to buy the company.

IBJ: Why do you think Kite won the bidding war?

Kite: The interesting thing is, you think it's just price—whoever is going to pay the most—but that's not always actually the case. We were not the highest bidder for the portfolio. You had to convince them that you had a business plan for the combined company going forward that would reward their (private) shareholders. I think we came very prepared, we were very open, we made a compelling case around the value proposition.

IBJ: How does the Inland acquisition benefit Kite?

Kite: It benefits us multiple ways. First of all it's the real estate. We went from being a company that owned 70 properties and 10 million square feet, to a company that owns 133 properties and 21 million square feet. So we obviously doubled the size and scope of the company. And the reason that's important, it's important for a few reasons. First of all, as a publicly traded REIT in a competitive field, having scale is important. Now we're a much more meaningful company for our customers—our tenants. Our tenants now are dealing with an entity that is much larger, has a lot more scope, is in 26 states, so we can offer so much more product to our existing customer base. So that's one big very important thing. The other is that our investors, the shareholders, have a much more relevant liquid stock than they did previously.

IBJ: What are some of the properties that Kite picked in the acquisition?

Kite: We have a property in White Plains, New York, in Westchester County, which is a very, very high-end, high-income suburb of New York City. It's frankly the largest property in the portfolio from [a net operating income] perspective. We ended up with six properties in Las Vegas and the surrounding suburbs. Salt Lake City, we got great assets, several in the state of Florida, several in Texas, a couple of great assets in Charlotte and Virginia Beach, Va. When we were able to get something this big, where the quality was equal to or better than our quality in every case, that was super exciting.

IBJ: Kite also bought nine southern properties in November for $307 million. Are the deals a sign that Kite wants to get bigger?

Kite: The acquisition that we did in October of last year, at the time was a pretty big transaction for us and was probably 20 percent growth in our portfolio in terms of assets. With that deal and this one coming shortly thereafter, it certainly shows that we've been pursuing acquisitions. But at the same time we've been redeveloping assets in our own portfolio. I just think it sends a clear message that we've become a bigger, more formidable player in this space nationally, and that's important.

IBJ: What are some of the development projects Kite is working on now?

Kite: Right now we are under construction on a large project in Raleigh, North Carolina. It's called Parkside Town Commons. It's about a $150 million project anchored by Target, Harris Teeter, which is very strong regional grocer down there, Field & Stream, which is wholly owned by Dick's Sporting Goods, and then Golf Galaxy, which is also owned by Dick's Sporting Goods. That's a big project.

We just have finished in Raleigh a project called Holly Springs (phase 1). That was about a $50 million project. And we're soon to start phase 2 of that project, and that's also in Raleigh. So we've been very active in new development in Raleigh, North Carolina, in the last two years. We've recently finished a $100 million project in Del Rey Beach, Fla. That's been open approximately two years. We're kind of finishing up the biggest stuff we've been doing the last couple of years. Seattle, we just finished up a big project out there called Four Corners Square. That was about a $35 million project. So we've done about $300 million in new development in the last couple of years, which again, is a lot relative to our peers.

IBJ: What local properties does Kite own?

Kite: We're in the early stages of working on Hamilton Crossing, which is at 126th and Meridian, and coming up with new ideas for that property, just because we think it's great real estate, and it's kind of time to bring new life to it, although it's a great property as it is. Pan Am is in the future. A couple of years ago we developed a great property in Fishers at 116th and Allisonville, which is referred to as Fishers Station, anchored by Marsh Supermarket. We have a lot of stuff going on in a lot of different markets, but Indianapolis is still a very important market to us. It's no longer our biggest market after the merger. Our biggest market is Florida, so that's changed.

IBJ: What are Kite's plans for Pan Am Plaza and is a hotel in the offing?

Kite: It's premature to get into details. But clearly it's a great piece of real estate. In our view, it's the best undeveloped property in downtown Indianapolis. I don't think there's any question about that. Ultimately, there will be a pretty major project there, but it's premature. It's a process. But certainly it would be a mixed-use project that would include various product types. A hotel is a potential. Retail, residential, restaurants: There's a lot of potential on that site.

IBJ: How much of a blow would it be to Glendale to lose the library?

Kite: It is very standard procedure for tenants to have lease expirations. Sometimes they stay and sometimes they go. So there's zero concern on our end that they're looking for different alternatives for 2022. That said, we would love them to stay and we would love to figure out a way to accommodate them and figure out a way that can we can be additive to their plan. Our job is to try and get them to stay. So I think with that much lead time, there's a lot of time to figure things out. It's a friendly relationship and I hope that we can figure it out.

IBJ: What do you think the demand could be for that space?

Kite: It's second-floor space, so obviously it's unique. But the property itself is almost 100 percent leased. The redevelopment has been extremely successful, so certainly we think we can attract users to the property because we already have. We've already demonstrated that we took a property that was in one time had been in severe decline and reinvented it. That's what we do. We'll reinvent it again.

IBJ: What is the outlook for real estate investment trusts like Kite?

Kite: The outlook is pretty good. It looks favorable because of the fact that there's been very little product delivered in the last five years. So ever since the financial crisis in '09, you just saw it drop significantly. And that drop has continued. And here we are four or five years later and it continues to be that way.

The other thing is that the retailers themselves during the crisis really reinvented their businesses and got much more efficient and are making money and despite the fact that certain media outlets love to talk about how the Internet is going to kill bricks and mortar retail, it's just completely overstated. What's really happened is that these national retailers, and regional and some local retailers have figured out how to embrace internet retail sales along with their bricks and mortar stores and have become very, very good at that.

IBJ: Why hasn't Kite's stock price risen much past the $6 range?

Kite: The stock, first of all, in 2013, performed very well. Right now the stock, there are a lot of things affecting it because of this merger that have not yet cleared out. We think that after the dust settles … we think there's a lot of upside. We hope that the market will recognize it. We obviously can't control it. And it's important that we deliver a good return to the shareholders. It's a focus, but it's something you can't think about every minute. You have to run your business and, especially after a merger where you're doubling the size of your company, it take some time for that to resonate. But once we begin posting our numbers as a combined entity and investors can see what we're doing, and the trajectory ahead of us, we feel like we should be awarded for that.

Is Kite at a good size now, or would you like to see the company grow its portfolio of properties?

After this deal, we're about a $4 billion company. It's hard to say what the right size is in this business. I think that we're not afraid to continue to grow, but we're not fixated on any particular number. Like I said, we're probably in the top 10 strip center REITs. However, the difference between 1o and 1 is substantial, so there's room for us to continue to grow. But we also don't want to grow just for growth's sake. But I think it's logical that we would continue to try to grow through these types of transactions as long as we create value.
How long has Kite owned the (Pan Am) property and how did the firm come to acquire it?

I think we acquired it in 2008. It was just one of those things where the opportunity arose. At the time, there was just a desire to sell the property and we stepped in. We saw the value, and it was complicated. There were a lot of things that made it complicated. We were able to come up with an agreement with the garage owner that most other people weren't able to do. And that's how we created a lot of value there.

Kite earned $2.2 million in profit in its last quarter compared with a loss in the year-ago period. What does that say for the company and the overall real estate market?

There's a lot of things that go into that, especially in REITs, because net income generally isn't the metric used for earnings, it's usually funds from operations mainly because real estate has so much depreciation that is reducing your net income. But that said, apples to apples, clearly we generate more cash. It's a combination, it's the big acquisition that we did in October. It is the fact that we are over 95 percent leased in our whole portfolio. We grew our same-store NOI by almost 5 percent that quarter; and almost 5 percent for the whole year. That's a very strong number and a very strong number relative to our peers. So we were one of the best performers relative to growing our same-store NOI, which is usually something investors look at.•