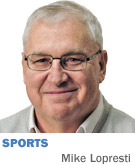 So Paul George is now No. 13. You have to admire the pluck of a guy who switches to an unlucky number two weeks after wrecking his leg on a basket standard.

What's in a number? Well, for one thing, they're good for jersey sales at the team shop. Also, occasionally, to be hung from the rafters and soldered to our memory banks. To christen PG-13—never let a broken tibia get in the way of a catchy marketing idea— here are some of the more notable numbers in Indiana sports history, and why.

No. 1. Pick a Mr. or Miss Basketball. Any Mr. or Miss Basketball. Also usually adorns the reigning Indy Car series champion, which makes it all the more screwy that the last No. 1 entry to win the Indianapolis 500 was Al Unser 43 years ago.

No. 2. Tom Clements. His Hail Mary out of the end zone to finish off Alabama in the 1973 national championship game might be the most important pass in Notre Dame history.

No. 3. Joe Montana and his Notre Dame aura. Or if you're a rebel without a cause, James Dean for the Fairmount Quakers.

No. 4. Go for first down or kick the field goal? Jim Harbaugh or Adam Vinatieri?

No. 5. Manti Te'o. He had an online girlfriend while at Notre Dame. You know the rest.

No. 6. Lance Stephenson. What's the newest Charlotte Hornet doing on this list? He wore this number back when he was only flashing the choke sign to LeBron James, not blowing into his ear.

No. 7. Jermaine O'Neal. Lots of great Pacer winters. Not many great springs.

No. 8. Bill Garrett. The first African-American player in Big Ten basketball history was an Indiana Hoosier.

No. 10. Rick Mount. If they had had a three-point line back in the 1960s, his Purdue scoring totals would have looked like NASA's budget.

No. 11. Isiah Thomas. Only 6-1, he carried Indiana to the 1981 national championship. The Bible saw it coming. There in Isaiah 11:6 … "and a little child shall lead them."

No. 12. Andrew Luck, right? Well, Steve Alford was shooting Indiana to the 1987 national championship two years before Luck was born.

No. 13. This was John Wooden's Purdue number before he was better known for his rolled-up program. And his trophies. Glenn Robinson was a Boiler 13, too.

No. 14. A.J. Foyt. How many Indy 500 drivers saw that number blowing by them?

No. 15. Drew Brees. Do you realize he started his Purdue career by losing to Toledo? Or put on the "Hoosiers" DVD. Jimmy Chitwood!

No. 16. Harry Gonso. He quarterbacked Indiana to the Rose Bowl. No other person in the history of the world can say that.

No. 17. Andrew Bynum. As Winston Churchill said, never in the field of NBA conflict was so much said by so many about so few minutes. The Pacers didn't even need to launder his uniform.

No. 18. Peyton Manning. Enough said.

No. 20. Gordon Hayward. If the last shot of his Butler life had gone in, he'd be governor by now.

No. 21. Here's a number that led to big things. Don Mattingly went from 59-1 in two baseball seasons at Evansville Memorial to Yankee and Dodger stadiums. John Roberts went from co-captain of the LaPorte La Lumiere football team to chief justice of the Supreme Court.

No. 23. Keith Smart, forever taking that jumper from the corner against Syracuse.

No. 24. Tamika Catchings. Eventually, she won't play for the Fever anymore. Presumably, they'll still have a team.

No. 25. Bobby Plump. Just think, if the IHSAA had soiled the tournament with class basketball back then, his famous jumper would have beaten Triton for the Class A title.

No. 26. Rod Woodson. Did everything at Purdue football games except beat on the World's Largest Drum.

No. 28. Marshall Faulk. Ran his way straight into the Colts Ring of Honor.

No. 29. Eric Dickerson. Ditto.

No. 30. George McGinnis. Made Indianapolis Washington a high school power on the west side and the Pacers an ABA power on the east side.

No. 31. Reggie Miller. Investigators still looking for anyone who will admit to being there on draft day and booing when the Pacers selected him. More people have confessed to being aliens.

No. 32. Damon Bailey won a state championship for Bedford North Lawrence, and more than 41,000 showed up in the Hoosier Dome to watch. A power-packed number, with Edgerrin James and Anthony Thompson there, too.

No. 33. Larry Bird. Lost only once as a senior at Indiana State, courtesy of Magic Johnson and Michigan State. It'll only haunt him forever.

No. 34. Austin Carr. Some records are there for good. His 41.3 NCAA tournament career scoring average is eight points higher than any other player ever.

No. 35. Roger Brown. The quintessential early Pacer was gone too soon.

No. 40. Calbert Cheaney. Scored the most points in the history of Big Ten basketball. That's saying a lot.

No. 41. Antoine Bethea. Hard to imagine a Colts secondary without him.

No. 42. Scott May. Wonder what was more fun, leading unbeaten Indiana to the 1976 title, or watching his kid do the same thing (minus the unbeaten) three decades later for North Carolina?

No. 43. Oscar Robertson. Indianapolis Attucks was remarkably and unforgettably and historically great. He was even better than that.

No. 44. George Taliaferro. With the 129th pick in 1949, the Chicago Bears chose the first African-American ever taken in the NFL draft. He helped Indiana go unbeaten in the Big Ten one season. Maybe even more amazing.

No. 45. Daniel Ruettiger. He makes the list, even with a one-minute career at Notre Dame. Maybe you know him better as Rudy.

No. 50. Greg Oden. The center of Lawrence North's dynasty. But he has other, darker concerns at the moment.

No. 53. Rick Robey. Rick Robey? The Pacers made him the No. 3 pick in the 1978 NBA draft. Three spots later, the Boston Celtics chose an underclassmen they were willing to wait a year to get. Larry Bird.

No. 54. Matt Howard. The heart and soul of Butler's Final Fours.

No. 63. Jeff Saturday. He was a Colts mainstay for so long, he should have been Jeff Sunday.

No. 75. Chris Hinton. Even more notable than being a six-time Pro Bowler for the Colts was being a six-time Pro Bowler from Northwestern.

No. 80. Bill Brooks. The first player inducted into the Colts Ring of Honor.

No. 81. Tim Brown. Notre Dame had six Heisman winners in the first 30 years of the award. But only one—Brown— in the past 50.

No. 87. Reggie Wayne. When Peyton Manning dreamed of Colts touchdown passes, No. 87 is whom he saw.

Or No. 88. Marvin Harrison.

No. 91. Rewind the tape of the infamous Pacers-Pistons brawl. Yep, it's always No. 91 storming into the Palace stands. Ron Artest, or Metta World Peace, or whatever his alias is at the moment.

No. 93. Dwight Freeney. This number looks most natural lying on top of an opposing quarterback.

No. 98. So does this one. Robert Mathis.

No. 99. Wayne Gretzky. OK, he only played eight games for the Indianapolis Racers. Another No. 99 who didn't last long was William Afflis who dabbled in Purdue football. Maybe you know him better as Dick the Bruiser.•

__________

Lopresti is a lifelong resident of Richmond and a graduate of Ball State University. He was a columnist for USA Today and Gannett newspapers for 31 years; he covered 34 Final Fours, 30 Super Bowls, 32 World Series and 16 Olympics. His column appears weekly. He can be reached at mlopresti@ibj.com.