Al and Heidi Gehring might not be living like royalty in their new Carmel abode, but their dollar sure goes further than it did in Chicago's northern suburbs.
Having moved from Grayslake in June, the couple is enjoying a more spacious house of higher quality. Their commutes are shorter, saving time and money, and just about everything, from insurance to day care to gasoline and taxes, costs less.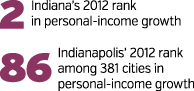 "We couldn't even fathom how little the property taxes were compared to what we were paying," Heidi said.
"It's a big deal," Al added. "It made moving to this area much easier."
Hoosiers have long known through experiences like the Gehrings' that quality of life is better in Indiana than sober assessments of the state's sluggish wage growth imply, but the hunch was hard to prove. Until now.

In April, the U.S. Bureau of Economic Analysis began considering cost of living alongside the stew of income figures it has long collected, and the new, adjusted income numbers make both the metro area and the state look like better places to live.
Brookings Institution researcher Gary Burtless noted that while Indiana wages are about 13 percent below the national average, those wages are only about 4 percent below average after accounting for cost of living: Think of it like getting a 9-percentage-point raise, he said.
And the gap is narrowing. While some parts of Indiana still struggle from decline that set in long before the Great Recession, the state's adjusted income rose faster in 2012 than anywhere else but North Dakota, where a fracking rush created natural gas boomtowns.
Among all 50 states, Indiana's adjusted incomes ranked 30th.
The new data should be a powerful lever for Indiana as it attempts to compete with states like California, where income ranks 13th but only 34th after adjusting for living costs, Burtless said.
"In general, using the regional cost of living adjustment reduces the measured incomes of folks in the high-income states and boosts measured incomes of folks in the low-income states," he said.
The $39,553 in adjusted Hoosier income in 2012 was up 2.3 percent from the prior year. Considering that the state was 36th in growth just two years earlier, the improvement to second is a big turnaround.
The Indianapolis area ranked 86th out of 381 metros in 2012 with an increase in adjusted per-capita personal income of nearly 3 percent from the prior year, to $42,767. Like the state, the Indianapolis area is improving, having ranked 277th in 2009.
Hoosiers aren't accustomed to good news about incomes.
Wages have grown slower than average since the 1970s as manufacturing and other sectors found more efficient ways to operate, mostly through technology, and unions lost influence.

In the early 1970s, Hoosier wages were about average. But by last year, the average of $40,780 was only 88 percent of the U.S. average.
Former Gov. Mitch Daniels stumped on raising disposable income, beginning with his initial campaign in 2004, and made income a priority of his administration. Still, wage growth sputtered, although Daniels' supporters say the state would have suffered even worse during the Great Recession had incomes not received as much attention.
Daniels, now president of Purdue University, said the new adjusted numbers are "enormously encouraging."
"After decades of relative decline, it will take many years of gains like this to make Indiana the place of promise and prosperity we seek to be," he said in an email. "But there's no denying the good news this represents. The patient building of the nation's most pro-growth environment is paying off, and if we continue to pursue sound, pro-jobs policies, there is every reason to expect more banner years like 2012."
Caveats
Morton Marcus, a former director at the Indiana Business Research Center in Indiana University's Kelley School of Business, is skeptical of the quality of the new, adjusted statistics. They're based on extrapolations of data that, for example, would be nearly meaningless at a detailed, county level, he said.
Referring to the fast pace of adjusted income growth in 2012, Marcus said Indiana might look good statistically because its population is growing slowly: "I just wouldn't get very excited about us being second in the nation."
An unknown is the role of the economic cycle. Indiana fares better when the economy grows and manufacturers hire workers, and the improvement in the adjusted incomes arrived at a time the state and metro area rode the expanding national economy.
It's possible the state and metro area performed with similar vigor in prior upswings only to be pounded back down during downturns.
Even Daniels concedes the question.
"Some caution is in order: The recession hit manufacturing states hardest, so part of this surge probably just reflects the recovery of lost ground," he said.
Cheap housing
Income tracked by the government includes a lot more than wages and salaries. Dividends, Medicare and welfare payments, and payments from rental properties are just some of the additional sources, though wages typically make up the lion's share of total income for those who have jobs.
Living costs the government follows range from clothing and education to food and medical care, but it's housing—cheap housing—that makes Indiana living standards look better. In 2012, only a dozen states were less expensive. The bureau uses the price of rents to extrapolate overall housing costs.
Indeed, inexpensive housing was crucial in convincing the Gehrings—Al a senior program manager at a unit of Denmark-based Ambu and Heidi a stay-at-home mom—to move to Carmel.
The couple sold their Illinois home for $240,000 and bought the Carmel house for $340,000.
But even though the houses are similar in size, and the Carmel home is older, the Gehrings feel they got more for their money in Carmel.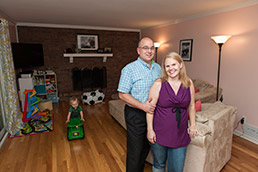 Al and Heidi Gehring found their real estate dollar stretched much further when they moved to Carmel in June from a Chicago suburb. (IBJ photo/Eric Learned)
Their old house was at the entrance to a busy subdivision and the lot was a true postage stamp of just 0.13 acre. Al recalled being able to see five other back yards, and waving back and forth to the neighbors.
"You could sit on one deck and easily talk to others on another deck," he said.
The Carmel lot is three times the size, has mature trees, and is on a quiet street. It's also custom-built versus the tract design and construction of the former home.
In fact, the Gehrings figure that eight years of lower property taxes in Carmel will compensate for the $50,000 loss they took on the house they sold.
The Indianapolis area places high on affordable housing lists because costs in general are low, said Jim Litten, president of residential real estate brokerage F.C. Tucker Co.
Seemingly endless, flat farmland spreading in all directions from Indianapolis is easily converted into subdivisions, keeping housing prices in check, Litten said. Labor is less expensive than in many other metros, which also holds down construction costs, he added, and the area hasn't created a lot of high-paying jobs that attract buyers who bid up housing prices.
Better jobs
But the state has been faring better lately attracting jobs that drive up per-capita income, said Jerry Conover, director of the Indiana Business Research Center.
Indiana has added 40,000 to 50,000 jobs per year since 2011, mostly in the Indianapolis area, Conover said, and those jobs churn out higher wages than the jobs the state created soon after the recession ended.
The Indianapolis area in particular has attracted many of those better-paying jobs, Conover said.
Indianapolis-area residents have seen their incomes rise a "very respectable" 12 percent since the recession ended in 2009 after factoring out inflation, Conover said.
Rising incomes are driven partly by expansions of such companies as software maker Interactive Intelligence and mortgage originator Stonegate Mortgage.
Both firms are continuing their hiring sprees. Interactive said in May that it plans to hire 430 people over the next three years at an average wage of $31.25 per hour, or $65,000 per year for full-time employees.
Stonegate said in March that it plans to add up to 400 jobs by 2017. The company said salaries for new employees in non-sales jobs will average $50,000 to $55,000 per year.•
Please enable JavaScript to view this content.