Another GenCon has come and gone, leaving behind a trail of games acquired by more than 56,000 attendees. Every year, as one of those 56,000, I try as many games as possible in search of ones to recommend here. My aim is always to find a mix, with options to please the game aficionado without scaring off those who don't venture too far from Apples to Apples. Note: You won't find most of these games at Wal-Mart. Instead, visit your local specialty game store (including Fountain Square's Game Paradise, Pendleton Pike's Saltire Games, or any of the Game Preserve locations).
The Downfall of Pompeii (Mayfair Games)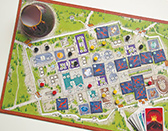 Don't be surprised if even the meekest player takes pleasure in sacrificing fellow players to the volcano in this well-designed game. Play is split into two phases. In the first, you strategically populate the city. But when Mount Vesuvius blows, the game changes dramatically as you try to get your citizens to the exits in the city walls before being covered by lava (no mess—the ooze is represented by cardboard tiles). For you if: You have a vicious streak.
Qin (R&R Games)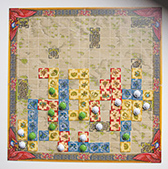 An elegantly designed game with easy-to-grasp rules, Qin is all about territory control. Players attempt to dominate the board by laying tiles to mark their territories. Lay enough of the same color and you can place pagodas, which are then used in conquering villages and possibly seizing your opponent's land. The roughly 20-minute game time makes "OK, one more time" a likely post-game comment. For you if: You don't have time for Risk.
The Game of 49 (Markee Games)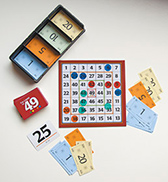 There's nothing sadder at GenCon than an entrepreneurial game designer trying to convince players his creation is fun when it clearly isn't. Here's one, though, that works well, especially with three to four players. Each gets $49 and bids, in turn, as cards are flipped. Buy a number and you get that spot on a 49-space board. Your goal is to connect four spaces, which becomes difficult as money gets tight. But when a payoff card hits, the more spaces you have covered the more money is replenished. For you if: You appreciate the challenges of money management.
Heroes Wanted (Action Phase Games)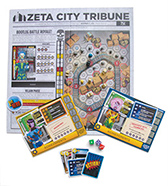 Many games these days come with an intimidating number of components. This one is no exception, so you might find yourself needing the helpful instructional set-up video at www.actionphasegames.com. Once you've gotten it going, though, this product of a new Indianapolis-based game design studio has lots going for it. Each player becomes a superhero wannabe trying to build a reputation by eliminating henchmen, earning media headlines, and, eventually, capturing the head meanie. Its two-part cards can be combined into a wide range of heroes and villains, and multiple game boards promise great replay possibilities. For you if: You like games that differ every time you play.
Roll For It! (Calliope Games)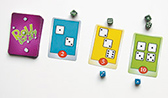 Every decent game collection should have a few that can be played while you wait for the rest of your friends to show up. And anyone traveling with kids should have a pocket-size game easily playable during airport layovers. Roll for It! satisfies both. Roll your set of dice and try to match those on three random cards. Your opponent, in turn, tries to do the same. Do you invest effort in trying to score higher-point cards? Attempt to thwart the plans of your nemesis? Or go for easy pickings? For you if: You like your quick games with a mix of strategy and luck.
Hanabi (R&R Games)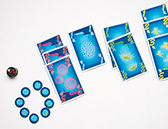 There's a whole crop of co-operative games these days—ones in which players win together or lose together. In this one, you have to construct fireworks displays. The catch is that only your fellow players can see your cards, not you. The trick is making sure they—and you—play the proper cards in sequence before the whole mess explodes. For you if: You like a game that tests your memory and requires logic and concentration and you have a space to play without distraction.
Think Again! (iello Games)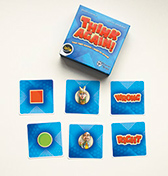 The questions are standard-issue trivia. The catch is that, at the same time you are asked the question, a card is flashed indicating whether you need to give a right or wrong answer. For you if: You like trivia games and have exhausted the questions on those you have and/or you are looking for a fun drinking game. Just add the rule that a wrong answer (or right answer when wrong is required) equals drink.
Incredibrawl (Vision3Games)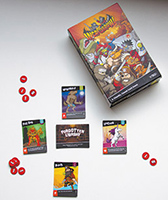 Another Indianapolis company spawned this rock-paper-scissors variant that pits archetypical characters (Wizard, Unicorn, Princess) against one another in combat. Unlike rock-paper-scissors, advantages can come from the terrain played, the skills of your opponent, and such benefits as a concealed weapon or a backup plan. For you if: You are a competitive kid (or kid-like adult) open to fantasy fighting.
Bedpans and Broomsticks (Mayfair Games)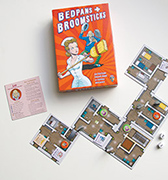 One player represents the administration of a senior citizens facility. The rest are residents trying to escape. The result is an original "whom-to-catch-first" chase game played out on a board that's built as the game goes on. There's a nice sense of urgency, and the use of decoys increases the challenge for the facility staff. For you if: You don't mind poking fun at the elderly and are willing to peruse the rules first before gathering others around the table.
Pass-Ack Words (R&R Games)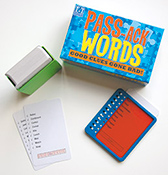 In this awkwardly named Password variation, you give clues—from a provided list—to your opponent's partner instead of yours. The strategy comes from offering the one least likely to provoke the correct answer. For you if: You are looking for a partner game and can stand getting yelled at when you miss one that was so stinking obvious.•
__________
This column appears weekly. Send information on upcoming arts and entertainment events to lharry@ibj.com.
Please enable JavaScript to view this content.