Cited for lax enforcement in the past, Indiana's workplace safety agency wants to recruit more companies into an honor-system program that takes them off the list for surprise inspections.

The Indiana Occupational Safety and Health Administration promises that expansion of its Voluntary Protection Program won't dilute enforcement activities, and that it's part of a carrot-and-stick approach that brings results.

Maley
"By no means are we forsaking the enforcement side," Deputy Commissioner of Labor Tim Maley said. "It is about prevention and it is about changing safety culture in companies."

Federal overseers last year uncovered several problems in IOSHA's enforcement activities that included mishandling whistleblower cases and slow responses to complaints and fatalities. The agency reported this summer that it has fixed many of those problems, but Maley said enforcement alone won't bring about long-term changes in workplaces.

Maley is a big believer in reward-driven results, and as IOSHA's top official, he's overseeing expansion of the voluntary program. IOSHA needs to grow the program from 70 participating work sites to 100, a 40-percent jump, through 2016, under agency performance goals set by Gov. Mike Pence.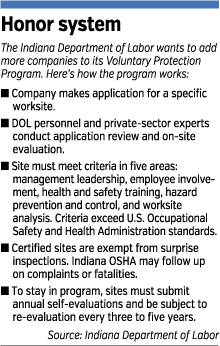 The federally sanctioned program has already grown from 59 participating sites since Maley, a retired Eli Lilly and Co. safety executive, joined the Indiana Department of Labor in 2012. Indiana now has the third-highest participation rate in the country. (As with the top two states, North Carolina and Texas, Indiana's participation rate is less than one-tenth of a percent of the thousands of eligible worksites.)

Many of Indiana's participants are manufacturers, but Maley wants to see more types of industries represented. He's targeting construction, historically a large source of injuries, by making the program available for the first time at mobile work sites.

Hunt Construction Group is the first participant, and Kevin Turner, director of safety for the east division, said the company has been eager to get involved in the program. Hunt's track record is already better than the industry average with an OSHA incident rate less than 1 percent, but he thinks it can be even lower.

"Obviously it does have a business upside to it, that we can say we're a VPP contractor, and we meet those criteria," Turner said. Certification signals to hiring companies that a general contractor is going to be more productive because it's not losing time to injuries, he said.

Indiana's expansion of the voluntary protection program troubles Dave Williams, field operations coordinator at the Laborers International Union of North America, which represents many workers in the construction industry.

While helping companies become certified, IOSHA acts as a consultant. But its primary job is to protect workers, Williams said. "I have a problem with that.

"There's this very, very troubling trend in our state government to allow companies to self-report everything. Unfortunately, I know for a fact that not everybody plays by the rules. When they become a VPP, they are shielded from inspection."

While certified sites are taken off the surprise inspection list for three to five years, IOSHA will still inspect after a complaint or fatality. An IOSHA spokeswoman said a steel company, which she didn't name, was removed from the voluntary program in 2010 after a worker died.

Weak stick

U.S. Occupational Safety and Health Administration officials descended on the Indiana Department of Labor last year in response to complaints about IOSHA's administration.

Among the federal inspectors' findings, Indiana wasn't following whistleblower-protection procedures, and the average time to launch a complaint-driven inspection or investigation was longer than 35 days, versus standards of 10 days and 5 days.

OSHA also said Indiana fell about 500 inspections short of its stated goal, which was around 2,000, and manpower on the compliance staff was below recommended levels.

IOSHA has since responded to the federal authorities, saying most of the problems are corrected. Expanding the voluntary program won't take away from IOSHA's enforcement activity, since the agency conducts roughly 1,500 inspections a year and that will continue, spokeswoman Aunjalee Bhullar said.

However, the voluntary program allows IOSHA to leverage private-industry resources through "special government employees," or SGEs. As a workplace becomes certified, the company's own compliance officers agree to be available to inspect new applicants.

Maley said he added a third voluntary program manager this summer, so that IOSHA can oversee more SGEs and bring more worksites under its umbrella.

It often takes a few years to achieve certification because companies have to make fixes to their physical operation and train employees and management, Maley said. "They get a very, very good look," he said. "These companies earn it."

Once certified, a company has to submit annual reports, and it's subject to re-evaluation every three to five years.

Maley said the notion of working side-by-side with regulators was anathema to his bosses at Lilly in the 1990s when he first proposed becoming a VPP site. "I put a little of my reputation on the line with Lilly to get this," he said.

Recognizing industry's reluctance, IOSHA gives companies assurances that they won't be cited for violations that may be discovered during the process, Maley said.

He became a champion of the program because it brings about a change in workplace culture with managers and employees taking responsibility for their safety. "Employee involvement is the magic, really," Maley said.

New mindset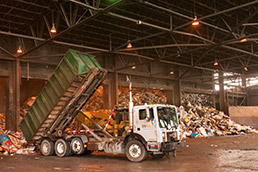 A garbage truck unloads at the Covanta incinerator in Indianapolis, one of 70 work sites certified by Indiana for the Voluntary Protection Program. (IBJ file photo)
Joe Miller, manager of Covanta's Indianapolis waste-to-energy facility, has seen that first-hand since he began working toward VPP "star" certification in 2007.

Covanta's Harding Street plant, which burns garbage to power the downtown steam loop, is dirty and potentially dangerous. At the heart of it is a high-pressure boiler. Some pieces of equipment rotate at 15,000 rpm, Miller said, and about 400 garbage trucks roll through each day.

After becoming certified in 2010, Covanta Indianapolis went three years with no lost-time incidents, which mean a company pays worker's compensation, and one OSHA-recordable injury, Miller said. The track record began improving as the 75-person staff began working with IOSHA, he said.

"Back in 2007 it wasn't uncommon to have five or six OSHA-recordable injuries," Miller said. While Covanta was forced to fix or remove some potential hazards, he said, "There really wasn't a ton of money that went into this facility. It was the people that did it."

Covanta is one of IOSHA's voluntary protection success stories because the facility became more profitable while working on safety. With fewer incidents, the company's insurance rating improved. Equipment became more reliable because employees were paying closer attention to its functionality.

"We increased our production more than 32 percent. It's no coincidence," Miller said.•