Glenn Lyon feels as comfortable on the golf course as in the boardroom. The veteran retail executive swung his first club as a teenager in Brooklyn, New York, taking the city bus to a public course with a few friends. His love for the game, and his leadership position with sports apparel retailer The Finish Line Inc., has enabled him to play with several big-name athletes, and even a former president.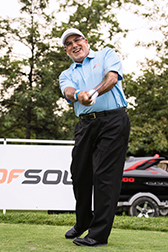 (IBJ photo/Eric Learned)
IBJ: How has golf helped your career?

LYON: It hasn't helped my career; it has helped me as a person to find a lot out about myself and my competitiveness; it's the health and wellness part of it, the embodiment of sportsmanship.

IBJ: Why do you enjoy golf?

LYON: Again, it's about getting out into a place where I'm calm and happy, where at the same time I can hone my skills and feel the success, even if it's only fleeting.

IBJ: What's your handicap?

LYON: Seven

IBJ: How often do you play?

LYON: In a course of a year ... I play 75 rounds. I play 40 to 50 rounds here and then I have a home in Florida, so in the winter I play some, too.

IBJ: Who's the most famous or interesting person you've played with?

LYON: Bill Clinton. I guess you almost have to give Michael [Jordan] some credit or I'll be in trouble. I've played with Michael now seven or eight times. It's because of Michael that I met Clinton.

IBJ: Who's the best golfer you've played with?

LYON: Gary Player. You want to talk about a great day. Kevin Plank (founder and CEO of Under Armour) called me one morning, on a Friday, and said, "I need you to come to Baltimore on Monday and spend the day with me." I said, "Kevin, I work for a living." So he said, "I'm not going to tell you what it's about. I'm just going to tell you that I really want you to come on Monday and it will be worth your while." So I show up Sunday night and Monday morning I get a call in my room, saying, "Hello, Glenn, this is Gary (in a South African accent). I'm waiting in the car for you. I need you to come down."

IBJ: Who's the worst?

LYON: Probably my father. My father started late in life and only did it because I was interested and never really got to any proficiency.

IBJ: What's your favorite course and why?

LYON: My favorite, for its beauty, is a place called Pelican Hills south of Los Angeles. And the other one is Augusta, for the historical part of it, and Saint Andrews in Scotland.

IBJ: Have you ever sunk a hole-in-one?

LYON: I've had four. I always shock people with that.

IBJ: Who are some of the other athletes you've played with?

LYON: Dean Smith, Mario Lemieux, Emmitt Smith, Ken Griffey Jr., Peyton Manning. I've played with all these great people and I've never played with my wife [Jane], so I'm hoping that sometime in the future I'll get to do that.

Click here for other interviews.