Indianapolis Star political columnist Matt Tully has a desk at the newspaper's downtown headquarters. But his office might as well be the handful of north-side coffee shops and cafés where he meets with politicians, civic leaders and business bigwigs who help inspire and shape his columns. IBJ caught up with him at Hubbard & Cravens near 49th and Pennsylvania streets.

IBJ: It seems you do many of your interviews in coffee shops. Why meet sources at a coffee house?

TULLY: I just always feel like your surroundings help the storytelling and add a little color to what you're doing. Having breakfast or coffee or a beer with that source allows you time to get to know the person a little bit before you get to the serious business. I just think it leads to a better interview. Plus, I love coffee.

IBJ: What are your favorite spots for a coffee interview, and what are the upsides and downsides of each?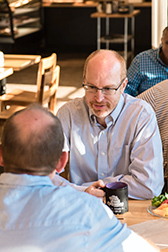 (IBJ Photo/ Eric Learned)
TULLY: Hubbard & Cravens right here is probably my favorite. The upside is, it's Grand Central for politicians and people in education I like to talk to. You can actually come here and interview five people without an appointment. On the other hand, if you're looking to just get some work done, it can be distracting.

IBJ: Do you ever have to switch up the routine to avoid seeing people you know?

TULLY: I live close to Café Patachou. Early on, I used to get out of bed, throw on a baseball cap and go over there to write. I realized you can't do that. You look like a bum in the corner, every stereotype of a journalist. We're still a small town, so finding a place to hide is challenging. Another place I like to go: The museums have great cafés.

IBJ: How do you take your coffee?

TULLY: Black.

IBJ: Have you always preferred in-person interviews, or did something in your career prompt you to get out of the office more?

TULLY: I think once I got the columnist job, with a pattern of three columns a week, you know exactly what your schedule is, you can step back a little more. I started doing more sit-down, in-person interviews. I would say 75 percent of my conversations with newsmakers don't appear in print.

IBJ: You seem to intersperse critical columns about a particular politician—say Mayor Greg Ballard—with positive ones. Is that by design? And how do you toe the line between taking strong positions and avoiding being labeled a partisan?

TULLY: I try to be consistent. I have a big issue with government waste, the influence game that wastes taxpayer money. I like to think I'm just as willing to criticize Democrats and Republicans on that issue. For years, I've supported investment in early childhood education. I'm not a partisan by nature. A lot of it is dependent on what I find interesting that day: One day I find something inspiring interesting, and another day I could be outraged by something.

IBJ: What column would you most like to take back?

TULLY: Oh boy, a lot of them. But I also believe a column is like a conversation with people; in a conversation, you say things you later regret and learn from. I love the Indy Eleven. I'm so glad they're here. I wrote a column early on this year that full-bore supported their stadium proposal, and in the end I wish I had looked at it a little harder. I wish I had been a little more diligent. I wish I'd been a little more critical. I wish I supported the idea of a stadium but maybe said, "Go back to the drawing board."

IBJ: What's most and least of a torture for you: coming up with a column idea, reporting it, or writing it?

TULLY: Writing it. And I would add a fourth, editing it. I usually write the first draft in an hour and then spend a tremendous amount of time making it readable. I'd hate for people to see my first drafts. Most times, I have more ideas than I have time to write. Reporting is my favorite part.

IBJ: Reader feedback can get nasty. Obviously, you need thick skin for the job. Do you take other precautions as well?

TULLY: If a TV station wants to interview me, I'll say, "Please don't show the house in the background." To be frank, I've gotten some pretty awful phone calls and packages and things like that.

IBJ: Do angry readers soften up once you send them a personal response?

TULLY: Almost always. I'm not the hardcore partisan they suggest I am. I can almost always reply by attaching a column that supported their side. There are a few issues where there's nothing you can do. I've been critical of the teachers unions and the NRA. There are no replies to those emails that are going to soften anyone up.

IBJ: Anything else?

TULLY: I think there's a long, proud tradition of the intersection of journalism and coffee. It's probably healthier than the long tradition of journalism and liquor. Once you have caffeine in you, all things are possible.
Click here for other interviews.