The life of KAR Auction Services CEO Jim Hallett is a classic tale of rags to riches. Raised in a village in Ontario, Canada, his father died when he was 8 months old, leaving his mother, who never remarried, with three small children. Hallett got into the auto auction business, sold it to KAR predecessor Adesa, and rose through Adesa ranks in Canada and then at its Carmel headquarters. Hallett was tossed out after Adesa was sold to a Minnesota utility only to be brought back a couple of years later by new owners. He took KAR public and built it into one of Indiana's 10 largest public companies, with $2 billion in sales last year.
My mother raised us with the equivalent of welfare here in the U.S. And she got a lot of support from the church, for food and clothing. And when you're raised in a small town, a lot of people looked out for us.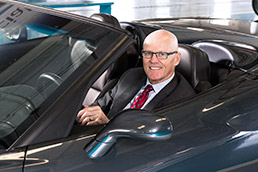 (IBJ Photo/ Eric Learned)
We were focused on the right things—school, education, sports, church, hard work. And you know, when you grow up without your left arm, you don't miss it. We knew we were poor, but we certainly didn't see it as something that was a hindrance or holding us back. If anything, it was something that motivated us.
A friend thought I'd do really well at selling cars, so I applied at a dealership in town. They liked my energy and enthusiasm, and my ability to communicate with all types of people. I remember telling them during my interview, "It doesn't matter who walks in here—a businessman in a silk suit or a farmer in overalls—I can relate to him based on where I grew up and how I was raised."
I opened my first auctions and sold them to Adesa and then bought some new-car dealerships.
But auctions are a lot less risk. And auctions let me spend more time with my family, since it took nights and weekends out of the equation.
We had a lot of fun. When our head auctioneer announced he was getting married, I convinced him to get married at the auction. His fiancée also worked in the office at the auction. Then we turned his wedding into a sales promotion at the auction, and it got covered by national television.
The American Dream has always been there, and continues to be there. You have to want it.
But dreams are achieved not only in America. Dreams can be achieved in any country.
Click here for other interviews.
Please enable JavaScript to view this content.