At HALE Federal Credit Union, don't expect to get a debit card in the mail after opening an account.
Online banking isn't an option at this Indianapolis-based credit union, and neither are checking accounts. Mobile check deposits? Forget about it.

Day
"We are so archaic and behind in the times," Manager Angela Day said, sitting in her 1970-esque office one recent afternoon, "it's not even funny."
Meet the city's smallest credit union, which was chartered in 1956 and hasn't seen much technological change since. Its sole location is in the 88-year-old American Legion national headquarters building at 700 N. Pennsylvania St. in a room that used to be a women's lounge.
HALE has managed to stay relevant to its members—mostly American Legion employees—with competitive rates on deposits and loans, and several members praised the customer service. There's scant evidence that its old-fashioned banking model will change anytime soon.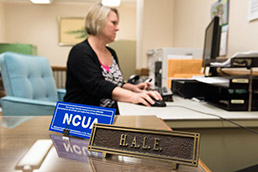 HALE's only employee, Angela Day, needs only 16 hours a week to manage the credit union's affairs. (IBJ photo/Eric Learned)
"In our little world," Day said, "maintaining what we have is not such a bad thing."
HALE, which stands for Headquarters American Legion Employees, had just over 300 members and $672,000 in assets as of June 30, according to the National Credit Union Administration. Nearly all of the other 19 Indianapolis-based credit unions have thousands of members and tens of millions of dollars in assets.
HALE finds members by marketing to new hires at the American Legion, which is the not-for-profit veterans' advocacy powerhouse that has offices across the country. Those employees typically stay in their jobs for decades, Day said, and many sign up their relatives for HALE accounts.
Members deposit money into their savings accounts primarily through direct deposits. If they want to withdraw money, they contact Day for her to cut them a check.
She's the only employee and works 16 hours a week, but she's pretty responsive, some customers said.
"You're not ever in a line to get what you need," said 42-year-old Sean Sparks, who's been a member since 2009. "I can always email or call Angie, and she squares you away."
In a world of 24-hour ATMs and online transfers, it's relatively difficult for HALE members to access their money. And even as check usage at other financial institutions continues to decline, they remain a mainstay at HALE.
HALE recently offered a 1.5-percent interest rate on its two-year certificates of deposit, Day said, one of the best rates in central Indiana. Its personal and auto loan rates are competitive, too. Members' auto-pay and direct-deposit designations make late payments a rarity.
Day said she hasn't charged off any loans this year, quite a feat in the banking world.
Being small doesn't necessarily imply struggle. According to federal records, HALE had $14,600 in earnings in 2013. That's a drop in the bucket for some financial firms, but at HALE it adds to a healthy reserve accumulated over the years to pay dividends to members, maintain the business and cover loans that might go bad.

McKenzie
"It's an example of a credit union of that size serving its particular membership group being very financially strong," said John McKenzie, president of the Indiana Credit Union League.
To be sure, HALE doesn't have any rent or utility expense; the American Legion is the sponsor. Its extremely low costs have helped insulate it from the pressures that have led many credit unions to seek mergers, often out of a desire to spread expenses for overhead, regulatory compliance and technology over a larger base of members.
Day and HALE's board members don't foresee a merger, but they're concerned about technology. As older members retire and close accounts or even die off, the credit union has to look to younger individuals to replenish its member base. Younger members have different expectations, Day said.
It isn't just millennials who want to check their account balances online. Member Richard Smith, 52, said he'd like to see such conveniences. He's optimistic they'll arrive one day.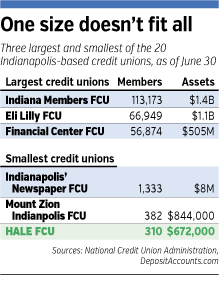 "In time, with increased membership, I'm sure they will," he said.
For now, though, Day and board Vice President Matt Herndon said there are no plans to roll out online services. Discussions are ongoing, but the obstacle is the tens of thousands of dollars required to establish and maintain such offerings.
"We've always had it out there on the horizon. Unfortunately, we just don't have the means to make it happen just yet," said Herndon, who's also deputy director of membership at the American Legion.
The pool of eligible members isn't expected to skyrocket, either, limiting HALE's membership growth opportunities. Herndon said there are roughly 500 eligible American Legion employees across the country, and that number will likely hover there in the coming years.
HALE's membership hasn't seen much growth since 1990, the earliest year of accessible federal data. That December, the credit union had 544 members. In 2000, that number dipped to 336 and sat at 305 in 2010. The figure has inched up slightly since then, to 310 as of June.
HALE could expand its charter, allowing currently ineligible people to bank there, as many credit unions have done. But that idea hasn't seen much traction, particularly given the exclusive tradition of the credit union and its host organization for more than a half-century.
"We've been able to survive 60 years doing what we're doing," said Day, a former Chase Bank employee who's been pushing for expanded services at HALE. "Hopefully, we'll survive another 60 years."
So for the time being, HALE will engage in business as usual, relying on personable customer service and competitive rates to compensate for its technological shortcomings.
For members like Angela Johnson, who, like many, also banks with other institutions, HALE serves a special role. The 52-year-old said she's built an 800-plus credit score partly due to automatic loan payments, and it's nice to have money that's difficult to access.
"It's more secure if I don't have any access to getting it," she said.•
Please enable JavaScript to view this content.