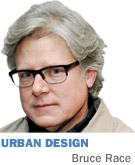 Like it or not, we are essentially done building the Canal District. It encapsulates our maturing expectations as a city. In our insecure phase, we accepted anything a suburban developer would propose. We were just glad to have a partner, no matter how inexperienced they were with urban infill. As a result, the early canal projects are strange suburban adaptations with cheap materials and clueless canal and street orientation.
As a young designer, I was part of the original 1981 White River State Park team and prepared early concepts for the historic Central Canal. In those days, the section west of the Capitol Building was a wild and woolly 19th and early-20th century industrial area. It was rough but kind of cool.
You could imagine integrating industrial buildings, infrastructure relics and artifacts into an interesting walkable district. At the time, precedents included canals in Lowell, Mass., and other old mill towns. They built upon their industrial history, paying tribute to the canals that made their cities unique.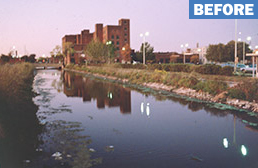 This 1980 photo looking north from Ohio Street and the canal shows industrial buildings that did not survive the canal redevelopment.
The 1981 White River State Park master plan recommended incorporating existing buildings. However, all that remains is the McCulloch School façade (reassembled in the Indiana State Museum), a church on West Vermont Street and a small brick building in the NCAA complex.
We cannot turn back the clock. The industrial buildings are gone, and we have essentially built out the Canal District. What can we learn from the results?
Some challenges
Urban design challenges for the Canal District included providing access to a lowered canal walk, designing projects to guard against potential flooding, and creating a durable streetscape.
The historical level of the canal was lowered so that people and boats could move along a continuous canal walk underneath the streets above. The lowering made the canal less visible and therefore less secure. It was also harder to provide pedestrian access and more difficult to orient buildings toward both the canal and streets.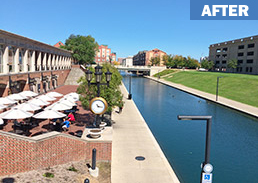 The same scene in 2014 shows the Indiana History Center's plaza café, which interacts with the canal, and the suburban-style Residence Inn in the distance, which does not. (Photos courtesy of Bruce Race)
Residential uses cannot be on floors that are susceptible to flooding. As a result, there is a lot of ground-floor commercial space. Lacking demand from retailers, we see offices with dark glass and blinds along the canal edge.
From an infrastructure standpoint, the original design did not weather well. Water and ice got into paving, bridge stairs and walls, requiring their replacement. Fountains have been scaled down to much smaller features.
Early private projects
Early development along the canal reflects the suburban mind-set of our partners. The first private-sector projects include the Canal Square Apartments, Residence Inn, Canal Overlook Apartments, and the sprawling and gated Canal Court apartments.
Canal Court is several blocks long and placed on top of a block retaining wall without any canal interaction. This project is an inexpensive, suburban gated apartment complex. It just happens to be next to the canal. The Residence Inn can be found along any highway. Canal Square wraps a parking structure with apartments, which is good, but the lower level has dead office space and the façade looks thin and cheap. Canal Overlook has a strip-center-style sign on Indiana Avenue. It appears to be a suburban apartment building on top of a box of parking with odd single-story townhouses and office buildings stuck to it.
Newer private projects
The newer projects make the strongest contribution to the Canal District and canal walk experience. The Cosmopolitan mixed-use block, Indiana Historical Society, Watermark residences, and the well-done preservation and addition project at 340 W. Michigan St. demonstrate urbane agility in addressing both the canal and streets.
The Cosmopolitan Block is the best. It is a mixed-use project that activates the streets and canal edges with commercial and residential uses while hiding a garage in the middle of the block. With the exception of the wood-clad Watermark, these buildings have brick exteriors that reflect the district's industrial history.
Institutional projects
The 1981 park plan envisioned a campus of institutional and cultural uses along the canal. However, the museums have not been designed as a campus, but as free-standing buildings. Their relationships to the canal and to one another are incidental. They do not spill out onto their canal plaza spaces with active indoor and outdoor uses.
The architecture of Fire Station 13 at the Ohio Street basin is unremarkable, but it adapts to the site, providing paddleboat storage, public rest rooms and a stair connection to the street.
What can we learn?
We need to finally shake our urban renewal and suburban attitude. That is so 1970s. Indianapolis is no longer a desperate and insecure city. We have to clearly express our expectations for quality to our private-sector partners, especially when the city has a financial stake in the development.
We do not have to lose our heritage as an urban industrial city. We can create fantastic places by blending our history and future together.•
__________
Bruce Race, FAIA, FAICP, PhD, is an award-winning architect and urban planner, owner of RaceStudio, and recipient of the Indiana Sagamore Planning Award. He lives in a historic Indianapolis neighborhood and teaches urban design at Ball State University's Downtown Indianapolis Center. His column appears monthly. He can be reached at br@racestudio.com.
Please enable JavaScript to view this content.