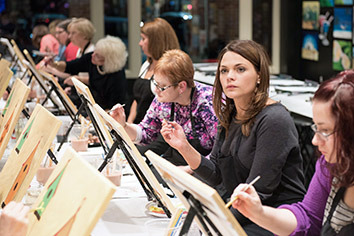 The origins of an Indianapolis-based business that combines swilling beer and sipping wine with free-hand picture painting is rooted in a series of hailstorms that swept through central Indiana nearly a decade ago and in parents who insisted their daughter abandon art and get "a real job."
The husband-and-wife-owned Wine & Canvas has grown from two to 347 employees in just four years with profitability increasing at a double-digit clip, 48 locations coast to coast and plans for international expansion.
Of course, the daughter in this saga, Tamara Scott, never abandoned art. In fact, it's been intertwined with every step of her path.
She did agree to study business at the University of Michigan and Eastern Michigan University, using money from the sale of her portraits and murals to help pay for school. The skills she learned in college landed her work in Indianapolis and later helped her launch one of this city's quirkiest businesses.
But before Wine & Canvas could be born, a couple of more pieces had to fall into place.
The biggest piece fell in the fall of 2006 when the Brownstown, Michigan, native had a chance encounter with her now-husband, Tony Scott, at the Fox and Hound Bar and Grill on 82nd Street.
Tony had come to town, as he said, "chasing hailstorms." The Mobile, Alabama, native was an adjuster for Pilot Catastrophe Services Inc.—also from the land of Dixie—and was having a drink with a group of fellow insurance adjusters.
"We had run out of hurricanes in the South, so we came north," Tony Scott said.
Tamara was meeting her brother and sister-in-law when she and Tony bumped into each other.
"We hit it off and ended up talking all night," Tony recalled.
The two were prepared to live happily ever after—Tony in the insurance business and Tamara keeping that promise to her parents as a business manager—until Tony visited a friend in Birmingham, Alabama, in 2010. At the friend's home, he noticed a painting on the wall.
"I asked him where it came from. He told me he painted it at a paint party," Tony said. "I said, 'No way.' I mean, my friend is a do-rag-wearing Harley rider. I thought to myself, 'If he can do it, anyone can.'"
Tony, 42, who had previously owned his own retail cell phone company and had part-ownership in a dot.com that fizzled, started to feel the entrepreneurial itch.
"I was always an entrepreneur at heart, and one thing about entrepreneurs, you never give up on that," Tony said.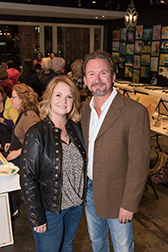 Tony and Tamara Scott, the husband-and-wife duo that runs Wine & Canvas, met in Indy in 2006. (IBJ photo/Eric Learned)
Tamara, 43, was more than eager to get into an art-related field full time.
A month later, the two launched Wine & Canvas by hosting six people around their dining room table. Tony organized the party—complete with a few friendly libations—and Tamara taught the guests to paint.
"We found, when you have a glass of wine, the creativity really flows," Tony said.
Betting against critics
They used $20,000 of their own money to launch the company, and became profitable within three months. Still, they both kept their day jobs until the fledging business was 6 months old. At that point, they went all in.
They spent another $50,000 to open a studio near The Fashion Mall at Keystone. Their business plan had no shortage of skeptics. It counted on people paying $35 for one three-hour painting class; food and drinks were extra, with a beer costing $3 and a glass of wine $4. On occasion, margaritas are served.
"I called it drink and draw," said Corey Johnston, who owned a cigar bar next to the Scotts' studio. "I said, 'There's no way this place is going to make it.' I mean, c'mon, I just didn't think this was a viable business model."
Johnston paused.
"I was wrong. Man, was I ever wrong," he continued. "They've got people going in and out of there like bees in a beehive."
Wine & Canvas does minimal marketing; the business exploded as its clients—90 percent of them women—started posting photos and comments about the classes on social media.
Wine & Canvas also got an early boost when WFBQ-FM 94.7 personality Kristi Lee came to a class unannounced.
"Then she went on the air and, unsolicited, talked about it for 20 minutes," Tony said. "The response was phenomenal."
But the two continued to get some negative feedback, he said. Oddly, it initially came from artists.
"At first, some artists thought we were cheapening what they do," Tony said. "What we've found is, the folks that come in here have a newfound appreciation for art. They realize just how difficult painting can be."
Johnston said his two daughters learned to appreciate art by taking the Scotts' classes for children, which began less than a year after the business opened. The kids' classes, Cookies & Canvas, are held on Saturday.
"We're getting 60 kids in here every single Saturday to paint and learn about art in a fun environment," Tony said.
The Scotts host painting parties at their studio or take their show on the road. They host classes for birthdays, bridal showers and other special occasions. They also have a growing corporate client list that includes Apple, Google, Microsoft, Kellogg's, Eli Lilly and Co. and Roche Diagnostics.
"It's great for team-building or just as a different kind of outing," Tony said.
A party, not a class
Wine & Canvas' Indianapolis studio is filled with cafeteria-style tables and individual chairs. At each setting rests a palette of acrylic paints (faster drying than oil), several brushes and a canvas.
Customer paintings hang along all the walls. A bar is in the back, where food and drinks are served. A healthy portion of cheese and crackers costs $6. Add salami and grapes for $2. Other offerings include chips and salsa and lots of chocolate treats.
Wall- and ceiling-mounted speakers play music—but not so loud you would think you're at a rock concert or fraternity party. Large flat screens abound to make sure attendees can hear and see the step-by-step instructions.
Classes are filled with the buzz of small talk, so instructors patiently repeat themselves, often. Tony said the gatherings are designed to be more of a party setting than a classroom.
"This is not an art school," he said. "It's a paint party, and the more [people] the merrier. We find the energy in the room is just fantastic."
If you're looking for a lot of one-on-one instruction, Tony said, Wine & Canvas probably isn't for you.
But there is instruction
While the experience is not a traditional art class, Alexandra Harris, who has been to four Wine & Canvas events with her husband, Justin, said the instruction helps even novices paint—maybe not like pros, but pretty artfully.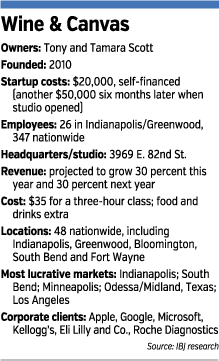 "I was the girl in art class that tried to talk the teacher into basing my grade on abstract paintings. I don't have an artistic bone in my body," said Harris, a sales executive for ADP Small Business Services in Indianapolis. "The instructors walk you through the steps in very basic language."
Everyone at a Wine & Canvas event paints the same picture, with the subject changing for each class. Of course, Harris said, there's room for interpretation.
"I joke about going rogue," she said. "You get more relaxed as you go."
Several of Harris' and her husband's paintings hang in their house.
"I've got some hanging in the garage, I'm not going to lie," she said with a laugh. "But I smile every time I walk by, remembering the experience."
The main Wine & Canvas studio holds 100 people, slightly fewer if the painting is a landscape instead of a portrait. There's room in the back for private parties of 30 or fewer.
Walk-ins are welcome, but be warned: Many classes are sold out. Schedules are on the company website and all booking is done online. Locally, the Scotts host about 90 paint parties a month, half of which are corporate gatherings.
Going nationwide
Less than six months after the business launched, Tony said, people were coming in from as far as Bloomington and Fort Wayne. Then folks started coming from surrounding states.
In 2011, Wine & Canvas expanded to Bloomington, then to Chicago and Columbus, Ohio. As their network expanded, the Scotts developed a franchising system that allowed them to go coast to coast.
Wine & Canvas now has 48 U.S. locations and is moving into Canada early next year. The Scotts retain sole ownership of the operations in Indianapolis, Greenwood—which opened this month—and Columbus, Ohio. They own 51 percent of the other locations, but they don't get 51 percent of those profits.
"We retain majority share so we can control the brand," Tony said.
The company's other operators pay the Scotts 8 percent of revenue. The Scotts declined to divulge their annual revenue, but Tony said, "It's a lot, and it's growing fast."
Wine & Canvas' top five markets in sales are Indianapolis; South Bend; Minneapolis; Odessa/Midland, Texas; and Los Angeles. Sonoma—in the heart of California's wine country—is also a strong and growing market, as is Las Vegas.
Growing locally
Bulging at the seams locally, Wine & Canvas in 2012 moved into a new studio on East 82nd Street, a few blocks from its first studio, where it doubled its square footage to 3,400.
By the time Wine & Canvas moved, Johnston's Blend Bar Cigar was getting so much overflow traffic from it that he moved along with the Scotts—to keep the neighborly status.
The Scotts' path to prosperity hasn't been without challenges. A dozen or so copycat competitors have surfaced, most of which failed, Tony said.
"It seems like an easy business, but it isn't," he said. "We have a lot of people in a lot of places. Scheduling for 90 events a month is just unbelievable."
Challenges, Tony said, include obtaining liquor licenses, which can each carry a five-figure price tag; finding affordable and accessible space in cities like San Francisco, New York and Chicago; finding artists who not only can paint, but also are patient and friendly party hosts; managing supplies for an oft-changing guest list; and the constant cleanup that comes with throwing multiple—and messy—paint parties every day.
"We have to make sure we are on our 'A' game every single night," Tony said. "The Internet and social media have been very good for us, but negative reviews spread like wildfire. They can paint a bad picture of our company real fast."•
Please enable JavaScript to view this content.