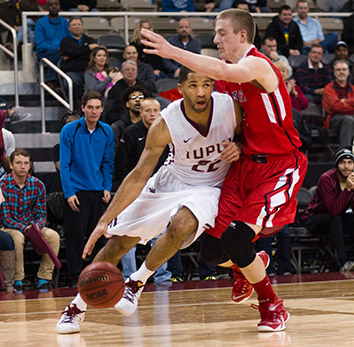 This is a story about athletics. No, this is a story about academics. No, that's not quite right, either.
"The biggest thing," said IUPUI basketball coach Jason Gardner, "it's about life."
Meet Marcellus Barksdale. And Khufu Najee. And DavRon Williams. College-degree holders, all. Doing postgraduate work, all. And IUPUI Jaguar players, all.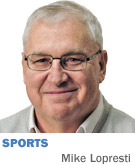 Three grad students on the same roster? There's something you don't see every day in Division I college basketball.
"Playing college ball and balancing that with graduate school has taught me life lessons. And I'm only 22 years old," Najee said. He is the senior guard who will get his master's in a communications field next June.
"It's just special. You have most teams, there might be one guy. There are three of us," Williams said. He's the senior forward who is pursuing a postgraduate certificate in business, with his MBA a goal down the road.
"It's kind of a culmination of all of us. It's a good representation of who we are as young men. Basketball is the stage we have right now, but we all know there's so much more," Barksdale said. He's the junior guard who is the leading scorer (10.8), and earned his undergraduate degree in three years. He also red-shirted, meaning next season he will be a second-year master's student playing college basketball.
You could look in every corner of the college game and not find many of those.
"They're leaders, just by example," Gardner said. "It's about the value of education. The ball is going to stop bouncing one day, and you have to have something to fall back on."
In some ways they are different, starting with their roots.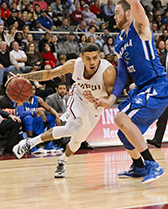 Khufu Najee (Photo courtesy of IUPUI Athletics)
Najee grew up a few blocks from the University of California campus at Berkeley. He went through two junior colleges and a cameo at San Jose State before coming here. Counting high school, he has played for six different head coaches in six years.
Barksdale is from Lexington, Kentucky, the only one of the three to have spent his entire career at IUPUI. He missed nearly all of his sophomore season to injury, so he used the downtime to load up on credits.
Williams is the lone Indiana native son, born and raised in Marion, where he played for a team that was 2.1 seconds from a state championship in 2008, before a Brownsburg Bulldog
named Gordon Hayward hit a game-winner. Williams had previous stops at a junior college and North Carolina Central.
"DavRon is the one that always has a joke, always seems like life is fun," Gardner said. "Khufu seems a lot more serious. Marcellus is kind of in between."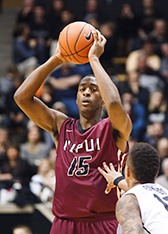 DavRon Williams (Photo courtesy of IUPUI Athletics)
But in many ways, they're the same. To hear each describe his childhood is to understand what led to this.
"I always enjoyed school. I enjoyed staying on top, getting my work done early so I could relax the rest of the semester. That always felt right. I guess it's just how I was raised," Najee said. He is the one with the mother who graduated from Wisconsin with an accounting degree.
"My parents insisted that we be able to articulate and convey our thoughts clearly. That's just the way it always has been. It wasn't a question of me going to college or not going to college," Barksdale said. He is the one with the mother who is an engineer, and whose aunt raised five children to all be engineers.
"I can remember being extremely young and my mom always asking, 'What do you want to do when you grow up?' She always stressed to my sister and me, 'You're going to college, you're getting your degree in four years.'" Williams said. He is the one whose mother earned her college degree at the age of 40.
Life has not made it easy for them.
Najee was 11 when he lost his father to cancer. He says now that the ordeal "helped make me what I am today." But back then, he mourned by stepping away from all sports. He did not play organized basketball until he was 16.
Barksdale was 12 when he lost his father to cancer, after watching him struggle to attend his son's games through chemo and illness. "He was going through his own battles, but he never allowed that to stop him from being Daddy. It's always a reminder that you can always be there for somebody."
Williams watched a single mother struggle to raise kids, and still improve her own lot by going to college. "I think I was in the seventh grade and I remember I got to miss school that day to go to her graduation. She just wanted better for herself, and she wanted better for us. She wanted to be the example that you can do it if you really set your mind to it. I honestly believe that. If there is anything I want, I can get it."
They are college kids, and at the same time, men. Listen to them talk about their present, their future, what their stories mean. They do not sound like your typical college players.
Barksdale, for example: "We took academics seriously, and that's part of who we are. It's hard for all of us to understand sometimes because we've been who we are through all our life. But you can see it sometimes when a kid looks at you kind of starstruck, and thinks, 'You know what, I want to be like that.'"
Or Najee, whose first name Khufu comes from an Egyptian Pharaoh: "When I say I've bounced around from school to school, I really have. I almost regret letting basketball dictate too much of my life. But I'm also going to be 22 with a master's. It turned out well. I look at the freshmen and they're so excited about being in college, about the weekends. But I'm at the point where I'm excited about being an adult, and what comes after college. Don't get me wrong, I love being here (though he had never seen snow in his life until last winter). But the excitement in my heart is for something else."
Or Williams: "Now it's kind of like, 'What are we going to do next?' Of course we want to play basketball [overseas, he hopes], but everybody wants to play basketball. If it ends up not working out in my favor, we'll get to the drawing board and see what steps I need to take next."
And one more thing from Williams about the state title that got away.
"That's something that changes the course of your life in Indiana. That's huge. If I ever meet Gordon Hayward … well, I'll shake his hand.
"I'm not over it. Probably never will be. I need that ring on my hand."
They are three graduates who understand time moves on. "I feel old, and I'm 21," Barksdale said. "I'm 23, and starting to lose hair," Williams sighed. They are also three examples that Gardner mentions on nearly every visit with a recruit's family, extolling IUPUI opportunities.
"As you start getting older, things start making more sense to you," Gardner said. "They understand. Their college careers are coming to an end, so it's more valuable to them than to a first-year guy. You think you have four years, but four years go by so fast."
True, life is waiting after basketball. Here are three guys ready.•
__________
Lopresti is a lifelong resident of Richmond and a graduate of Ball State University. He was a columnist for USA Today and Gannett newspapers for 31 years; he covered 34 Final Fours, 30 Super Bowls, 32 World Series and 16 Olympics. His column appears weekly. He can be reached at mlopresti@ibj.com.
Please enable JavaScript to view this content.