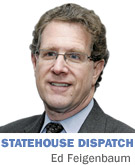 Republican supermajorities in 2013 and 2014 left a lot of unfinished business on the table, and that—as well as changes in technology and public expectations—portends an extremely active 2015 General Assembly session.

A budget will be the principal objective, but assembling it will involve a handful of veteran legislators.

That leaves about 140 other lawmakers to devote their full attention to assorted policy issues and other nefarious matters. Some of these—such as an overhaul of the school funding formula, changes to education vouchers, alterations of gambling laws and more—might end up wrapped into the budget. This allows provisions otherwise objectionable to Gov. Mike Pence or a large cadre of lawmakers to survive as part of a larger must-pass package.

Education issues will again be prominent. Legislators will examine how to make the school funding formula more equitable—pitting growing suburban districts against rural districts losing population and urban districts facing larger special-education populations. Charter school performance standards will be reviewed, failing schools and districts will be addressed, and rhetoric will fly over the proper overseer of public education in Indiana. Expect debate on preschool pilot expansion.

Energy issues will assume center stage.

Pence is advocating a new state energy strategy, including his suggestions for overhauling the controversial energy efficiency program. A battle brews between rural electric membership cooperatives and investor-owned utilities over current electric service territory law, and the influential large industrial energy users continue to push back against higher rates and rate-setting mechanisms, framing their arguments in economic development terms.

There is also some bipartisan impetus for mandating a competitive bidding process for utilities when purchasing new energy, or leasing or building a new power plant.

Attempts will be made to tweak the criminal code revisions and new expungement law that allows certain older criminal convictions to simply disappear.

While House Speaker Brian Bosma, R-Indianapolis, favors a pause on tax relief, small-business and agricultural property tax issues could be tackled. Some want to explore alternatives to the gas tax as infrastructure and highway funding return to the forefront, along with funding and siting Interstate 69's final leg.

The public could become engaged over alcoholic beverage laws, with a Sunday sales bill gaining momentum, potentially opening the door for discussion of where and when cold beer and wine could be sold. The new phone app for liquor sales may also gain legislative attention.

Hoosiers might choose to advocate measures that affect privacy rights, including attention to tracking devices and warrants, drone usage, telephone monitoring and more initially raised during 2014 passage of bipartisan legislation.

This could turn out to be the session of "-less" as well.

Solons could take up driverless cars (and the myriad associated insurance, liability, licensing, safety and age issues that render it more complex than Segway legislation a decade back). Dealer-less car sales could be addressed if Tesla presses for manufacturer direct-to-consumer transactions, priming the pump for a battle of industry titans.

Age limits and public vaping restrictions might be in store for smokeless cigarettes. Cashless currency regulation (or use) might grab attention.

Revamping toothless ethics laws will be a leadership priority, beyond just their own branch of government. New means of offering certain services outside of normal licensing, regulation, and perhaps even tax channels may join the agenda. You might see a new approach to how government views ride-sharing services such as Uber and Lyft, and what licensing, bonding, tax and insurance might be required.

Similarly, Airbnb may attract legislative attention. Hoteliers that have made large capital investments; pay significant sales and lodging taxes; contribute to local tourism agencies; and are subject to strict health, safety and zoning standards are feeling the pinch of lost room nights to the wild west of Internet reservation services that put travelers in direct contact with individuals seeking to rent out rooms or homes.

Work sharing—a program that allows an employer to reduce hours and wages for employees to avoid layoffs, while qualifying affected workers for partial benefits—appears to enjoy bipartisan legislative support (although the governor's not on board). But should some lawmakers seek to revisit the common construction wage law in looking at other labor issues, legislative comity could collapse.

So expect an intriguing session with some traditional issues mixing with lots of new ones … and doing so with scrutiny from many new lawmakers.•

__________

Feigenbaum publishes Indiana Legislative Insight. He can be reached at edf@ingrouponline.com.