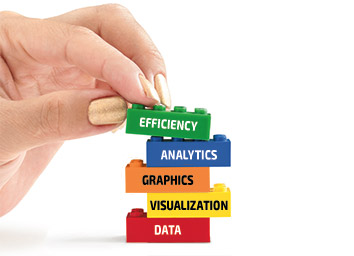 Henry Ford famously made it his mission to "democratize" the automobile by making it accessible to everyone. His success turned cars from a toy of the elites to a routine part of every American's life.
Indianapolis entrepreneur Tom Feigenbaum thinks he's come up with a way to do the same for software programming.
If he—and the scores of other techies attempting the same thing—succeed, they would make creating and customizing computer programs an integral part of life for every American worker. In that sense, nearly every job in the U.S. economy would become a tech job.
Such a development could have a major impact on the skills employers need workers to have and, consequently, curriculum taught in K-12 schools and universities.
Not that every worker would become an expert in computer programming languages. Quite the contrary, actually.
Feigenbaum's firm, Indianapolis-based Ke Labs, is among a growing number of tech companies trying to develop software that allows users to create or tweak their own programs—without knowing any computer languages or code.
Ke Labs' program requires five minutes of training, after which users can build data-tracking and analytics programs visually by combining pieces of software "like Legos."
"It would really open up the number of people that could contribute to the body of computer software applications," said Feigenbaum, 52, who formerly grew and sold Indianapolis-based ProSolv, which made software for analyzing cardiology images.
Indianapolis-based App Press offers something similar for people trying to make mobile applications for smartphones and tablets.
Software giant Intuit—the maker of TurboTax software—has a program called QuickBase that allows users to create analytic programs for back-office business functions—even without knowing code. And programs like Squarespace offer a similar service for creating Web pages.
The programs may help Indiana businesses meet their information technology needs even though the demand for software developers here continues to outstrip supply. One Ke Lab customer, Indianapolis-based AIT Laboratories, said it took about half the time and money for Ke Labs to develop a program for its use than traditional programming via computer coding.
Jobs in Indiana for developers of software applications are on pace to grow 30 percent from 2010 to 2020, according to data compiled by the Indiana Department of Workforce Development. That's more than twice as fast as projected job growth across the entire Indiana economy. The jobs pay an average of $89,000 per year.
Computer jobs of all types, except for support jobs, are projected to grow 21 percent over the decade, paying an average of $70,000.
"There are going to be tech jobs in high quantity and high demand; it's just a matter of what that mix is," said Mike Langellier, president of TechPoint, an Indianapolis-based trade association for Indiana information technology companies.
As creating and adapting software becomes easier, there might be less need for developers, but more and more jobs will involve monitoring or analyzing the insights those programs generate, Langellier said. Others agreed.
"Whether you're running a coffee shop or working in a hospital, there's just so much data to help you make decisions," said Dr. Richard Kovacs, a cardiology professor at the Indiana University School of Medicine, one of Ke Labs' earliest customers. "So I think these tools that make it simple to analyze the data and turn it into information is just part of how we all have to work in the modern workplace."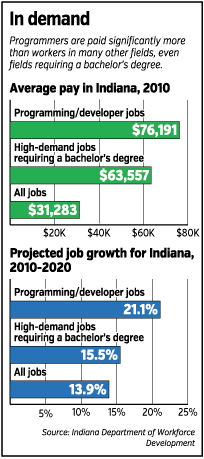 Ke Labs created a training program for physicians and medical technicians to measure thicknesses of patients' hearts in echocardiogram scans. But Ke Labs also built typical data analytics software tools into the program.
That addition allowed Kovacs to use the program to compare the scans he performs each year on football players at the NFL Scouting Combine to data from previous years and to that of other athletes. He then could tell teams immediately whether a player had a heart with an abnormal thickness—which could be a sign of a medical condition.
Before, Kovacs had to pay a statistician to analyze spreadsheets of his heart scans, then report back. That usually took a month.
"They were amazed when they saw the outputs," Kovacs said of the medical staff from the various NFL football teams. "It tells their medical teams right away if someone is unusual. Which is a big deal, because they're making multimillion-dollar decisions."
Impact on education
The proliferation of programs means every college student should be exposed not just to using computer programs—as they are now—but also to creating them, said Gerry McCartney, vice president for information technology at Purdue University.
Because, even when the tools will exist to create programs, students will need to know something about how computer programs work. Toward that goal, some universities, such as Stanford, have been creating programs that combine computer science with humanities majors.
McCartney said he'd like every degree program at Purdue to include some instruction, if not in programming languages, at least in how programs are built—how they sync with databases, how they can collect data and analyze it. Students' professional success now depends on it.
"Even if your job is cutting the grass in a neighborhood, you're doing email, you're doing order-taking," he said. "Because of that, you'd better understand how your business can take advantage of technology. Or, if you're more paranoid, how you can be put out of business by someone who knows how to use technology better than you can."
App Press CEO Grant Glas said exposure to some computer science even in elementary school should—and will soon—become standard.
"It has to be. It's vital to the success of our economy," said Glas, who is a graphic designer by training but learned programming to meet customers' demand for mobile apps after Apple's launch of the iPad in 2010. "It blows my mind that it's not math, English, history, coding."
Or, to put it in different terms, schools would offer instruction in making software programs just like they commonly offer driver's ed instruction.
Developers still needed
Glas does not think the proliferation of software creation tools for nonprogrammers will reduce the need for software developers.
While some businesses will require fewer in-house programmers, companies making tools for nonprogrammers will need loads of developers to keep meeting customers' increasingly complex demands, Glas said.
"I'm right now looking for [software] engineers. This is actually fueling the need for engineers," he said. "Once people get an appetite for this, it actually propels them forward."
Something similar happened a century ago when Ford switched from the traditional model of making cars—having a team of mechanically trained experts assemble them one at a time—to having common day laborers, with no mechanical training, perform predefined tasks on Ford's moving assembly line.
"I have heard it said, in fact, I believe it's quite a current thought, that we have taken skill out of work," Ford said, according to a brief history published in the 1996 book "Forbes Greatest Business Stories of All Time." "We have not. We have put a higher skill into planning, management, and tool building, and the results of that skill are enjoyed by the man who is not skilled."
Feigenbaum, at Ke Labs, is also borrowing a concept that became commonplace in the auto industry—making cars by assembling parts created by other companies.
Ford did a small amount of this. Whereas he built his first prototype car in 1896 entirely from scratch—even making his own engine—by the time he launched Ford Motor Co. in 1903, he was buying pre-made engines from the Dodge brothers.
Automakers evolved to the point that they created almost none of their parts from scratch; they just did design and assembly using mostly standardized parts.
The result was that they could build increasingly sophisticated cars faster and cheaper.
That process still needs to happen with computer programs, Feigenbaum said.
Measuring hearts
Feigenbaum's new approach, which he calls information unit modeling, certainly worked for AIT, which performs blood tests for physicians around the country.
Ke Labs could quickly build a program to AIT specifications with the modules, said Guna Rogers, AIT's corporate counsel, who spent her career in IT before getting a law degree. For competitive reasons, she declined to describe the type of program Ke Labs created for AIT.
"As I described what we were looking for, they were actually able, without any prior exposure to what I needed, in that conversation, to start building the kind of software that I needed," Rogers said. "They started building software right there in the meeting."
This new speed and efficiency in programming could help corporate profits. But even more significantly, it could spawn more innovation and launch more companies.
Feigenbaum said the closer the experts in any field—whether medicine or finance or education—can be to the creation of software for those fields, the more powerful and helpful it can be. That's because innovation does not occur in bolts of lightning, but in dozens or even hundreds of attempts at improvements, each one building on previous ones.
"In the ideal world, you would have the domain experts do the programming," Feigenbaum said.
Glas, the App Press CEO, agreed. He also said the faster and cheaper it is for experts in a field to create software to solve the needs and problems in their industries, the easier it will be for entrepreneurs to launch companies.
Easier creation of software will continue to fuel a much larger trend, in which virtually all workers must be experts at both their particular business and at the software that enables it, said Purdue's McCartney.
"We still need a number of technical people, because computer companies are going to buy them to develop their machines and programs. But everyone else is going to have business knowledge. That means people doing technology degrees better understanding some line of business. And people that are better understanding a line of business, they'd better understand the technology. And I don't mean just a Best Buy knowledge of things," he said.
"Everybody, whether they like it or not, is now in a digital business. Everybody is."•
Please enable JavaScript to view this content.