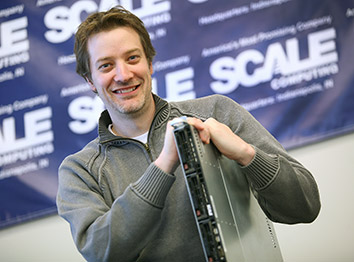 Information technology firm Scale Computing Inc. has been raising money at a clip similar to other prominent local tech companies in their early days and is gearing up to increase its workforce by a factor of five.
The Indianapolis-based company, which sells box-size IT infrastructure to small and midsize businesses, is talking with the Indiana Economic Development Corp. about a state incentive deal as it plans to grow from 36 employees to 183, according to information IEDC staff shared with its board at a meeting last month.
Scale has raised more than $50 million since its founding in 2007—putting it in the company of only a handful of local enterprises, including ExactTarget and Angie's List, that have repeatedly raised eight-figure sums.

Cloran
"When you start raising money in the double-digit millions," said entrepreneur and DeveloperTown partner Michael Cloran, "clearly you're playing in a much bigger league than the normal seed investments you see around here."
The company, which operates out of the Purdue Technology Center of Indianapolis, develops an all-in-one technology product that handles server, storage and virtualization needs of clients. The device—about the size of a piece of checked luggage—handles a company's network needs for a single, upfront payment that starts at $25,500.
At the December IEDC board meeting, staff members didn't mention Scale by name, but described its line of business and its location at the tech center. A senior administrator at the tech center said Scale is the only business of its kind there.
Details of the incentive package weren't discussed entirely, but officials noted that Scale forecast its average wage would be $41 an hour by 2024. Next year, its wages are projected to be about $37.40 an hour. The current state average is $20.17. At IEDC, the Scale incentive package is code-named "Project Growth."
IEDC representatives did not respond to requests for comment before this article was published.

Ready
CEO Jeff Ready did not respond to requests for an interview. In emailed remarks, he said: "We are investing and believe 2015 will be a key growth year for Scale. We will take advantage of the talent pool and economics here in Indianapolis to accomplish that and stay at the front of the market."
Ready, a Rose-Hulman Institute of Technology graduate, started and sold two companies in Silicon Valley before he moved home to Indiana in 2006.
He told IBJ in October 2013 that he and business partners Scott Loughmiller and Jason Collier came up with the idea after witnessing firsthand some of the IT problems small and midsize businesses encounter. He was 39 at the time.
Scale's offerings have evolved, and the company managed to become one of the first arrivers in the field of hyperconvergence—the melding of various IT solutions into one.

Taneja
"I'd put them in the category of pioneers," said IT expert Arun Taneja of Massachusetts-based Taneja Group Inc. "They've single-handedly been leaders in that low-end space."
To be sure, other companies sell hyperconverged products, and Scale's competitors include San Jose-based Nutanix and Palo Alto-based VMware, Taneja said. But those companies are focused on larger enterprises, at least for now.
"That is a market that is essentially white space for them," Taneja said. "So the good news for Scale is that they are pretty much free to capture that market. But it's not going to take very long for some of these other guys to come down."
Scale doesn't disclose its revenue figures, but Forbes magazine reported in 2011 that the company had $5 million in revenue in 2010. The magazine deemed Scale one of the nation's "Most Promising Companies."
Since then, Scale has repeatedly reported record quarterly revenue.
Aquilano
Don Aquilano, managing director at Allos Ventures, said the company doubled its revenue in 2014 from 2013 and that it's on course to do the same in 2015. Allos was part of a $12 million venture capital round for Scale in 2012, according to CrunchBase.
"Clearly, this company has bright prospects," Aquilano said, "as they continue to quickly grow and have one of the better-reviewed products in the entire marketplace."
Aquilano declined to disclose employee head count at Scale, which he said has an office in Silicon Valley. Officials at the Purdue tech center said Scale had 28 employees there as of Jan. 12, making it the second-largest tenant behind biotech company Quintiles.
Scale has not approached the fundraising levels of reviews powerhouse Angie's List, which raised $119.6 million excluding debt before it went public in 2011, or Q&A search company ChaCha, which has raised $93 million in nine rounds since 2007. Digital marketing firm ExactTarget, which was acquired by Salesforce in 2013 for $2.5 billion, raised roughly $240 million before its 2012 IPO, according to data compiled by CrunchBase and CB Insights.
But Scale is far beyond many of the other fledgling tech companies in Indianapolis, pulling off a $17 million venture capital round in 2010 at just 3 years old. Many of the most-watched young tech companies here often raise money in the six- or seven-figure range.
Scale is considered in the growth stage, said Cloran, who works with various startups at DeveloperTown. He said not only is it good to see an Indiana company raising growth-stage capital, but it's good to see that several of Scale's investors—including Allos, Carmel-based Heron Capital and other venture firms—are based locally and regionally.
When growth-stage capital comes from outside the area and a company exits via IPO or acquisition, Cloran said, that capital goes back to those investors outside the area.
"When you get a $2.5 billion exit like ExactTarget, some of that money stays with the founders and the teams … ," Cloran said, "but the majority of the money ends up going out of state where the growth-stage capital came from."•
__________
IBJ staff reporter Kathleen McLaughlin contributed to this report.
Please enable JavaScript to view this content.