A West Lafayette firm plans to invest $40 million to construct an 11-story downtown apartment and retail project that would add to the growing number of housing developments targeting IUPUI students.
The Trinitas Ventures plan calls for 193 units, up to 7,000 square feet of small-shop space, and a parking garage on a surface lot at the northeast corner of Michigan Street and Capitol Avenue, a straight shot east of campus.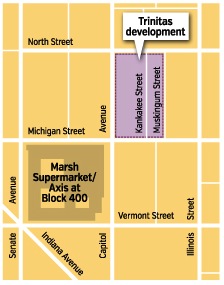 Trinitas hopes to begin construction in the spring, said Travis Vencel, the company's vice president of development.
"We've liked the Indianapolis market for some time," he said, "and we increasingly see a demand for our type of product in the market."
Private developers like Trinitas are building student-housing projects around the campus to meet increasing demand as IUPUI attempts to transition from a commuter school.
IUPUI in August announced plans to build a $45 million residence hall somewhere on campus to open in time for the 2016-2017 school year. And in 2013, it converted University Place Hotel into a 560-student residence hall.
Trinitas has built several student-housing projects in college towns, including two each in Bloomington and West Lafayette, and others in close proximity to universities in urban areas.
The development at Michigan and Capitol would be its third in Indianapolis. Trinitas built a $30 million, 253-unit project at 1201 Indiana Ave., which opened in August 2010, and a small project about 10 years ago near the University of Indianapolis on the south side.
Trinitas has sold both communities to provide it additional capital for more projects, Vencel said.
Its latest development will be split into two levels—an 11-story building at the south end and a five-story building at the north end of the lot. The four-level parking garage at the northeast corner of the property will be wrapped by the smaller residential structure.
Most of the retail space will front the corner of Capitol and Michigan. Trinitas has yet to sign any tenants, Vencel said.
Units will range from one to four bedrooms, with a total of 600 bedrooms available. Rents have not been set. Amenities will include a fitness center and clubhouse for the 18- to 26-year-old target demographic.
To make way for the development, Trinitas received approval Jan. 14 from a Metropolitan Development Commission committee to vacate Kankakee Street, which runs north-south through the nearly three-acre property bounded by North Street to the north and Muskingum Street to the east. An alley linking Kankakee to Muskingum also will be vacated.
The commission's Regional Center Hearing Examiner is set to consider the project Jan. 29. Because the site is within the Regional Center overlay district, the project needs to comply with Regional Center Urban Design guidelines and requires initial approval by the city's hearing examiner.
The architect on the project is Ratio Architects Inc. It's also designing the second phase to the 9 on Canal apartment building along the Central Canal, one of the many apartment projects to open lately that target students.

Vencel
Others include The Avenue along 10th Street, Stadium Lofts and Stadium Flats at the old Bush Stadium on East 16th Street, in addition to Central State Mansion, a dorm-style residence at the former Central State Hospital site on West Washington Street.
George Tikijian, who brokers apartment sales, isn't surprised Trinitas is undertaking another student-housing project, given the increasing need for units near the IUPUI campus.
"Enrollment is growing, and it will probably continue to grow," he said, "because there's demand to go to school in an urban location."
That demand is just a small driver of the surging downtown housing market. The average downtown rental rate climbed 3.8 percent last year, to $951 per month, and occupancy held steady at a robust 95.2 percent, according to Tikijian Associates' annual market report.
That's even as 4,200 new units came online throughout the city in 2014, the most since the beginning of the millennium. Another 3,900 are expected to be delivered this year, with downtown again reaping most of the activity, Tikijian's report said.
Trinitas is buying the downtown lot from a group including majority owner OneAmerica Financial Partners, which also owns the Gibson Building across the street on the south side of Michigan.
Adjacent to the lot, at the southwest corner of Michigan and Capitol, Flaherty & Collins Properties is building its $85 million Axis at Block 400 mixed-use project anchored by a Marsh supermarket that opened in May 2014.
Chicago-based Harrison Street Real Estate Capital LLC is Trinitas' equity partner on the project.•
Please enable JavaScript to view this content.