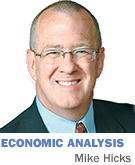 The monthly Employment Situation Summary (aka jobs report) offers good detail on the state of employment in the United States. Despite claims that the job market is unambiguously happy, there is real evidence of deepening problems.
The good news is that the economy from January 2014 to January 2015 grew a tad more than 3 million jobs. The unemployment rate dropped from 7.0 percent to 5.7 percent, and the labor force participation rate rose 0.4 percent.
Also, the share of long-term unemployed dropped two percentage points, as did the levels of discouraged workers. One could hardly blame the administration for boasting about these numbers. Still, the remainder of the report is a good bit less sanguine.
Of the 3 million jobs created, 75 percent were in management, professional and related occupations. Almost 45 percent of the new jobs nationally occurred in the professions—law, medicine, science, engineering and the like—while almost a third were in management and financial operations professions. These jobs require a four-year college degree or more.
In contrast, service occupations accounted for fewer than 2 percent of all net new jobs. Sales and office occupations, including administrative support, lost 118,000 positions. Jobs in mining, construction, agriculture, and maintenance and repair accounted for only 86,000 new jobs.
The only real bright spot for blue-collar workers was in manufacturing and transportation, which saw growth of 731,000, and more than half of these jobs probably require some college education.
It is blunt news that in 2014 there were 25 percent more jobs created for the roughly one-third of folks with four-year degrees than in all the other educational attainment categories combined.
Other than temporarily quieting folks who think college is unimportant, these facts offer no good news. This jobs report clearly depicts the hastening of what we economists call the polarization of labor markets. There is a shrinking middle set of job opportunities.
There are many reasons. Some are purely market-based and inevitable. Technology will make redundant many jobs. Ill-conceived labor-market policies raise the cost of hiring lower-wage workers, cutting off job opportunities.
We also suffer from long neglect of educational attainment in the United States, which leaves many men and women unprepared for an economically productive life.
For regions plagued by low educational attainment, this is a looming disaster.•
__________
Hicks is the George and Frances Ball distinguished professor of economics and director of the Center for Business and Economic Research at Ball State University. His column appears weekly. He can be reached at cber@bsu.edu.
Please enable JavaScript to view this content.