To put it mildly, the Auer Growth Fund had a terrible 2014.

The Indianapolis-based mutual fund declined 10.3 percent last year, even as the five-year bull market raged on. By comparison, the S&P 500 leapt 13.7 percent and the Russell 2000 climbed 4.22 percent.

Auer Fund's three-year and five-year returns also lag the broader market, and the fund is actually down about 25 percent since its debut seven years ago. Auer Fund, meantime, has some of the highest fees around.

Auer
Some fund managers tweak their strategies or fees when things aren't going so well. But don't look for Bob Auer, the fund's 53-year-old senior portfolio manager, to do so. He said he's not changing his fees or his 27-year-old investment formula, which he and his semi-retired father used to turn $100,000 into more than $30 million before opening the fund to other investors in December 2007.

"We're absolutely sticking with it," Auer said about his strategy, "and are not even tempted one iota to change it."

Auer Fund has about $59 million in assets under management, more than a third of which belongs to the Auer family. The fund had about $76 million in assets in late 2013, but that was eroded by stock losses and shareholder cash-outs over the following year.

According to mutual fund tracker Morningstar, the small-cap heavy Auer Fund was down 16.2 percent through the 12 months ending Jan. 31, placing it in the lowly 99th percentile in its category nationwide.

Of the 36 Indiana-based funds tracked by Morningstar, the only fund that performed worse over that span was Huntington Bank's Real Strategies A fund, which lost 16.3 percent.

Other Hoosier funds struggled over that period too, including the Columbus-based Kirr Marbach Partners Value Fund, which grew less than 1 percent. Still, that fund is up 61 percent since the end of 2007, more than erasing its recession-era losses.

Auer said his investment strategy is sound, despite the recent performance. He described the situation as someone who is superbly healthy, but is fighting a cold.

Auer's formula is relatively simple. The firm buys stock in companies that see quarterly earnings jump 25 percent, report 20-percent quarterly revenue growth and have a price-to-earnings ratio below 12. He sells those stocks when the price doubles or when that performance stops.

The result? Auer Fund holds a lot of high-growth companies, many of which have small market capitalizations. Several of the companies that fit the fund's criteria lately were oil exploration and production companies.

When oil prices dropped precipitously starting in mid-2014, those companies' shares tumbled.

Auer Fund holdings were up 44.5 percent for 2013, ranking in the top 5 percent of its 237 peers as measured by Morningstar. And shares were up about 9 percent for the first six months of 2014.

Then the tide turned. "We were over-weighted in energy. It worked for 18 months and then it didn't work for the last six," Auer said.

But oil's drop doesn't fully explain why a $10,000 investment at the fund's inception is now worth only about $7,600. It also raises questions about whether the 1.85-percent expense ratio is worth it. The average for Indiana mutual funds is about 1.21 percent.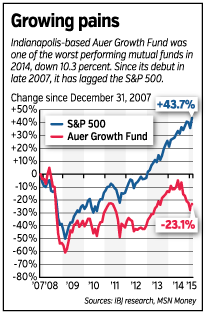 Peter Dunn, a Carmel-based personal finance expert, said it isn't fair to compare small-cap funds to the S&P 500 because of the greater risk involved in small-cap stocks. But he said a 1.85-percent expense ratio is "pretty darn high" and failing to recoup recession-era losses is "near-inexcusable."

"You just hope that whoever bought the fund has it as a small portion of their portfolio because as an investor, it's hard to take lumps in a good market year," he said.

Auer said the Auer Fund had the misfortune of going public shortly after the beginning of a bear market, debuting at $10 a share on Dec. 26, 2007 and hitting a low of about $3.50 a share in March 2009.

Auer shares rallied to about $9.37 by mid-2014, then reversed course. Shares now are worth about $7.53.

"It's a shame we started the fund when we did," Auer said, noting that the fund has enjoyed stellar results privately since he and his father Bryan, 79, launched it in 1987.

Back then, the younger Auer was a stockbroker at Morgan Stanley. His father, who previously ran a small chemical firm, decided to put $100,000 in a retirement account and the two conceived their investment formula for it.

Without adding any money, Auer said, that investment grew to $32 million by 2007.

"In 27 years we smoked the S&P 500. It's not even close," he said. "But in the last seven years, it has completely smoked us."

Today, the Auer family has about $21 million in the fund, partly because the elder Auer was required to take a minimum retirement distribution of $8 million.

The younger Auer said the expense fees will stay as they are in part because of the work involved with having micro-cap stocks represent 45 percent of its portfolio. Shares in micro-caps are less liquid and can be more expensive and time-consuming to trade.

Auer said he's confident in his formula and bullish on his fund. Unlike some fund managers who shift their style to be in step with leading market indexes, he's sticking to his guns.

"We're trying to hit it out of the park. We're not trying to tie to some index," Auer said. Speaking about fees, he said, "And we do think in the coming years we're going to look better than some index guy paying a quarter-percent."•