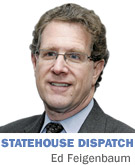 Now that the budget bill has crossed the rotunda, we suggested last week that the Senate Committee on Appropriations chairman, Luke Kenley, R-Noblesville, was likely to pare back some spending proposed by the typically less-frugal House.
That will certainly be true, a circumstance made more likely—if not yet exigent—by recently released February state revenue numbers.
Collections trailed projections for the sixth time in the first eight months of fiscal year 2015, with even the December revised forecast rosier than subsequent results. This is the second straight month that both sales and personal income taxes fell south of December targets.
With four months left in FY 2015, General Fund tax revenue improved over the prior year by $267.7 million (3.1 percent), but is off by $270.2 million (-2.9 percent) from the April 2013 estimates used to craft the current biennial budget. And if you're still up for more numbers, total collections are running more than $90 million behind forecast.
All of this is important because fiscal pragmatist Kenley is also a fiscal realist.
In early December, Kenley suggested that even a 10-percent boost in resources wouldn't fully accommodate the reasonable funding requests he had been entertaining.
He has been bitten by overly optimistic forecasts in the past decade, and takes to heart concerns from the state's forecast team about a poor labor market recovery and extended recovery period; floundering casino and racino revenue; gas tax collections falling along with prices at the pump; lower corporate- and inheritance-tax collections due to legislative changes; and individual income tax collections not matching lower unemployment rates.
Even four months ago, Kenley was hinting at trimming revenue growth estimates in half as a budget starting point, looking to later backfill should collections prove strong for a six- to eight-month run.
That later condition has certainly not evidenced itself, and, pending the April revenue forecast update, the Senate will be looking to cut now … and there's not much optimism about adding back bucks down the road.
The budget effectively starts and ends with K-12 education. While the chambers will likely reach virtually the same bottom line (higher than the governor's proposal), House-proposed school-funding formula reforms—which seek to minimize the difference in state funding between affluent districts and those with high poverty rates—will be fine-tuned in Kenley's committee.
The biggest issue facing senators is how to handle "complexity" funding for low-income students, the budget-booster for districts. They need to best define who these students might be. Should they use the number of students qualifying for the federal free-lunch program? Those qualifying for free textbooks? A different measure?
Senators aren't comfortable with the validity of certain federal counts, and lack a good measure for assisting districts with those special needs.
School districts with declining enrollments and greater intensive teaching needs—largely urban and rural areas—have applied intense pressure back home on individual lawmakers and collectively in Indianapolis. While Kenley seems to believe the large baseline funding increases may have to placate superintendents, the rank-and-file might not agree (some Senate Republican district surveys also found constituents believing schools were already sufficiently funded).
Kenley might find other cash at the margins (some teacher tax breaks, both existing and sought by Gov. Mike Pence might be one target) to allow him to adjust the formula, but that will be limited to tinkering. Some short-term savings could come from phasing in changes.
Don't expect much new from the budget in the Senate, save, perhaps, some creative cost-saving ideas that Kenley and crew always seem to pull out of a hat. What you see in the four corners of the budget now is largely what you're going to get, with any big changes likely to come only within broad categories, such as corrections and education.•
__________
Feigenbaum publishes Indiana Legislative Insight. He can be reached at [email protected].
Please enable JavaScript to view this content.