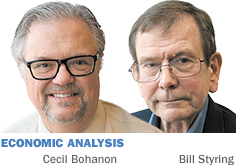 March 15 was Selection Sunday for the NCAA basketball tournament. Hundreds of thousands of Hoosiers are gambling. They've tossed a few bucks into an office pool and filled out a bracket sheet. They hope to pick the most winners and collect the prize.
Two aspects of this annual ritual are remarkable. If you indulge in other forms of gambling from time to time, "bracketology" is the smartest bet you'll ever make. And, you might become a criminal.
Let's explain No. 2 first. Gambling in Indiana is illegal unless it is specifically sanctioned by the state. Gambling for charitable purposes is OK if the state gives its permission. So is gambling that is taxed by the state—horse tracks, slots and various flavors of lotteries.
Your friendly office pool isn't any of those. You could be technically subject to a Class B misdemeanor (one year in jail and a $1,000 fine) if your local prosecutor wanted to be nasty. The person who administers the pool could be in felony territory.
"It won't happen," you say. And you're probably right. The Prosecutor's Office likely is running its own office pool!
But government can get huffy about an activity that competes with its own gambling revenue. In Fairfax County, Virginia, in 2008, a basketball office pool got busted, and the sheriff sent out a stern press release warning against "illegal gambling."
Still, you can bask in the notion that your bracket sheet is a better gamble than anything strictly legal. It pays back 100 percent of the bets in prizes. Nothing else pays so well. Slot machines pay out 95 percent, horse racing pays out 80 percent, and your 50-50 charity jackpot, sanctioned or otherwise, pays out just 50 percent.
Economists as far back as Adam Smith have asked why we participate in gambling if we know that most of us are locked-in losers. Smith's answer was, "The vain hope of gaining some of the great prizes is the sole cause … "
In other words, we overvalue the chance of a big payoff and undervalue the chance of relatively smaller losses. The chance of winning a big pot in the thousands is worth losing a few bucks to most of us.
So by all means, go ahead and be a bracketologist. Until some politician hits upon the idea of a state-sponsored basketball pool. And will somebody please beat Kentucky?•
__________
Bohanon is a professor of economics at Ball State University. Styring is an economist and independent researcher. Both also blog at INforefront.com. Send comments to ibjedit@ibj.com.
Please enable JavaScript to view this content.