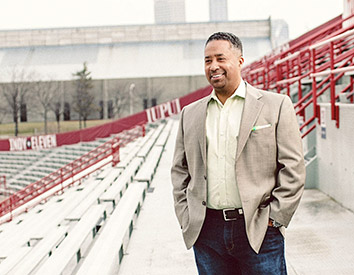 USA Track & Field CEO Max Siegel has grown the 35-year-old organization with the speed of a world-class sprinter.
And long-term relationships he's forged—including a 24-year deal with Nike inked last year—have given Siegel and his organization the staying power of a marathon runner.
The Indianapolis native and University of Notre Dame graduate has covered a lot of ground since taking over in May 2012 as USATF's fourth CEO. And having signed three corporate partnership deals in the last two months, Siegel doesn't look like a man leaning for the finishing tape just yet.
Siegel, 50, has succeeded at USATF by using a team approach, dealing directly with sponsors, and employing "a business outlook that the organization had lacked," said USATF board member Jackie Joyner-Kersey, who won six Olympic medals in the heptathlon and long jump from 1984 to 1996.
"Max is a 'we' guy," Joyner-Kersey said. "It's about how we can do this together. That approach has created tremendous buy-in with athletes, sponsors and other constituents, which has produced tremendous progress for the organization."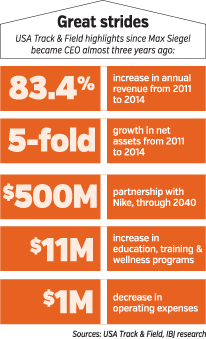 Since 2013, Siegel has inked 12 corporate partnership deals. He has grown the organization's sponsor roster from seven to 19, and increased the organization's annual revenue from $19 million to $30 million.
The budget could bulge to more than $32 million in 2016—when the U.S. men's and women's track team takes center stage at the Summer Olympics in Rio de Janeiro.
According to USATF filings, Siegel has increased by $11 million annual spending on programming—everything from youth development and education to Olympic athlete training—while cutting annual operating expenses by $1 million. The organization, he said, has seen its net assets in the last three years grow fivefold.
Owning past troubles
Siegel has grown the organization by being open about USATF's past shortcomings—including sponsorship deals made with competing companies and broken promises to corporate partners. He has made more product-exclusive deals and diversified the sponsor base by bringing in such names as Rosetta Stone and the University of Phoenix, said Jill Geer, USATF chief public affairs officer.
Infighting within the organization also left sponsors with a poor impression of USATF, observers said.
Key to signing so many new corporate deals, Siegel said, has been "identifying what success means to our partners, proactively collaborating with them and doing what we promise."
Siegel admitted that "it's been a grueling grind to get here."
USATF has boosted athletes' profiles by executing a deal with NBC and in 2013 launching the organization's own online high-definition broadcast arm at USATF.tv. Some programs on the online channel have received more than a half million views, Siegel said.
He also added long-term revenue stability last year with a Nike deal through 2040 that sources said is worth $500 million to USATF.
Various constituencies within the sport and even Siegel's predecessor at USATF—Doug Logan—criticized the lengthy term of the Nike deal.
"Some thought if we did an eight-year deal, there may be a better deal or sponsor out there in eight years. We ran every single analysis on this possible," Siegel said. "We looked at increases in cost of living, inflation, how the money would be invested, market changes and more. With this, we're locked into a very healthy long-term deal."
Unlikely partnerships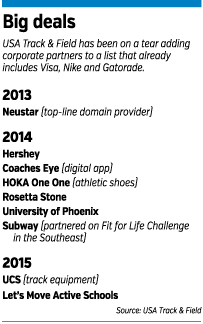 Though the deal's length is nearly unprecedented in the world of sports marketing, Joyner-Kersey had no problem with it.
"The great thing about Max is that he has a tremendous amount of experience in sports and entertainment and he has a legal background," she said. "I'm confident he knows how to analyze and maximize these deals. And he's not afraid to think outside the box."
That outside-the-box thinking has led Siegel to sign several deals with companies that seem unrelated to track and field. One such example is the multiyear deal with Rosetta Stone signed in December.
Siegel had been pursuing a deal with the maker of foreign-language learning aids for two years. But why? Where some observers saw an oddball marketing match, Siegel saw a perfect fit.
"Our athletes travel all over the world," he said. "If our athletes have a basic understanding of the various languages, it enhances the experience for everyone—athletes, fans, sponsors and media."
Like many of the deals crafted by Siegel, it's not a standard sports marketing deal where a company gives money and possibly free products to an organization in exchange for exposure through such tools as event signage and/or uniform logos.
Though neither side would divulge all the particulars, the gist is that USATF athletes have the opportunity to buy Rosetta-Stone products at a discount. Those athletes in turn use the products to enhance their interactions with foreign fans, sponsors, media representatives and others and "promote the product naturally," Siegel said.
In turn, USATF shares in the revenue generated through sales of the product through their organization, Rosetta-Stone officials said.
"A lot of properties just want as much cash as they can get in the short term," said George Perry, Rosetta-Stone senior director of strategic partnerships. "Max takes a long-term approach."
Siegel's willingness to craft tailor-made, sometimes unusual deals for corporate partners, Perry said, has been key to USATF's growth.
"We weren't looking to do a deal with USATF. They weren't on our radar. We have no other deals with national sports-governing bodies," Perry said. "But when Max came up with this, it made a lot of sense for us. His leadership of that organization is a big part of why we did this deal."
The same is true for Hershey, which also signed a deal with USATF in 2014.
"The approach they took with us was very customized," said Bernie Banas, director of customer innovation for The Hershey Co. "They came in and took the time to understand what we were trying to accomplish. Max stood shoulder-to-shoulder with me and said, 'We're going to do this deal right.' That was much appreciated."
Athlete-focused
Siegel isn't focused on only the commercial side. He's also put in place programs to help athletes better prepare for national and international events, especially the Olympics.
And he's spearheading the effort for USATF to own and operate more events, not just to act as a sanctioning body. One such event is proposed as the first track and field "street meet," in Indianapolis in the fall of 2016.
"Instead of giving our assets away, there's a realization that there's a real value in having more control of those [events]," Joyner-Kersey said.
Siegel said his interest in sports and his leadership style took shape as he grew up in Indianapolis watching the city transform into a sports hub. He earned both his undergraduate and law degrees from Notre Dame.
He later worked with Notre Dame Athletics Director and Indiana Sports Corp. board member Jack Swarbrick in the early 1990s, when both were lawyers at what's now Faegre Baker Daniels.
Siegel focused on sports, entertainment and intellectual property rights and moved on to become president of Indianapolis-based SCA Sports & Entertainment Group LLC, from 1994-1998.
After stints running a music label and NASCAR team Dale Earnhardt Inc., Siegel moved back to Indianapolis in 2009 to launch Rev Racing/Max Siegel Inc., which heads up NASCAR's Drive for Diversity program, helped launch youth programs for the stock car series, and operates teams in various series. Siegel still owns those organizations.
"In NASCAR, it's obviously important to go fast," Siegel said. "But you also have to stay in control. That can be a tricky balance. The same can be said for what we're doing at USA Track & Field."•
Please enable JavaScript to view this content.