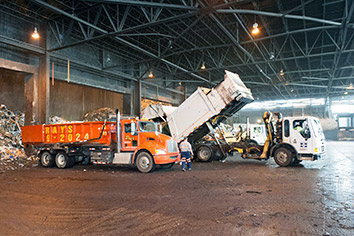 There was a time when recycling meant households arduously separated paper, glass, plastic and metal.
These days, it's a matter of throwing recyclable material into one bin, and letting the industry sort it out on a conveyor belt.
Under a plan by the city of Indianapolis and incinerator operator Covanta, the next stage in that evolution will mean households never have to choose to recycle. Just throw everything—from diapers to soda cans—into the trash bin, and let Covanta's highly automated, optical sorting equipment pluck out the good stuff.
At least, that's the promise. Opponents of that plan say the early experience of Montgomery, Alabama, provides evidence that the sorting technology can't overcome the pure filth of household trash.
A year ago, Montgomery became one of the first U.S. cities to begin diverting its solid waste through a materials recovery facility, or MRF, similar to the one Covanta plans to build outside its Indianapolis incinerator. But soon after the Montgomery facility started running, the city asked residents not to throw a number of items—including dirty diapers and kitty litter—into the trash.
If people can't throw away dirty diapers, Indiana Recycling Coalition Executive Director Carey Hamilton asked, how is the one-bin system any easier than separating recyclables at home?
The owner of the Montgomery MRF said he overcame the early hiccups, and now the facility is recovering 60 percent of the waste for recycling, just as he promised.
"The technology has performed beautifully over the past year since we've been running it," said Kyle Mowitz, CEO of Infinitus Energy, which built the MRF after striking a 25-year deal with the city of Montgomery.
Montgomery Public Works Director Chris Conway said the city backed off the message that people shouldn't throw away dirty diapers. The issue, he said, was really with day care centers and convalescent homes. The city will arrange a separate pickup for those large loads, as it does for all commercial accounts, he said.
The city was trying to help Infinitus' new facility run smoothly by keeping out items that were prohibited all along, Conway said.
"Literally, they had a large dog. They had a kitchen sink. They had tires. They had things you would not expect in a household garbage stream."
Controversial deal
Now the subject of a lawsuit, Indianapolis' deal with Covanta was controversial on two fronts. Recycled-goods manufacturers—especially paper-product companies—say mixing household trash and recyclables leads to contamination of the material they so desperately need.
It also means Covanta could get the lion's share of all the recyclable material because Indianapolis won't be allowed to expand its existing curbside recycling program. Under that program, residents pay a fee for separate recycling bin and collection day.

Indiana Recycling Coalition's Carey Hamilton said a one-bin system isn't as simple as it seems.
Covanta says those objections are being pushed by its competitors, who simply lost out to superior technology. Covanta hopes to break ground this fall on a $45 million recycling facility and have it running by 2016.
Instead of having trucks dump trash onto the tipping floor of the incinerator, garbage will first go through the new "advanced recycling center," which will sift out plastic, metal and paper.
The one-bin system won't require Indianapolis residents to do anything different with their trash, Covanta spokesman James Reagan said. Anything that's OK to put in the trash now will continue to be so.
Covanta does plan to step up its marketing about the need to keep electronics and batteries and other toxic items out of the trash, Department of Public Works spokesman Scott Manning said.
Closely watched
The recycling world is watching and waiting for hard data from Montgomery and Indianapolis to see how well the new breed of MRF works, said Will Sagar, executive director of Southeast Recycling Development Council, which hopes to conduct an independent audit of Infinitus' Montgomery MRF.

Unlike the Indiana Recycling Coalition, the Southeastern group is neutral on the subject of one-bin disposal, Sagar said.
"I have members on both sides of this," he said. "The container industry generally comes out ahead on these, and the paper industry loses."
Mowitz, who built the Montgomery MRF, said his recycling rate of 60 percent was verified by a third party soon after the facility opened, as required under his contract with the city. The data, however, is proprietary.
Sagar hopes his group will land funding to do a 90-day audit of the operation, and Mowitz said he'll cooperate.
"We want to find out really what's going in and coming out," Sagar said. "So many people [are] looking at this."
The one-bin system cuts the collection cost of recycling, so it's easy to see why that would be attractive to a city like Montgomery. The city, which has a population of 200,000, eliminated its curbside recycling program in 2009 for budget reasons.
Indianapolis has a similar problem. The city's curbside program is popular with those residents who choose to participate, but the city has never found an affordable way to expand it.
Advocates of traditional recycling see a down side in consumer behavior. If people are told to just throw everything into the trash at home, will they remember to separate paper at the office? And if consumers don't conscientiously recycle, will they choose to buy goods made of recycled material?
"It's going to take the value of recycling away from the consumer," Sagar said. "They won't see that recycling's important anymore. We've worked for a long time to try to convince them it is important."•
Please enable JavaScript to view this content.