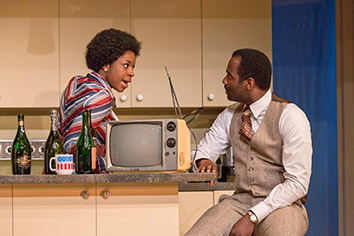 On the way to the Circle Centre parking lot after seeing the Indiana Repertory Theatre production of "What I Learned in Paris" (through April 12), I overheard a patron say incredulously to his date, "Maynard Jackson wasn't even in it."
He was referring to the groundbreaker who, in 1973, was elected as the first black mayor of Atlanta and, thus, became the first for a major Southern city. It was a significant event not just for the city and the region, but also for the country.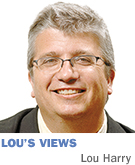 Perhaps in some writer's mind, there's a compelling play about the man and his achievements. But playwright Pearl Cleage has other things in mind with "What I Learned in Paris."
Her play, set in an apartment that served as a campaign hub for the Jackson campaign, is less political drama and more romantic comedy, an easygoing who-loves-whom story that acknowledges but doesn't seriously wrestle with big-picture issues. What it does do is offer a quintet of people to care about as they make their pleasant way through a fairly predictable tale with charm to spare.
J.P. Madison (David Alan Anderson) is a lawyer and key player in the campaign who's up for a sweet position in the Jackson administration. But, just married to the much younger Ann (LaKeisha Randle), he's got a secret.
So does his bride, who's in the midst of an unconsummated romance with J.P.'s pal and fellow campaigner, John (Cedric Mays). Complicating matters further: the return of Evie (Erika LaVonn), J.P.'s free-spirited first wife.
The piece is paced a bit too leisurely at about 2-1/2 hours and could use a greater sense of urgency in the writing. It would help, too, if Evie were more of a force of nature—her New Age, low-key persona keeps her from entering the Mame/Maude pantheon.
But smart restraint in both the design—which evokes but doesn't mock the 1970s—and performance go a long way toward making the production work. I especially appreciated how the audience-pleasing reactions of the fifth character, campaigner/confidante Lena Jefferson (Tracey N. Bonner), weren't pushed into sitcom shtick. Anderson and Mays make clear the internal wrestling matches their characters are undergoing, and Randle never lets her youthful character drift into the overly naïve zone.
Unlike the patron I overheard after the show, I didn't miss Maynard Jackson in "What I Learned in Paris." But, on the way home, I did wonder if his comment also had to do with the fact that most non-musicals focused on black characters carry the enormous weight of history. Perhaps he was simply surprised that this one had as much froth as fire.
__________
Meanwhile, downstairs at the IRT, Dance Kaleidoscope offered "Ray & Ella" (March 26-29). The billing didn't reflect the order of the program, however. The first half—choreographed by David Hochoy—was dedicated to the songs of Ella Fitzgerald, and the second—crafted by Nicholas Owens with undefined additional work by Hochoy—was set to Ray Charles' unmistakable voice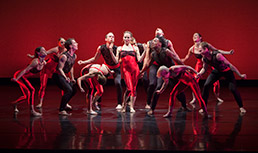 Dance Kaleidoscope honors Ray Charles and Ella Fitzgerald in "Ray & Ella." (Photo courtesy of Crowe's Eye Photography)
The acts were tied together but also had distinct personalities. Fitzgerald's vocals (Was there ever a singer with as smooth a voice?) set the tone for a pastel world of white gloves, ball gowns and elegance punctuated with joyful abandon. Charles' piano-driven tunes inspired a combination juke joint/'60s variety show with leotards replacing the formal wear and the center of gravity moving to the hips.
Highlights included a trio (Emily Dyson, Aleksa Lukasiewicz and Missy Trulock) sparring with Noah Trulock in "Tea for Two" and Mariel Greenlee being tossed around with carefully choreographed abandon in "Mess Around."
While it seemed to be an audience favorite, the only piece that didn't seem to fit the world created by the dancers and choreographers was Charles' "Eleanor Rigby," perhaps because the vocals are so strong and the lyrics so specific that they seemed to have a different agenda than the dance.•
__________
This column appears weekly. Send information on upcoming arts and entertainment events to lharry@ibj.com.
Please enable JavaScript to view this content.